HEATHER GRAHAM (1970 – )
Heather & James Woods
Heather hails from Milwaukee, Wisconsin, the daughter of strict Roman Catholic parents. Her mother taught school and her father was an FBI agent who moved around a lot. Although her mother drove Heather to auditions in the early days in California, neither parent was keen on the girl's choice of career. When things did not happen as quickly as she had hoped, Heather enrolled in the University of California (UCLA), intent on earning a degree in drama. There she met actor James Woods and he landed her a part in his movie Diggstown (1992). She dropped out of UCLA after just two years but before long had a modelling contract with Emanuel Ungaro Liberte. From June 1992 until January 1993, the 22 year-old actress dated 45 year-old Woods, the established star of such films as Salvador and Ghosts of Mississippi, to name but two of his accomplishments.
Heather & Corey Feldman 1987
Heather began her Hollywood dating in January 1987 when she was photographed with juvenile actor Corey Feldman; star of several successful films including The Goonies (1985) and Stand by Me (1986). In September '88 she and actor Matt Dillon (7 years her senior) entered into a relationship that lasted roughly four months. Her penchant for dating older men continued in 1990 when she hooked up with actor Kyle MacLachlan. He was eleven years her senior. TV fans of Twin Peaks (1990-1) will no doubt recall him portraying Special Agent Dale Cooper in the series. This relationship lasted around two years until Heather and Kyle went their separate ways in 1992.
Dating Kyle MacLachlan
After dating Leonardo DiCaprio in '93, she met singer Adam Ant and they briefly became an item in 1994. The British pop star had three #1 hits between 1980 and 1983, but he was fifteen years older than her and enjoying playing the field. Writer/actor Jon Favreau met Heather when she played a supporting role in Swingers (1996). He would go on to direct Harrison Ford in Cowboys & Aliens (2011). Jon and Heather would part in 1996 after a year together. In 1997, she dated Canadian actor Elias Koteas whose main claim to screen fame was probably his portrayal of Casey Jones in the live-action first and third Teenage Mutant Ninja Turtles films.
On the town with Adam Ant
From March '97 until March '98, Heather was once again enamoured of an older man. This time it was British director Stephen Hopkins, twelve years her senior. He would go on to direct the 2004 biopic, The Life and Death of Peter Sellers. Perhaps, he cured her of the need to date older men because she embarked upon trysts with several lovers nearer to her own age after they broke up. By then she had made Boogie Nights (1998) and shot the first nude scenes of her career. Back in '87, her parents had pressured her into turning down the lead in Heathers (1988), because they thought the language was a bit risqué. Little wonder then that her acceptance of the role of a hooker named 'Rollergirl' in Boogie Nights (1997), resulted in her folks disowning her altogether. Not only did she appear naked in the picture, but the movie's script contained 165 uses of the word 'fuck' or its derivatives. Heather's parents have not spoken to her since she agreed to make the picture. She is no longer a Catholic either and now practices Hinduism. The rift seems to be a permanent one.
Heather & Heath 2004
American actor Edward Burns (1998's Saving Private Ryan) became her next squeeze – from August '98 until May 2000. A few months after they split she was photographed canoodling with Aussie actor Heath Ledger. For once, she was involved with a man considerably younger (nine years) than herself. The future Oscar-winner for The Dark Knight (2008) dated her from October 2000 until June 2001. Sadly, he would die, aged only 29, in 2008. After breaking up with Ledger she dated two more Oscar-winners. The first of these was Heath's fellow Aussie, Russell Crowe, who had won for Gladiator (2000). Then came Benicio DelToro who won Best Actor for Traffic a year later. She also dated Cher's son, musician Elijah Blue Allman in 2002.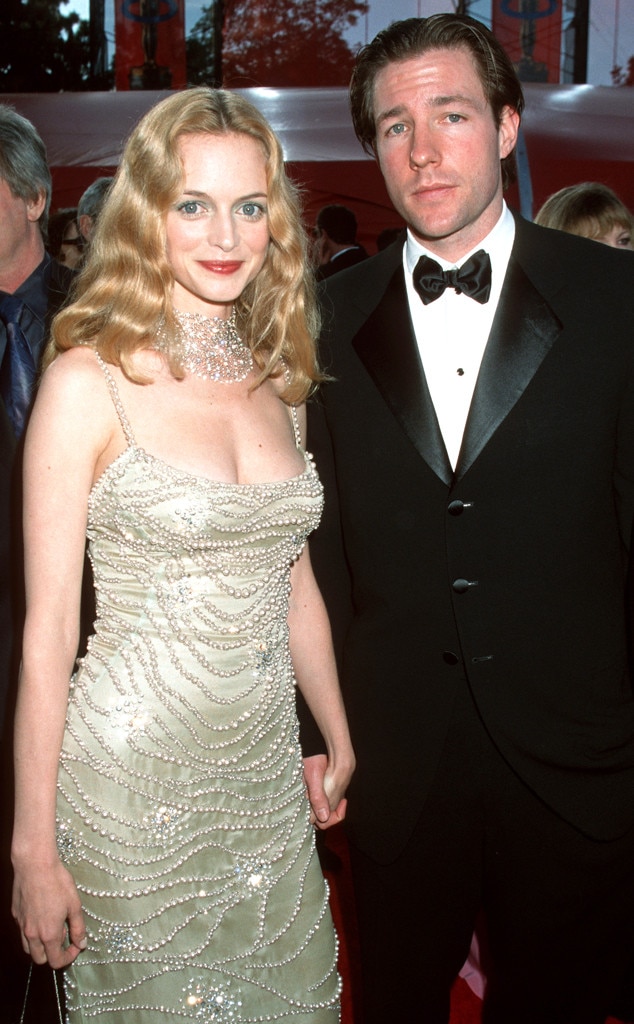 Out with Edward Burns
Matthew Perry was known the world over as Chandler Bing in NBC's hit series Friends, and he entered into a five-month liaison with Heather in October 2002. American film/TV producer, writer, director and actor Chris Weitz replaced him in her affections in January 2003. The future director of The Golden Compass (2007) shared her bed for 22 months until that relationship, too, came to a close. Actor Josh Lucas (star of 2002's Sweet Home Alabama) was the next cab off the rank. He and Heather were together from December 2004 until January 2006 when businessman Charles Ferri entered the picture. He would also fall by the wayside after a couple of years.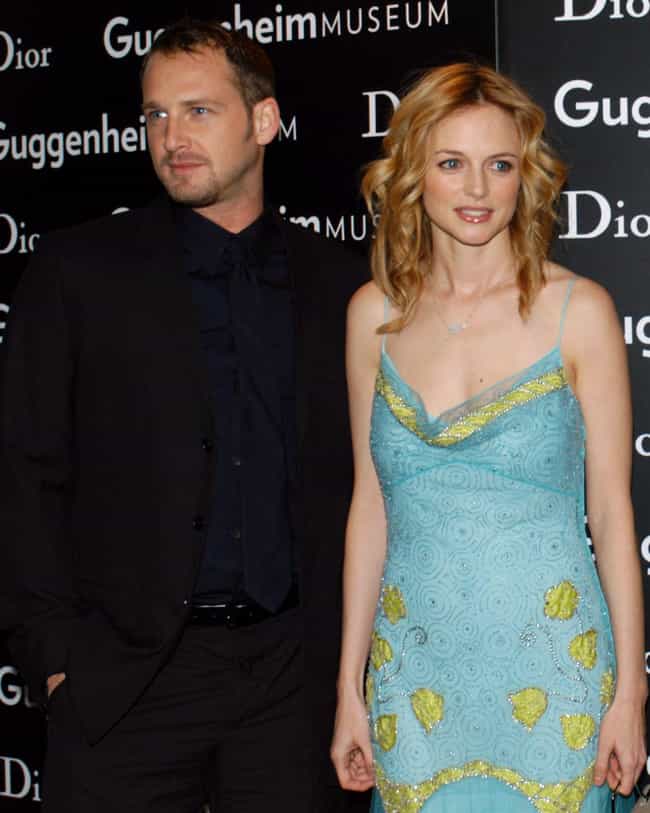 Heather & Josh Lucas 2005
Heather has had a lot of boyfriends, but in fairness to her, most were certainly not brief flings. One or two years seemed to be the regular time span for her relationships. Perhaps, her lack of interest in marrying and having children has seen her shy away from any permanent commitment. Son of Morning (2011) is an utterly awful movie directed by Yaniv Raz and starring Heather in a major role. They became a twosome as far back as December 2008. In 2009 Heather told People magazine that they had decided to move in together. Despite indulging in a year-long romance with film producer Tommy Alastra (2016-17), she and Yaniv are back together as of this writing in October 2019.
Heather & Yaniv Raz
In 2002, it was rumoured that Heather was either a lesbian or a bisexual. A snapshot of her and Drew Barrymore being extra 'chummy' did the rounds and did its bit to fuel the fire. Neither actress bothered commenting on the rumour, and rightly so. Heather's portrayal of a lesbian in Gray Matters (2006) may have rejuvenated the story, but the lady's track record surely does not lend itself to such a possibility.
Heather in Austin Powers: The Spy Who Shagged Me (1999)
Heather would probably be the first to admit that her screen career has had its ups and downs. She has made some good movies and she has made a lot of rubbish. The high spot in her career was most likely in the late nineties when she featured in the critically acclaimed Boogie Nights (1997), Austin Powers: The Spy Who Shagged Me (1999) and Bowfinger (1999). Heather is fast approaching fifty and is still unmarried, not that this seems to bother her in the slightest. 'I'm not the kind of person who needs to be a mother no matter what', she says. 'Life brings you people. Maybe I'll nurture someone who's not my child, like a friend, or an actor I'm working with who needs some love.'