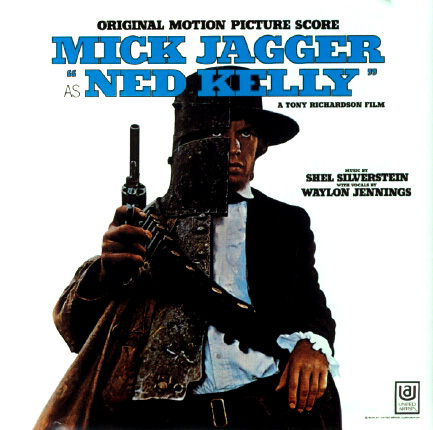 The 1970 abomination titled Ned Kelly was initially intended as a vehicle for Albert Finney in the title role back in 1964 but it never happened. Instead, someone with a warped sense of humour reached the ludicrous conclusion that Rolling Stones front-man Mick Jagger could portray the iconic Aussie bushranger despite his total lack of training as an actor. His girlfriend, singer Marianne Faithfull, another non-actor, was to play the female lead until she was hospitalized from a drug overdose and Irish actress Diane Craig replaced her.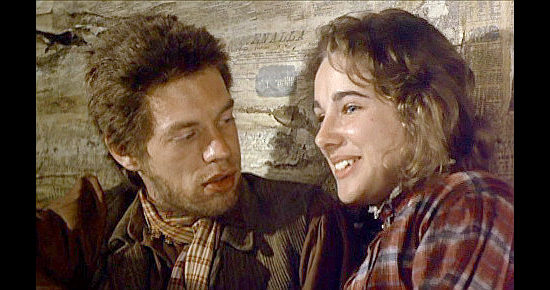 Mick as Ned & Diane Craig as his sister
Mick and the Stones had to turn down an invitation to perform at Woodstock because he was on location in Oz making this rubbish. Miss Craig had immigrated to Australia back in 1960 and would marry Aussie comedian Garry McDonald in 1971. In the mid-seventies, his TV series The Norman Gunston Show would briefly turn him into a star down under. The couple are still together and have two children. As for Ned Kelly, it sunk without trace (as expected), even in Australia where Ned has long held hero status. Mick's acting career was stillborn for which most of us are eternally grateful.
If you wish to see Jenny Agutter and Peter Firth stark naked, full-frontal; the Equus (1977) should be right up your alley. And if you like to see disgusting brutality inflicted on beautiful horses, then you will be in for a treat because that features as well. Evidently, this movie's major claim to fame is the opportunity afforded for voyeurs to gaze upon Mr. Firth's penis for quite some time. Full frontal nudity of women has always been expected and (apparently) acceptable, even in mainstream movies, but showing a penis has always been frowned upon or considered to be bad form. At least in the early days anyway. Needless to say, an erect male organ (or actual penetration) are completely unheard of outside porn films. For now, anyway. I suppose I can appreciate observing Miss Agutter as nature intended her if she is happy to do so, but what I cannot abide in this picture is the appalling brutality inflicted on the horses. If a writer is unable to come up with a story unless it features the blinding of dumb animals he really needs to find another profession.
Peter Firth & Richard Burton in Equus (1977)
Having said that, I am aware that the writer in question, Peter Schaffer, was nominated for an Academy Award for his screenplay. He did not win. Both Richard Burton and Peter Firth were also Oscar-nominated – Burton for Best Actor and Firth for Best Supporting Actor. They did not win either. Burton had hoped that this effort would jump-start his career, but it was a box-office disaster and he never again starred in a major production. Despite the public staying away from Equus in droves, a lot of so-called knowledgeable people liked it. Good for them. I hated it.
20th Century Fox had only themselves to blame for the difficulties encountered in the shooting of their 1965 feature The Agony and the Ecstasy, because they chose Charlton Heston to play Michelangelo Buonarroti. History tells us that the great sculptor/painter was a virtual dwarf, barely 5'3" tall, and a devout homosexual. Heston, on the other hand, was not only, at 6'3", a foot taller than him, he was also an outspoken homophobe who refused point blank to play the great man as anything other than a stolid heterosexual! As far as Chuck was concerned, the history books could go take a running jump! He did not like homosexuals so he was not about to portray one. In his 1995 autobiography titled In the Arena, Heston continued to defy history, stating unequivocally that the painter of the Sistine Chapel was definitely heterosexual. So there! It became necessary, therefore, to employ an actress to portray Michelangelo's 'love interest'. Diane Cilento got the nod. Being just 5'7" tall, she was compelled to plod about in enormous wooden platform shoes in order to get anywhere near Heston's height.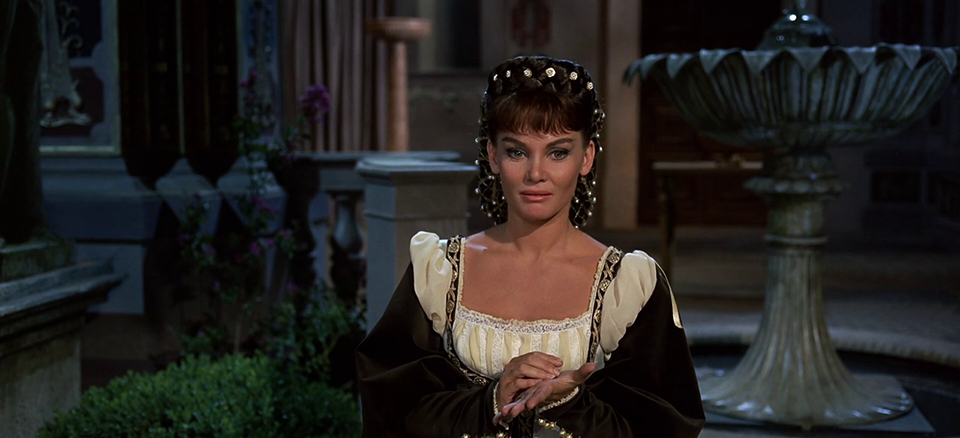 Diane Cilento in The Agony and the Ecstasy (1965)
Rex Harrison played Pope Julius II in this opus, and the English actor and Heston disliked each other with a vengeance from the outset. This actually worked in the picture's favour because in real life Julius and Michelangelo were antagonists anyway. Although both Harrison and Heston had reputations for being difficult to work with, the general consensus was that the feud was mostly Harrison's doing. Curiously, it was Michelangelo's celebrated sculpture of the Prophet Moses that inspired Cecil B. DeMille to cast Heston as Moses in his production of The Ten Commandments (1956), a decade earlier. CB thought the resemblance was uncanny. The Agony and the Ecstasy came in $8 million under budget yet it still lost a similar amount worldwide. Basically, audiences considered it a boring storm in a teacup. The Academy, true to form, nominated it for five lesser Oscars. All five missed out.
Alfred Hitchcock's original plan was to cast Cary Grant in the role of the publisher and Montgomery Clift as Brandon in his 1948 thriller Rope. When it was pointed out to both actors that, just like the homosexual relationship between real-life child-killers Leopold & Loeb, a similar relationship would be implied between the two killers, Brandon and Phillip, in Rope, Cary and Monty quickly pulled out of the project. Rumours already abounded about their sexual proclivities and neither felt he needed those rumours re-ignited (as they were bound to be) once Rope hit American Screens. John Dall and Farley Granger were instead chosen to play the killers. Ironically, both actors were themselves gay/bisexual anyway, although audiences did not suspect it at the time. Even so, the implied homosexuality of the two characters was enough to see the picture banned in several American cities.
Rope was Hitchcock's first colour feature, yet it was the only picture James Stewart made with the English director that he did not like making. He felt he was miscast as the professor. Had he been aware that the original screenplay allegedly had his character, Professor Cadell, also having an intimate affair with one of the murderers while in school, Jimmy might also have walked away from the project. This movie, along with four others directed by Hitchcock, became unavailable for three decades because he had bought back the rights to them as part of his legacy to his daughter Patricia. Along with Rear Window (1954), The Trouble with Harry (1955), The Man Who Knew Too Much (1956) and Vertigo (1958), these became known as 'the five lost Hitchcocks' until they were re-released to theatres around 1984.