GOULD, Harold:                                                                 
Fans of the Academy Award winning Best Picture of 1973, The Sting, will recall Harold Gould in the showy role of Kid Twist. On television he was Martin Morgenstern on the sitcom Rhoda (1974-78) and Miles Webber (the steadfast suitor of Betty White's character Rose Nylund) on another sitcom The Golden Girls (1989-92). He spent two years in the US Army in World War Two, serving first in a mortar platoon and seeing action in France. After recovering from trench foot in an English infirmary, he was reassigned to a railroad transportation unit in France. Prostate cancer took him at 86 in 2010. At the time of his death he and wife Lea had been married for sixty years!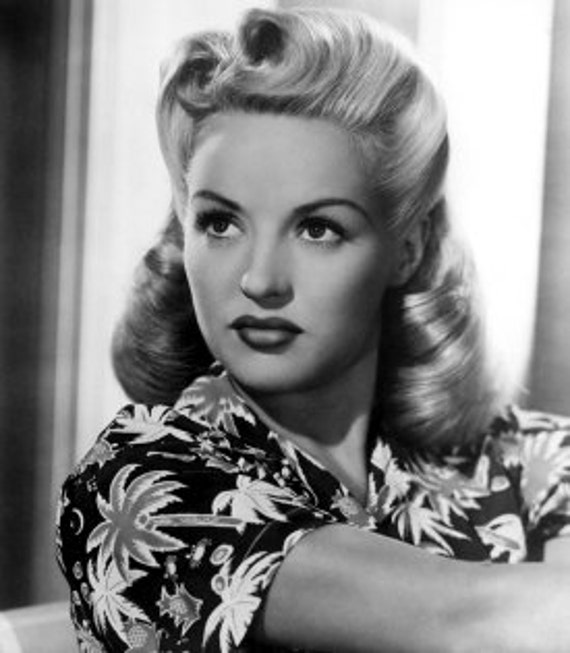 GRABLE, Betty:                                                                                                                 
Betty was probably the most adored woman in the world during WW2, and would go on to become the # 1 pin-up girl for US Armed forces personnel of the entire war. The famous shot of her clad in a bathing costume and looking back over her shoulder, is one of the iconic photographs of the entire conflict. Years later, it emerged that she posed that way because she was pregnant and 'showing', and it was necessary to hide the 'bump' from the camera. She was divorced from Jackie Coogan and in a relationship with her long-time boyfriend George Raft when she bandleader met Harry James at the Hollywood Canteen and fell in love with him.
This created a real problem for Betty because she held a genuine fear of Raft, having already been beaten up by him on a previous occasion. He would also use his underworld cronies to spy on her. One night, while she and Harry were making love in a back bedroom of her home, two of Raft's spies actually fell out of a tree at the back of the house! She was five weeks pregnant with Harry's child in July 1943, when his wife granted him a divorce and the love-struck couple were able to marry.  By the middle of the war, following a string of hit films, Betty was voted the #1 box-office star in America for 1943, outranking Bob Hope, Gary Cooper, Greer Garson, Humphrey Bogart and Clark Gable. By war's end the IRS proclaimed her to be the highest paid woman in the country. Her success as a WW2 pin-up girl even surpassed that of Rita Hayworth. Lung cancer took her life in 1973 in her 56th year.
GRANGER, Farley:                                                            
After completion of The Purple Heart (1944), Granger enlisted in the US Navy. Following recruit training in Farragut, Idaho, he sailed from Treasure Island in San Francisco to Honolulu, Hawaii. During the 17-day crossing, however, he suffered from chronic seasickness, lost 23 pounds in weight, and was admitted to hospital upon arrival in Hawaii to be rehydrated. The remainder of his military career was spent onshore, first in a clean-up crew at an enlisted men's club; and then to an Army Special Services unit in Honolulu whose job was to entertain the troops. This provided him with the opportunity to mingle with visiting stars such as Bob Hope, Bing Crosby, Betty Grable, Hedy Lamarr, Rita Hayworth and many others. It was during his naval stint in Honolulu that Farley had his first sexual experiences, one with a female prostitute; the other with a naval officer on the same night. In his memoir he openly stated that both experiences felt natural and right. After the war he resumed acting and enjoyed a successful film career. He died of natural causes in 2011 at the age of 85.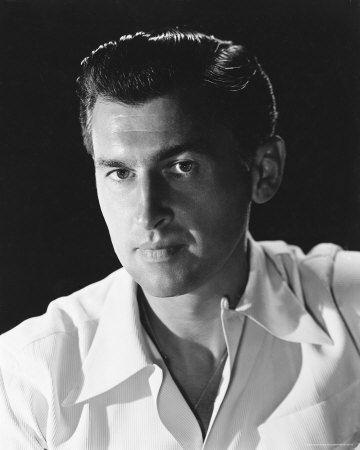 GRANGER, Stewart:                                                         
Granger was born James Stewart in London in May 1913. When the Second World War broke out in September 1939, he enlisted in the Gordon Highlanders before transferring to the Black Watch with the rank of second lieutenant. I have been unable to find if he saw any combat before being invalided out in 1942, suffering from stomach ulcers. He would soon become England's top box-office star of the forties, however. Hollywood came calling, but that was after the war. His marriage to Elspeth March lasted from 1938 to '48, and it was during the war that he later claimed to have had an affair with Deborah Kerr. In fact, he claimed in his autobiography that Deborah came on to him in the back seat of his chauffeur-driven car during the time he was making Caesar and Cleopatra (1945). When asked about his claims, Deborah's response was typical of her: 'What a gallant man he is', was her cool response. Granger became a major star in both the UK and in America, married British beauty Jean Simmons and had a long and successful career that ended in Santa Monica with his death from prostate and bone cancer in 1993 at the age of 80.
GRANT, Cary:                                                                                
During the war Cary Grant reluctantly went on some of the smaller, out of the way tours, unsure what he might be able to do on stage that could possibly entertain troops. He raised money for the United War Relief in America, (as well as British War Relief), for which he received the King's Medal from King George VI. On stage during the USO tours he mostly just talked to the men about Hollywood and making movies. And they generally loved it. Considered to be a real cheapskate with his money, Cary raised plenty of eyebrows when he donated his entire fee for The Philadelphia Story (1940) to the British war effort. Then, he really confused everyone when he donated the $100,000 he was paid for Arsenic and Old Lace (1944) to the US War Relief Fund!
Cary & Barbara – a match made in money heaven!
During the war he wanted to marry Woolworths' heiress Barbara Hutton, but this created a problem. If he did so while he was still a citizen of England, her enormous fortune would be frozen in English banks. If he became an American citizen first, then the money could be transferred to the US, so it was imperative he delay the marriage until he could officially become an American. That took place on June 26, 1942. Critics questioned his patriotism and his motives relating to his desire to marry Ms. Hutton, but we are talking about a lot of money here! After their divorce in August '45, he remained close to Barbara and her son, Lance Reventlow, treating him as his own boy. When Lance died in a plane crash in 1972, Cary was devastated. On November 29, 1986, he suffered a major stroke prior to performing in his one-man show, 'An Evening with Cary Grant', at the Adler Theatre in Davenport, Iowa, and passed away later that night in hospital. He was two months shy of his 83rd birthday. According to his will, his body was to be cremated and no funeral service held. His ashes were scattered in the Pacific Ocean.