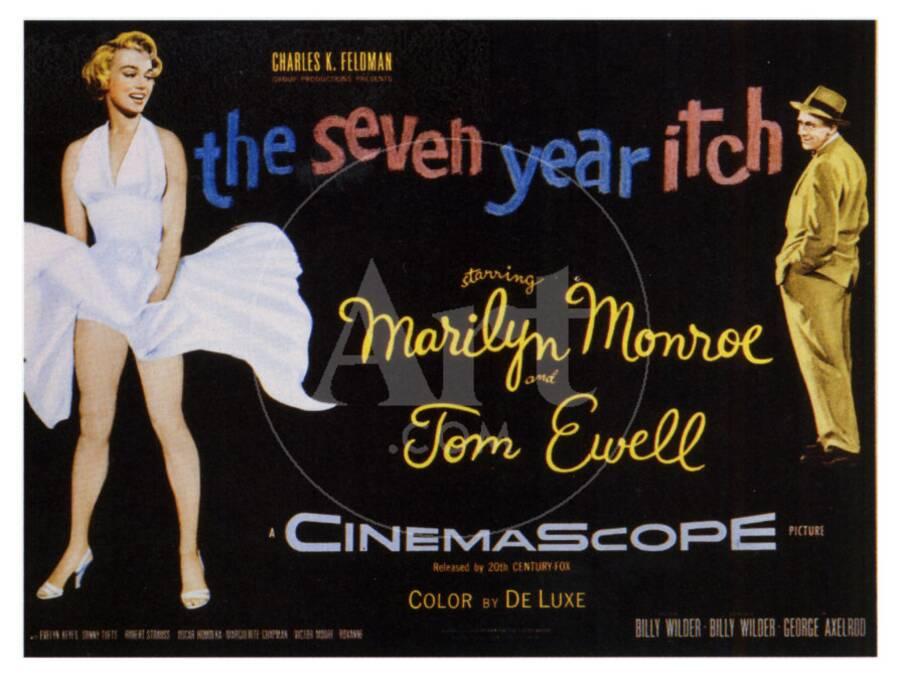 Billy Wilder's The Seven Year Itch (1955) is an unusual film – a sex comedy that contains no sex! Thanks to the iconic image of its star Marilyn Monroe standing atop a subway grating with her dress being blown upwards, revealing her legs and whatever else imaginative cinema-goers think they see, this rather ordinary movie has been talked and written about for decades. Personally, I never could abide the male lead Tom Ewell, and cannot fathom how he landed the role opposite the most desirable actress on the planet at that time. Presumably, director Billy Wilder wanted an 'every day' type of guy, but surely he could have chosen one with some semblance of personality and appeal, anyone other than the dishwater dull Ewell. In fairness to Wilder, he liked Walter Matthau's screen test but Fox was unwilling to risk the project on an unknown, which left him with Ewell, the man who had played the lead in the Broadway production.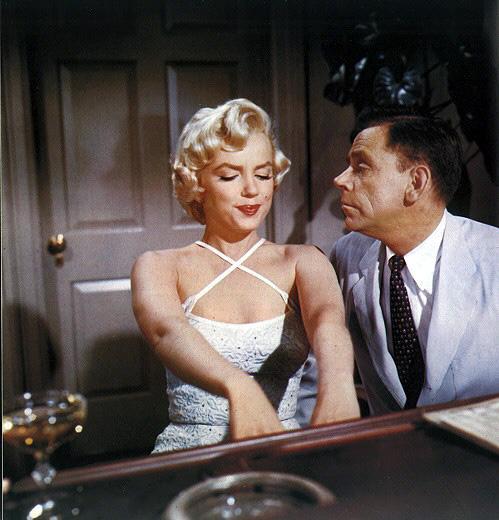 Marilyn Monroe & Tom Ewell
Wilder preferred to shoot his movies in black and white, but Marilyn's contract with 20th Century Fox called for all her movies to be shot in colour. She always felt she looked better in colour than in black and white anyway. Of course, there were those of us who thought it was impossible for her to look anything other than drop dead gorgeous under any circumstances. Fox launched an important promotional campaign built entirely around Marilyn, the centrepiece of which was a 52 foot-high cut-out of her dress blowing scene, erected in front of Loews State Theatre, in New York City's Times Square. One wonders what eventually became of that giant cut-out. Thanks to Marilyn's drawing power this very ordinary picture still managed to make a nice profit, racking up $6 million in rentals in North America alone.
Marilyn & husband Joe DiMaggio 1953
As for the subway scene, it was originally shot on Manhattan's Lexington Avenue at 52nd Street on September 15, 1954 at one o'clock in the morning. An estimated 5,000 onlookers whistled and cheered take after take as Marilyn repeatedly missed her lines. Wilder was later accused of deliberately turning the shoot into a media circus, a publicity exercise. Marilyn's husband, baseball legend Joe DiMaggio, was present as his wife submitted to take after take, amid an onslaught of catcalls and lurid comments. And he was furious. Because of the noise the footage was never used anyway and the whole sequence was reshot later in the studio. Ironically, the full-length shot of Marilyn with her dress around her ears never actually appeared in the finished picture, yet DiMaggio beat her that evening for making an exhibition of herself. Make-up covered her bruises for the following morning's filming. Three weeks later she filed for divorce. They had been married only nine months and the union would officially end in October 1955.
That $5.5 million dress
In December 2006, the little black Givenchy dress worn by Audrey Hepburn in Breakfast at Tiffany's (1961) was sold at auction at Christie's in London  approximately $920,000, a record for any movie costume to that time. Five years later, in June 2011, that record was quintupled when Marilyn Monroe's iconic white dress from The Seven Year Itch, the one that blew up while she was standing over the subway grating, realized a staggering $5.5 million after taxes and fees were included. Such was the impact of that scene and its accompanying publicity on the movie-going public and collectors of Hollywood memorabilia.
George Axelrod
In the 1970s, Wilder expressed his personal disappointment with his movie, accurately describing it as, 'a nothing picture…Unless the husband, left alone in New York while the wife and kids are away for the summer, has an affair with that girl there's nothing. But you couldn't do that in those days, so I was just strait-jacketed. It just didn't come off one bit, and there's nothing I can say about it except I wish I hadn't made it. I wish I had the property now.' Aware of the restrictions imposed on movie-makers back in the fifties, Wilder had little interest in the script used in the Broadway production. When George Axelrod brought his script from the play to his first meeting with Billy, and suggested they might use it as a guide, Wilder famously replied, 'Fine. We'll use it as a doorstop.' He knew the Hays Code would remove all the racy dialogue from it.
Loews State Theatre, NYC
The vast difference between what was allowed on Broadway and what was allowed on screen, was evidenced by the popularity and success of the play compared to the movie. The original Broadway production opened at the Fulton Theatre on November 20, 1952 and ran for 1,141 performances! And that was without the presence of Marilyn Monroe, the leads being played by Ewell and Vanessa Brown. In 1953, Ewell picked up a Tony Award, Best Actor in a Drama, for The Seven Year Itch, yet the movie would be billed as a romantic comedy. Strange. Although he had played the role of Richard Sherman seven hundred and thirty times, he did not expect to be offered the movie and had taken a house on Martha's Vineyard for a vacation prior to getting the call.
Faced with dealing with the Hays Code which prohibited any comedy in which adultery takes place, Wilder used every ploy possible to eke out as much implied sex as he could from the benign screenplay. The first few times that Sherman looks at 'The Girl's' photograph in the 'U.S. Camera' yearbook, his reaction suggests he is looking at a nude photo. However, when it is finally shown on-screen more than an hour into the movie, she is not nude at all but wearing a white bikini with red polka dots. Even so, Wilder had Marilyn strike a pose similar to those from her famous 1949 nude 'red velvet' photo shoot that was featured in the premiere issue of Playboy magazine in 1953. No doubt, a large proportion of the men in the audiences who saw the film were familiar with the Playboy spread. Incidentally, if you are wondering about the identity given to Marilyn's character in this picture, the answer is that neither Wilder nor Axelrod could agree on a name for her, so she was simply listed as 'The Girl'.