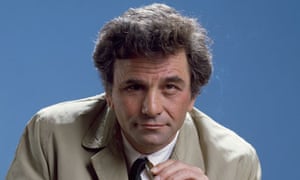 FALK, Peter:                                                                                                                                                
The star of TV's Columbo (1971-2003) lost an eye to retinoblastoma in 1930 when he was three years old. Having a glass eye, however, did not deter him from trying to enlist in the US Marines at 17 in 1944. He bluffed his way past the first eye test but was subsequently found out and rejected. He even attempted to join the Irgun, the Jewish paramilitary organization operating out of Palestine at the time, but was rejected on the same medical grounds. In desperation he joined the Merchant Marine as a cook and mess boy. 'There, they don't care if you're blind or not', he said of his experiences in 1997. 'The only one on the ship who has to see is the captain.' Peter spent a year and a half in the Merchant Marine. Sadly, he was diagnosed with dementia in 2008 and passed away three years later, aged 83.
FELL, Norman:                                                                               
Fell was a fine character actor who died in 1998 of bone marrow cancer at the age of 73. Lovers of Steve McQueen will no doubt recall him playing Robert Vaughn's toadying police off-sider Lt. Baker in Bullitt (1968). During the war he signed on as a tail-gunner on a B-24 'Liberator' bomber (some sources say it was a B-25 Mitchell). Serving in the US Fifth Air Force (Pacific Theatre), he was credited with shooting down two Japanese Zeros.
FINCH, Peter:                                                                                                                                              
He was born in London in 1916, the product of an extra-marital affair his mother had. At the age of ten the boy was sent off to Australia to live with a great-uncle. In June 1941, Peter enlisted in the Australian Army and briefly served in the Middle East. He was also believed to have manned an anti-aircraft gun during the first Japanese bombing of Darwin on February 19, 1942. This was the first of about 100 air raids on the Northern Territory and northern Western Australia in 1942-3. During his stint in the army Finch was given special leave to act on radio, stage and the screen. In 1944, for example, he made the Australian feature film The Rats of Tobruk. He was discharged from the Army in October '45 with the rank of sergeant. As most movie fans are aware, he was posthumously awarded a Best Actor Oscar for Network (1976), after a fatal heart attack in the lobby of the Beverly Hills Hotel took him in January 1977 at the age of 60.
FLYNN, Errol:                                                                                                                                
Since his death in 1959 at the age of 50, Tasmanian-born Errol Flynn has been accused of holding Nazi sympathies during the Second World War but there is no proof to support this. His well-documented friendship with Dr. Hermann Erben, a man who would eventually become a Nazi agent, is scarcely proof of Flynn's disloyalty. The two men would remain friends throughout the entire war. Errol was still an Australian citizen in 1935, when he was making Captain Blood, and he came close to being deported from America because of his ties to Erben. It did not help the Australian's credibility when he foolishly claimed to be unaware of his friend's political persuasion, something that was common knowledge to all who knew the man.
Errol's close Hollywood pal, actor David Niven, often scoffed at the idea that Flynn was a Nazi spy, describing the accusation as 'ludicrous'. And just about everyone today would concur with that finding. Besides, no-one knew the Aussie superstar as well as Niven. Errol's decision to become an American citizen and remain in Hollywood after England went to war in 1939, placed an enormous strain on their friendship, at least until the US came into the conflict in December '41.
Flynn was granted a draft deferment to make Desperate Journey (1942), but on its completion he went to the draft board and took his physical. It was found that he had a heart murmur and tuberculosis. In fact, the examining doctors estimated he might only have a couple of years left to live! They were wrong about that, but it was evident he was nowhere near fit for active service. His much-publicized excesses caught up with him in October 1959 in Vancouver, Canada, where he died from a heart attack at the age of 50. The coroner who examined him said Flynn had the body of an 85 year-old man.
FONDA, Henry:                                                                                                              
The day after he completed The Ox-Bow Incident, Henry Fonda secretly joined the US Navy. Darryl F. Zanuck at 20th Century Fox exercised his considerable 'pull' in Washington and managed to have his star's enlistment delayed until he finished another picture for the studio. Henry did not want to become an officer and get stuck behind a desk somewhere for the duration, so when he eventually donned a uniform it was that of a quartermaster third class and he was assigned to a new destroyer, the USS Satterlee. In Hawaii he took a course in anti-submarine warfare and in February 1944, after almost a year in the forces, he was flown to Kwajelein in the Marshall Islands to join Admiral Hoover's staff.
Fonda had one close brush with death. Sort of. He was enjoying shore leave on Guam when his ship had to suddenly weigh anchor and hightail it out to sea to avoid a Japanese air attack. Even so, the vessel took a hit from a Kamikaze that totally destroyed the photo lab and cabin that Fonda usually occupied. Had he not been ashore he would certainly have been killed. History briefly touched him on the island of Tinian when, shortly after V-E Day, he got to meet the crew of the Enola Gay, the B-29 that dropped the A-Bomb on Hiroshima. Henry's illustrious acting career finally won him an Oscar for his performance in the 1981 film On Golden Pond, but he was too ill to attend the Academy Awards ceremony to receive it. His daughter Jane did so on his behalf and he died not long afterwards. He was 77.
FORD, Glenn:                                                                                                                                                          
Canadian-born Ford was a member of the Coast Guard Auxiliary for a year before joining the US Marine Corps Reserve in December 1942. He met his wife, tap dancer Eleanor Powell, at a war bond cavalcade and they married in 1943. After completing Marine boot camp as a sergeant and a top marksman, Ford expected to see action but it was not to be. Diagnosed with duodenal ulcers, he was in and out of hospital a number of times before finally being discharged on medical grounds. Decades later, in 1967, 50 year-old Naval Reserve Lt. Commander Ford volunteered to serve for three months as a liaison officer, attached to a Marine unit in Vietnam and, on several occasions, endured enemy shelling.