Linda Kozlowski – then and now
Most Australian men I know would agree that Linda Kozlowski was a 'knockout' in Crocodile Dundee (1986), and that Paul Hogan (Dundee) was one lucky guy to make her his second wife in 1990, after his divorce from wife number one came through. After 23 years together, however, Paul and Linda filed for divorce in 2013, citing the usual 'irreconcilable differences'. The union officially ended in 2014. 'One of our problems was we really had nothing in common and, over time, that happens to a lot of people', Linda explained and Hogan concurred. 'We were opposites and we were attracted to each other for a long time', he declared. 'Opposites in everything. From the food we ate, the music we liked, the entertainment we liked, the colours, the clothes, the places, everything. It worked anyway.' Their parting is believed to have been entirely amicable and the resulting conditions acceptable to both parties. Hogan retains the rights to his Crocodile Dundee character and his film company, while Linda walks away with a $6.25 million one-off payment. Neither will pay child or spousal support and Linda was allowed to live in their Los Angeles home for four years or until she remarries, whichever comes first. In 2017, she was reported to have married her 59 year-old Moroccan business partner Moulay Hafid Babaa. They had been dating for four years.
Philip Seymour Hoffman
Oscar-winning actor Philip Seymour Hoffman's 14 year relationship with costume designer Mimi O'Donnell produced a son and two daughters before the couple separated in the fall of 2013. In May of that year he announced to the press that he had checked into a substance abuse treatment centre because he had started snorting heroin. On February 2, 2014, his body was found by his friend, playwright/screenwriter David Bar Katz, on the bathroom floor of his Manhattan apartment. Hoffman was dressed in a T-shirt and shorts; a hypodermic needle still protruding from his arm, and two envelopes of heroin lying beside him. He was 46 years old and left behind an estate valued at around $35 million. His 2004 will left everything to Mimi, trusting her to distribute money to their children as she saw fit.
Valerie Hobson
Valerie & husband John Profumo
When it comes to sheer class, they don't come much better than actress Valerie Hobson, the British beauty who played the female lead in the 1949 classic Kind Hearts and Coronets alongside Alec Guinness. She married twice in her life, her second husband being British politician John Profumo, the man who became involved in a 1963 sex scandal that brought down the nation's Conservative government. The tabloids revealed that the 48 year-old Profumo was having an affair with 19 year-old call-girl Christine Keeler, who was also intimately involved with a Soviet military attaché named Eugene Ivanov.
Christine Keeler
To her great credit, Valerie stood by her husband when he was compelled to resign from the government, his political career in tatters, remaining with him until her death at 90 in 1998. Furthermore, this selfless lady devoted her later years to charity work with mentally handicapped children and lepers, working alongside her husband whose own work and fundraising for charity earned him a CBE and a return to respectability in 1975. Valerie opted to cease taking her medication in 1998 and suffered a fatal heart attack that same year. Profumo passed away in 2006 at the age of 91.
Robert Harrison – publisher
By 1957, the studios had put up with the scandal-mongering from Confidential magazine and decided to take its publisher, Robert Harrison, to court on a newly minted charge – 'Criminal conspiracy to commit felony libel'. It sounded all-encompassing, but if they were hoping to frighten Harrison into folding his publication, they were sorely mistaken. He knew that some of his stories and accusations were only partially truthful, but he made it clear to the studios that, if taken to court, he would subpoena every actor and actress mentioned in them and have them testify under oath to the veracity, or otherwise, of every little detail! Stars began leaving the USA in droves on extended vacations, to film in foreign locations, on sick leave and so on. Any excuse to avoid being subpoenaed…In the end, Liberace, Errol Flynn and Maureen O'Hara went on the counter-attack and sued him and the magazine. Liberace lied under oath that he was a homosexual and Ms O'Hara denied having been intimate with a stranger in the back row of Grauman's Chinese Theatre. Flynn won his suit, too, and all three were awarded hefty settlement sums.
Sonja Henie
One of the less likely movie super-stars of the thirties and forties was Norwegian ice-skater Sonja Henie. She never topped the extraordinary Shirley Temple at the box-office, but managed to climb to #3 at her peak. She was such a savvy negotiator, however, that she was paid more per movie than the little box-office champ ever was. And this was in spite of the fact that Henie barely spoke English! Fox head Daryl F. Zanuck was delighted when her contract finally expired in the early 1940s. During her reign, the studio cooked up an imaginary romance between her and Tyrone Power and then fed the story to the tabloids and magazines. Ty and Sonja were amused by it all. 'We had to consult the gossip columns every day', she chuckled, 'to see if we were still in love or not.' The public's love affair with ice-skating eventually petered out and she spent the ensuing decade or more touring the nation with her skating troupe and making a pile of money.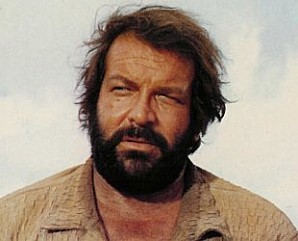 Bud Spencer
Carlo Pedersoli
Italian actor Bud Spencer constituted one half of a comedy duo with Terence Hill, and together they starred in a spate of spaghetti westerns and action pot-boilers in the sixties and seventies that snared quite a following among cinema-goers, (although I must admit I could never quite work out why). Spencer was born Carlo Pedersoli in Naples in 1929. It might surprise readers to learn that he was quite an athlete in his younger days, becoming the first ever Italian to swim the 100-meter freestyle in less than one minute! Pedersoli represented his country in the Helsinki, Finland Olympics in 1952 and at Melbourne, Australia in 1956. He was also an Olympic-class water polo player. Looks can certainly be deceiving.