Rita Hayworth
Rita Hayworth was a very talented dancer, a glamorous personality and a greatly desired sex symbol. She may have developed into a good actress, too, but she never really got the chance, forced to accept 'image' roles rather than genuine acting parts. Her famous red hair came out of a bottle; she was a natural brunette. When she was signed to a contract at Fox, studio heads decided that her hairline was too low on her forehead, so she was made to undergo years of painful electrolysis to make it higher.
Rita & Prince Aly Khan
Her search for true love saw her put her career on hold in 1949 to marry Prince Aly Khan, a notorious and extremely wealthy playboy. Of course, it did not last and they were divorced inside four years. 'Just because I was married to Aly Khan, people think I'm rich', she said later in life. 'Well, I'm not. I never got a dime from Aly or any of my husbands.' She was one of the four inspirations for the creation of the character Jessica Rabbit in the 1988 film Who Framed Roger Rabbit – the other three being Veronica Lake, Julie London and Lauren Bacall.
Goddard & Gable 1949
According to Paulette, by Joe Morella and Edward Z. Epstein, Paulette Goddard came very close to marrying Clark Gable at one time. But then he blew it. The 'King of Hollywood' was seeing her off to Mexico to film a movie, when she asked him to kiss her goodbye. Gable flatly refused to do so because of the battery of photographers and newsmen present, and Paulette (and her vanity) took offence. She reportedly snapped, 'Well, that's that. So long, Sugar!' And with those parting words echoing in his ears the romance was over. It was April 1949 and their relationship was reported to have been heavy but brief. Thirty-eight year old Paulette was Jewish, a divorcee (twice), and still wed to Burgess Meredith. Forty-eight year-old Clark was Roman Catholic, three times divorced and once widowed. The chances of one of them switching religions in the event of marriage were probably remote anyway.
Mark Harmon & wife Pam Dawber
Mark Harmon portrays Special Agent Jethro Gibbs in the successful TV series NCIS and other shows set within the franchise. In 1996, forty-five year-old Harmon saved the lives of two teenage boys in a real life brush with death. The teenagers were involved in a car accident outside his home and the quick-thinking actor used a sledgehammer from his garage to smash the window out of their vehicle. He then dragged them to safety before they could be burned to death while his wife Pam Dawber (Mindy in the hit TV series Mork & Mindy) called 911. The fuel tank might have exploded at any moment so Harmon risked his own life in the process.
Eileen Heckart with Marilyn on the set of Bus Stop (1956)
Eileen Heckart was in Arizona visiting her son who had meningitis when director Joshua Logan rang to ask her to appear in his next movie Bus Stop (1956). Such was his determination to land her for the role of Vera in his film, Logan read the entire script to her over the phone. It took him two and a half hours to do so while her whole family patiently waited for dinner! Marlene Dietrich was another who appreciated Eileen's acting ability, saying of her: 'If she were acting in Europe, she'd be queen of the boards. The barbarism of Hollywood typecasting deprives the world of her true talents.' A quiet achiever, Eileen picked up an Oscar, a Golden Globe and a Primetime Emmy Award over her illustrious career.
Charles Hawtrey
Charles Hawtrey was the bespectacled, eccentric character who featured in twenty-three of the 'Carry On' films that the British loved so much. He was an eccentric away from the screen as well as on it, and lived in an old smuggler's cottage near the seafront at Deal where he kept his extensive collection of old brass bedsteads. His friend and 'Carry On' co-star Kenneth Williams said Hawtrey believed that 'one day he would make a great deal of money from them.' He liked to brag that he came from a theatrical family and was named for the celebrated Edwardian actor/manager Sir Charles Hawtrey, but it was a lie. In truth, his father was a motor mechanic from Hounslow. In 1984, one of Hawtrey's young male lovers left a cigarette burning on the sofa and the Deal home went up in flames. By 1988, the actor's serious arthritis condition had reached the stage where he was compelled to choose between the amputation of both his legs and death. He refused the operation and died a month later at the age of 73.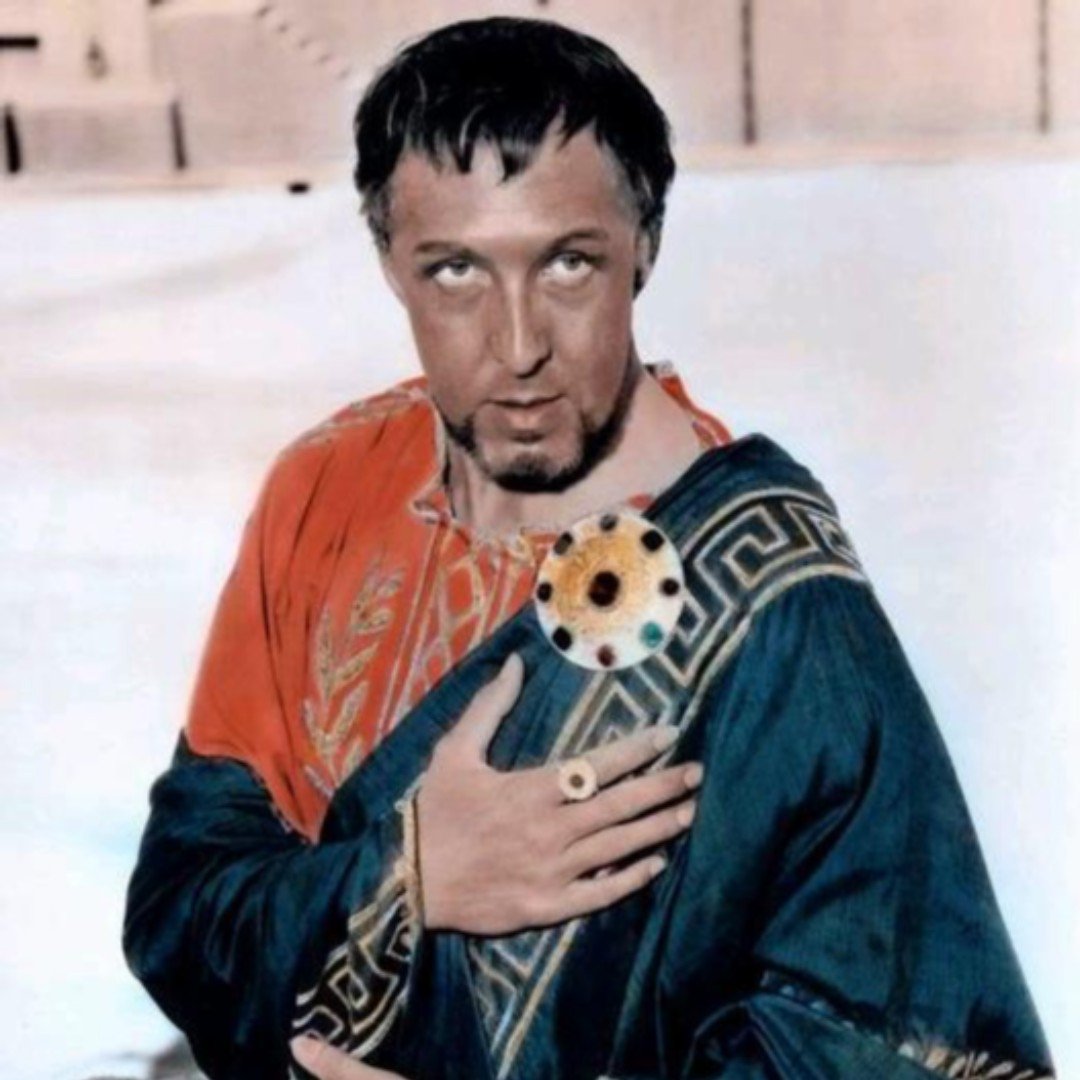 Frank Thring as Pontius Pilate in Ben-Hur (1959)
Although Australian actor Frank Thring was flamboyantly gay, he desperately wanted children so, in November 1955, he married actress Joan Cunliffe at the Stratford- upon- Avon parish church. Laurence Olivier gave the bride away and Vivien Leigh was matron of honour. Thring's intended was the manager of dancers Rudolf Nureyev and Dame Margot Fonteyn at the time. The groom was bitterly disappointed when the union was dissolved without issue, possibly because there was never consummation, and the couple went their separate ways in December 1956. Today, Frank is best-remembered for his unique portrayals of Pontius Pilate in Ben-Hur (1959) and King Herod in King of Kings (1961).
Mitchum & Laughton on the set of Night of the Hunter (1955)
When Confidential Magazine published a story about Robert Mitchum titled 'The Nude Who Came to Dinner', his studio threatened to sue the editor. The article had claimed that a drunken Mitchum turned up at a party at Charles Laughton's residence, stripped naked, daubed himself in ketchup, and announced to the gathering that he was 'a hamburger'! Evidently, Bob's studio felt that the article presented their star in an unfavourable light. In fact, the real story was a whole lot worse! Mitchum was indeed drunk when he arrived at what he thought was a costume party, only to discover that almost everyone present was gay and looking forward to an evening of sexual shenanigans. He drunkenly whipped out his penis, smothered it with ketchup, and asked in a booming voice, 'Okay, which one of you fags wants a hot dog?' Confidential threatened to divulge the facts in their entirety if taken to court and the studio chose not to proceed.