COCHRAN, Steve                                                                                                                     
Tabloids 'bad boy' Steve Cochran was classified as 4-F and rejected for military service because of a heart murmur. So, for most of the war he organized, directed and performed in shows for Army camps on the west coast of the United States. He had purposely set his sights on becoming a Hollywood movie star prior to the outbreak of war, so choosing to put on shows provided ideal training and the opportunity to mingle with Hollywood folk on a daily basis.
Fast-forward 20 years or so. While making Mozambique (1964), he took ill but refused to see a doctor. A few months later, in 1965, he hired an all-girl crew of three to sail with him while he checked out locations for an upcoming movie. They sailed from Acapulco on June 3, but struck severe weather and Cochran's ill health took a turn for the worse. Apparently, on June 15, the 48 year-old actor succumbed to an acute lung infection off the coast of Guatemala, leaving the three terrified girls (one was just fourteen) alone with his corpse for ten days before the vessel drifted to shore and they were picked up by authorities. A former lover of Cochran's, actress Merle Oberon, suspected foul play but was unable to get the local authorities to investigate his death further.
CONNORS, Chuck:                                                                         
On October 20, 1942, 21 year-old Chuck joined the US Army, listing his occupation as a ski instructor. After enlisting in the infantry at Fort Knox, he later served mostly as a tank-warfare instructor at Camp Campbell, Kentucky, and then finally at West Point, New York. He was discharged in early 1946 without ever seeing any action. For over thirty years he smoked three packets of Camel cigarettes daily before giving up the habit in the 1970s, but the damage had been done. Lung cancer claimed him in 1992 at the age of 71. Today, he is best remembered for playing Lucas McCain in the popular TV series The Rifleman, which ran from 1958 until 1963.
CONRAD, William:                                                                          
Television viewers from the seventies would recall Conrad playing the heavy-set private detective Frank Cannon in the series Cannon. Radio fans of the decades preceding that would doubtless recognize his wonderful, rich speaking voice from any number of the 7,500 characters he portrayed over the air waves. On the day he was commissioned in the USAAF, in 1943 at Luke Field, he married his sweetheart June Nelson, the first of his three trips down the aisle. He served as a fighter pilot from 1943-5 and was known to have flown his P-39 fighter underneath the Golden Gate Bridge – twice! By the time he left the USAAF, he had attained the rank of captain and was a producer-director of the Armed Forces Radio Service. He passed away from heart failure in 1994, aged 74.
COOGAN, Jackie: 
Jackie the child star & as Uncle Fester in The Addams Family (1964)                                                                      
Jackie was 50 and almost broke when he landed the role of Uncle Fester in TV's The Addams Family (1964). It made him known worldwide and he was never out of work from then until the day he died. He enlisted in the US Army in March 1941, but requested a transfer to the USAAF as a glider pilot because of his civilian flying experience. After graduating as a flight officer, he volunteered for hazardous duty with the 1st Air Commando Group. Sent to India in December '43, he flew General Orde Wingate's Chindits to night-time jungle clearings a hundred miles behind Japanese lines in Burma during March 1944. In 1984, he was unable to survive the combined effects of kidney and heart failure, and he was gone at 69.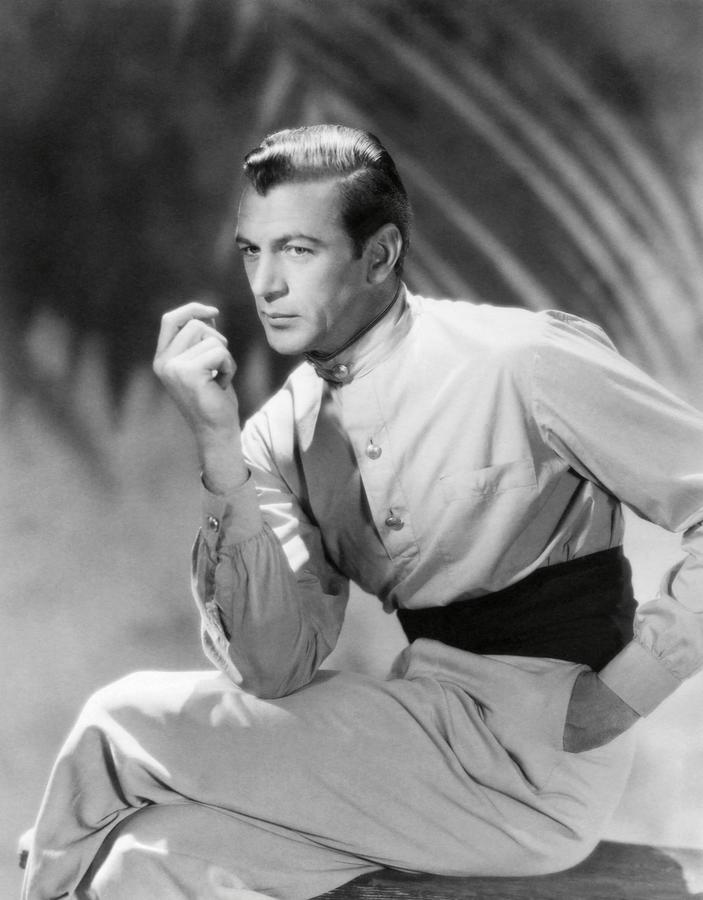 COOPER, Gary:                                                                               
Back in his youth 'Coops' was injured in an auto accident. His first doctor, unaware that the young man's hip was broken, improperly set the bone before advising him that lots of horseback riding would mend it. The result of all this was that Cooper learned to ride with a broken hip and developed a distinctive, limping walk. It earned him a 4-F draft status that kept him out of combat for the duration.  
Coops performing with the USO during the war                                      
Like his friend Spencer Tracy, he was anything but keen on working with the USO, but Tracy finally talked him into it and the cowboy star agreed to go on a five-week tour of New Guinea. He couldn't sing and he wasn't funny, but he bravely pumped out 'Mairzy Doats' and 'Pistol Packin' Mama' to increasingly restless crowds of GIs, until someone suggested he deliver Lou Gehrig's farewell speech from The Pride of the Yankees. He did so and a hush fell over the entire audience. His popularity with females was never more evident than at Hunter College in Manhattan when he kissed a WAVE and 3,000 of her comrades in the audience swooned! In 1961, prostate cancer took him a week after his 60th birthday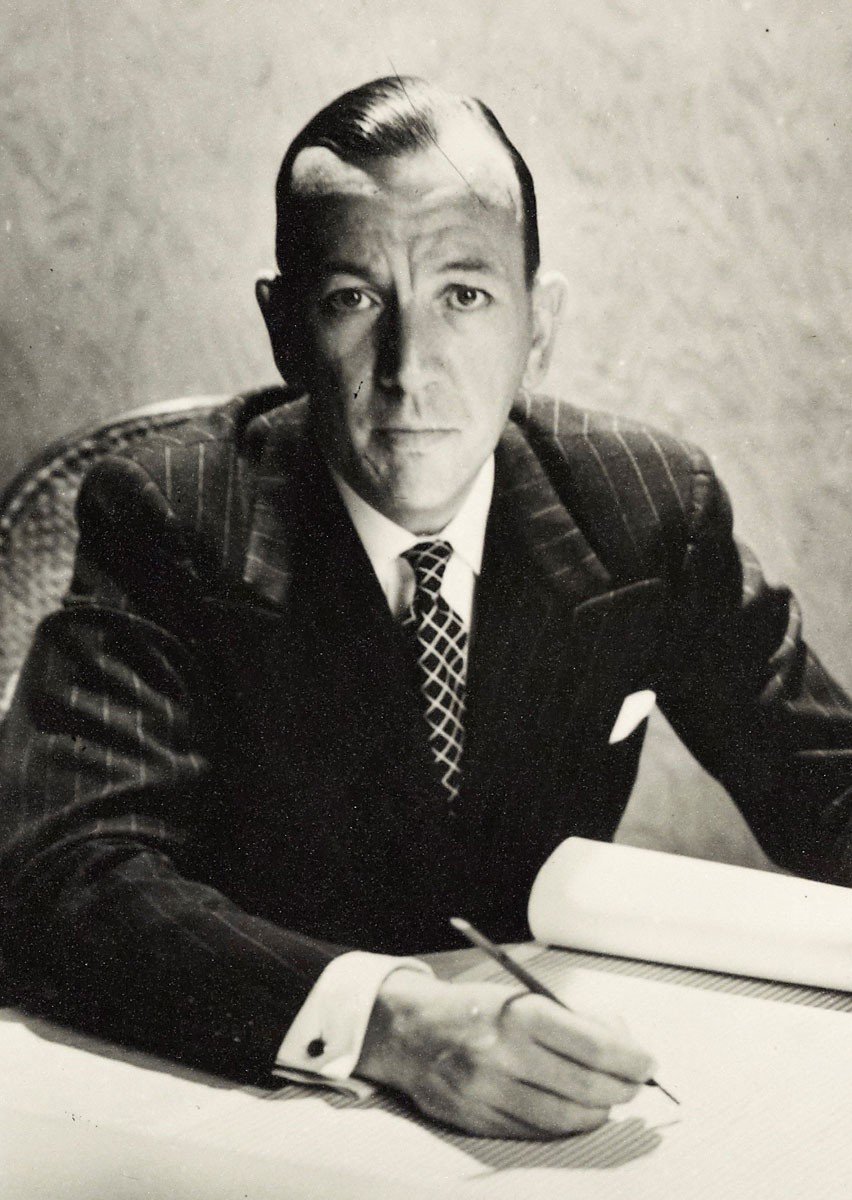 COWARD, Noel:                                                                  
The British playwright, actor, author and composer spied for the Allies during World War Two, working undercover for British Intelligence. According to never before seen letters, Winston Churchill personally intervened to block awarding the Knight Bachelor of the Order of the British Empire to Coward in 1942, urging King George VI to abandon such plans. Churchill felt Coward's flamboyant lifestyle during those trying times was unpopular with the average Briton. Although Coward was a personal friend of the king, he was not enamored of the Duke of Windsor, suggesting at the time of his abdication that the Duchess of Windsor should have statues erected of her throughout the nation for the blessing she had bestowed upon the country.
After running the British Propaganda Office in Paris, Noel began working for British Intelligence. It was his task to use his celebrity status to influence American public and official opinion in favor of helping Britain. It later emerged that, had Germany invaded Britain, Coward's name was high on the list of 'enemies of the Reich' to be executed. Others in The Black Book included Virginia Woolf, Paul Robeson, Bertrand Russell, H.G. Wells, C.P. Snow and Rebecca West.
Churchill wanted him to entertain the troops and ignore intelligence work, and told him so. Coward did as the Prime Minister asked, touring, acting and singing throughout Europe, Africa, Asia and the Americas. When his London home was wrecked by the Luftwaffe in 1941, he took up temporary residence at the Savoy. In 1969 he was knighted, but by then was suffering from arteriosclerosis. However, heart failure was listed as the cause of his death at 74 in 1973.