BOGART, Humphrey:                                                         
Bogie felt no guilt about not being in uniform during WW2 and nor should he have. In 1942 he was 43 years old and a married man, old enough to have seen action in the First World War as a 17 year-old sailor on the troopship USS Leviathon. During WW2, he and his wife, actress Mayo Methot, ventured overseas with the USO in December '43, entertaining in North Africa. General opinion was that the couple saw an enormous amount of combat on the tour – but only with each other! Bogie died in his sleep at his Hollywood home following surgeries and a battle with throat cancer. He was only 57.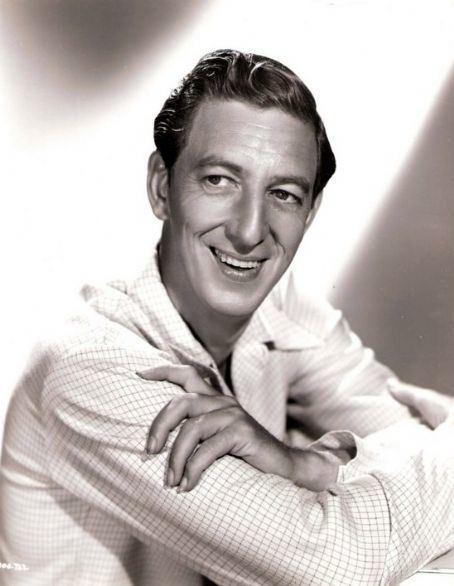 BOLGER, Ray: 
An old vaudevillian who was talented enough to play the legendary Palace Theatre in New York City, Bolger would achieve screen immortality playing Scarecrow in the 1939 children's classic The Wizard of Oz. He was partway through his performance at the Paramount Theatre when he was interrupted by President Roosevelt's announcement on the radio that the United States had been attacked at Pearl Harbor, Hawaii by aircraft of the Empire of Japan. At 37 years of age he was too old for the armed forces, so Bolger enlisted with the USO and toured the Pacific war zone with Joe E. Lewis. He also featured in the United Artists wartime film Stage Door Canteen (1943). Bladder cancer claimed him in 1987, five days after his 83rd birthday.
BOONE, Richard:                                                                
The actor who would become known around the world as Paladin of the popular western TV series Have Gun – Will Travel, joined the US Navy and served on three ships in the Pacific, seeing combat as an aviation ordnance-man, air-crewman and tail-gunner on Grumman TBF Avenger torpedo bombers. Sadly, he would struggle with alcoholism for most of his life, allegedly brought on by his wartime experiences. Boone was also a chain smoker who succumbed to throat cancer in 1981 at the age of 63.
BORGNINE, Ernest:                                                                       
The future Commander McHale of TV's McHale's Navy did two stints with the US Navy totaling ten years' service all told but does not appear to have seen any action. Enrolling first in 1935 after graduating high school, he served aboard the destroyer/minesweeper USS Lamberton until his discharge in October 1941. Three months later, in January '42, following the Japanese attack on Pearl Harbor, he re-enlisted and spent the war patrolling the Atlantic Coast on an anti-submarine warfare ship, the USS Sylph. Borgnine was honorably discharged in November 1945. He lived to his 95th year before kidney failure killed him in 2012. 
BOYER, Charles:                                                                       
Frenchman Charles Boyer was a confirmed (and informed) anti-Nazi since the early thirties. He was in France making a movie in late 1939 when war was declared and, although he had lived in Hollywood for years, he was still a French citizen. So, he promptly put his wife on a plane for London and enlisted (at 40) in the French Army. Before long he was manning a switchboard on the southern end of the Maginot Line where his tour of duty lasted just eleven weeks. A Government agent convinced him that he could serve France infinitely better as an emissary of goodwill in the US, whereupon he returned to California in December of 1939.When the Maginot Line was easily over-run by the Germans, it was disconcerting to him to discover that Americans were far more concerned about the launching of Gone with the Wind than about the progress of the war in Europe. In 1942, he became a naturalized citizen of the United States. Two days after his wife of 44 years died in August 1978, and two days short of his 79th birthday, Boyer committed suicide with an overdose of Seconal.
BRAND, Neville:                                                                                                                        
He was one of those prolific actors whose face was immediately recognized even if his name was not. In most of his 139 movie and TV credits he played a 'heavy', courtesy of having been 'blessed' with craggy features and a pock-marked countenance. In effect, his face was his fortune. He joined the Army in 1939, well before Pearl Harbor, with the intention of making the military his career, but after appearing in some training films he decided to focus on acting once the war was over. Throughout his film career he was cited many times as 'the 4th most decorated soldier of World War Two, but this was incorrect, as he personally pointed out before his death in 1992.
Official military records confirm that he was indeed the recipient of the Silver Star for gallantry in combat. A Purple Heart signifies he was wounded in an action along the Weser River in April 1945, when his upper right arm was struck by a bullet and he almost bled to death. In a 1966 interview, Brand explained how he won the Silver Star, America's third highest decoration for valor in the military. Withering German machine-gun fire from a hunting lodge was keeping him and his unit pinned down. 'I must have flipped my lid', he said. 'I decided to go into that lodge.' After serving in the Ardennes, Rhineland and the Central European campaigns, he was discharged from the service in October 1945 with the rank of sergeant. He fought a lifelong battle with alcoholism but it was emphysema that finished him at 71 in 1992.
BRANDO, Marlon:                                                                                                                   
Brando was classified 4-F because he was near-sighted and had a football-damaged knee. Before that he was expelled from Shattuck Military Academy, (for smoking, the school claimed), although some sources say he had been insubordinate to a visiting colonel. Whatever the reason, he was pushed into applying for the Army by his enraged father who thought military service might make a man of him. Already a consummate actor, young Marlon spent the remainder of the war pretending to be a military veteran with a wounded knee. Indeed, passengers aboard a Milwaukee train took him at his word and chipped in to pay his fare on one occasion! Brando lived on until 2004. In his final days he refused permission for tubes carrying oxygen to be inserted in his lungs, the only way, he was told, that his life could be prolonged.