When I first decided to write about the wartime stories of movie personnel touched by the Second World War, I thought of categorizing individuals, of presenting my findings under group headings: 'Those who saw action, those in uniform who never saw combat, USO performers, Hollywood Canteen regulars, those who toured the USA selling war bonds, those who escaped the draft for any number of reasons, conscientious objectors, isolationists, pacifists and so on'. In the end, however, I chose to handle the stories alphabetically. There were just too many individuals who did not neatly fit into any single category, and to place them would merely invite criticism. Of course, I expect criticism anyway as a matter of course. The life stories of these people have been twisted, manipulated, enhanced and falsified by just about anyone who ever came in contact with them during their careers, so why should their wartime stories have been treated any differently?
I have endeavored to ignore the contrived studio blurbs, agents' sales-pitches and press hype, wherever possible. One minor actor, for example, was credited by one source with having personally shot down five enemy aircraft, yet every other source claimed he was medically discharged just days after his recruitment and never saw action at all, so I chose to leave him out altogether, rather than alienate either school of thought. Problem solved – or should I say 'shelved'? Having said that, it is therefore apparent, this is not a comprehensive record of all the Hollywood folk who were involved in the war. There were simply too many of them. It is more a collection of what I feel are the most interesting or unusual stories I encountered regarding actors and actresses only.
Naturally, I will expect the usual percentage of fan club presidents (not to mention obsessed fans) to accuse me of muck-raking, assailing the reputations of the dead (now that they are unable to defend themselves), rumor-mongering, or simply demonstrating my lack of investigative skills. Such criticism is no longer new to me. Fortunately, it is also less prevalent than it was a few years ago and the messages of support far outweigh the abuse these days. All I can say in response to any negative reactions is this: I have researched and analyzed to the best of my ability. If you disagree with my findings, I apologize. If I have seemingly sullied the reputations of your heroes or heroines, or disturbed the sheen on their carefully preserved images, it might be worth remembering that none of these people was ever perfect anyway. And neither am I.
When World War Two started in September 1939, studio moguls in Hollywood faced a dilemma. Most of these men were Jewish and hailed from European countries about to be subjected to Nazi occupation. Nazi treatment of Jews in Germany was common knowledge, yet the studio heads seemed far more concerned with the loss of their European market than with opposing the oppressors and their abominable policies. In fact, studio heads met and agreed to refrain from making movies that might be judged to be anti-Hitler or anti-Nazis. When he came to power in January 1933, the heads of all the major studios began dealing directly with his representatives. They regularly met with the German consul in Los Angeles and altered (or cancelled altogether) movies according to his wishes.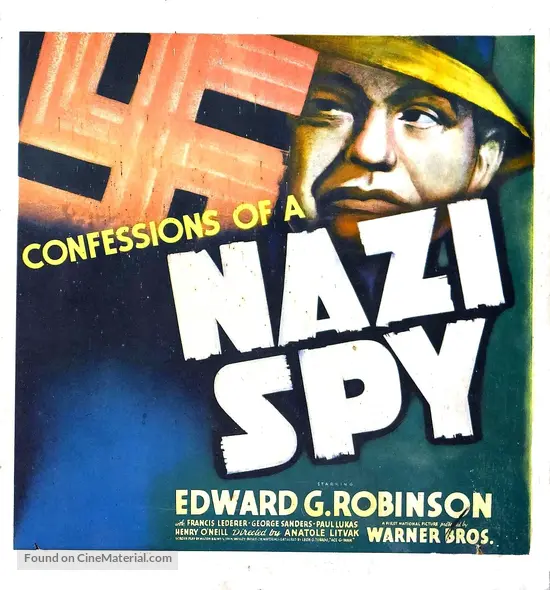 This attitude would last for several years until the European market was lost to Hollywood anyway as the war erupted in September 1939. LB Mayer at MGM did all he could to avoid antagonizing Hitler and losing the lucrative German market, but once it began disappearing he changed his tune somewhat. The Mortal Storm was released in 1940 by MGM and it was clearly anti-Nazism. Hitler viewed it and promptly banned all MGM films from Germany for the duration. By the end of 1940, the other studios had also indicated that America needed to be involved in the war against Hitler. Hollywood released movies such as Confessions of a Nazi Spy (1939), Foreign Correspondent (1940), A Yank in the R.A.F., Man Hunt and Sergeant York in 1941. The tide had turned.
I think it only fair to point out that most Americans who enlisted or were drafted during WW2, served their time without ever hearing a shot fired in anger; without ever getting anywhere near combat. They did their duty, usually performing work for which they were skilled, either enjoying or hating their time in uniform. But before that could happen, it was necessary to convince the average American that his or her nation must first get into the conflict. The Empire of Japan answered that question for them on December 7, 1941, by attacking the US Pacific Fleet at anchor in Pearl Harbor, Hawaii.
ABBOTT, Bud & COSTELLO, Lou:                                
Although they had already enjoyed a small role in One Night in the Tropics in 1940, Abbott's & Costello's careers really took off after they were asked to burlesque the draft in a 1941 movie titled Buck Privates. It made $10 million for Universal and introduced movie-goers, not only to Bud and Lou, but to the Andrews Sisters as well. They belted out three hit songs in the film, including the rollicking 'Boogie Woogie Bugle Boy'. Buck Privates proved so successful that Universal and the Treasury Department had the boys make In the Navy and Keep 'Em Flying to further encourage recruitment in the other services. Abbott & Costello would also become two of the nation's most successful war-bond salesmen over the course of the war. Curiously, the Japanese are said to have shown Buck Privates to recruits as an example of how poorly trained were American troops. Just how many recruits really fell for that is highly debatable, however. In 1943, Costello was stricken with rheumatic fever which damaged his heart and would ultimately lead to his early death at 53 in 1959. Abbott passed away at the age of 78 in 1974.
ADAMS, Don:                                                                       
To an entire generation, actor Don Adams will always be Maxwell Smart of the iconic sixties TV series Get Smart. As a teenager he joined the US Marine Corps and participated in the Battle of Guadalcanal in 1942. It was reported that he was the only survivor from his platoon after one particularly savage encounter with Japanese troops, but I have been unable to unearth verification for this. It is, however, a fact that he contracted black-water fever, a serious complication of malaria that almost claimed his life. Consequently, his combat days were cut short and he was evacuated to a Navy Hospital in Wellington, New Zealand where he spent a year recuperating. Back in the states he saw out the rest of the war as a Marine drill instructor. In his final years he suffered from lymphoma and a lung infection, a combination that took him in 2005 at the age of 82.