Maria Riva 1951 – daughter of Marlene Dietrich
Paramount's 1948 production The Emperor Waltz starred Bing Crosby and Joan Fontaine. The story was set in the Alps, but the film was shot in Canada at Jasper National Park. Director Billy Wilder, ever the perfectionist, was not happy with the Canadian pine trees, so he spent $20,000 of Paramount's money and had pine trees from California transported and planted on location. He also felt that white daisies did not photograph well, so he had 4,000 of them planted and then painted blue! This film features London-born character actor Richard Haydn, a player best-remembered for his portrayal of the Baron von Trapp's friend Max Detweiler in The Sound of Music (1965). Haydn never married during his 80 years of life, but was engaged to Maria Riva, daughter of Marlene Dietrich, for several months in 1943.
Montgomery Clift, Olivia de Havilland & Ralph Richardson in The Heiress (1949)
Director William Wyler became a staunch supporter of his star Olivia de Havilland when he directed her in The Heiress (1949) and witnessed the lady battling against the pettiness of her fellow players. Co-star Montgomery Clift did not appreciate her talents as an actress and adopted a sneering attitude towards her throughout filming. Adept scene-stealer Sir Ralph Richardson also did his utmost to undermine her performance with his usual eccentric improvisations. To Olivia's great credit she put up with their infantile interference and actually went on to win the Best Actress Oscar for her performance in the picture. Decidedly unhappy with his own acting in The Heiress, the highly critical Clift chose to walk out of the premiere part of the way through.
Fred Astaire and Ginger Rogers made ten movies together, nine of which were shot in black and white at RKO. Their tenth and final pairing was The Barkleys of Broadway (1949), made at MGM and in colour. Fred was supposed to partner Judy Garland following their success in Easter Parade in 1948, but her addiction to over-the-counter prescription drugs had spiralled out of control by the time filming was about to start and she was replaced by Ginger, despite rumours (denied by both) that Ginger and Fred never got along all that well on the sets of their movies. The original title of the film was supposed to be You Made Me Love You, after one of Judy's major hit songs, but that had to be changed with the new casting.
Gale Robbins
Gale as Adelaide Adams in Calamity Jane (1953)
Singer/actress Gale Robbins, all but forgotten today, was a great beauty during the Second World War. Born in Mitchell, Indiana in May 1921, she was crowned Miss Chicago at the age of 17 in 1938 and signed by 20th Century Fox in 1942. A year later she married her childhood sweetheart Bob Olson. After the war he was to become a successful building contractor until his tragic death at 57 when he fell from a construction wall in 1967. Back in April 1944, Gale had made the cover of Yank, the Army Weekly and had established herself as the top attraction on Bob Hope's 1945 tour of overseas bases. Not only was she a great beauty, Gale was also an excellent band singer. Lovers of the Doris Day musical Calamity Jane (1953) will recall her portraying singer Adelaide Adams, the lady Calamity promises to bring to Deadwood. Throughout the early years of television Gale landed roles in most of the more popular series – The Untouchables, 77 Sunset Strip, Perry Mason, Gunsmoke and Mister Ed. Lung cancer would claim her at the age of 58 in 1980.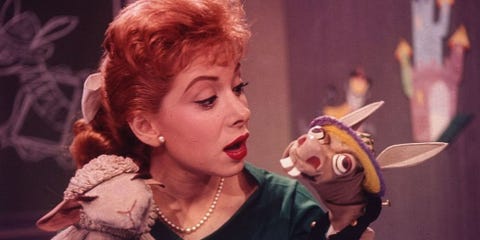 Shari Lewis with Lamb Chop & Charlie Horse
In 1952, a 19 year-old named Shari Lewis won first prize on the CBS television show, Arthur Godfrey's Talent Scouts, the first step towards launching her career as a children's TV host. She is mostly remembered for her talents as a ventriloquist and her loveable hand puppets, 'Lamb Chop', 'Charlie Horse', 'Hush Puppy' and 'Wing Ding'. Film director Garry Marshall was a gag writer when he and his writing partner Fred Freeman were asked to write material for her shows in the fifties. He recalled how pleasant she was, offering the men coffee or tea and saying how funny their jokes were. But then her puppet, 'Lamb Chop', would yell at them. 'Boys, these pages are not funny at all. You can do better than this.' At subsequent meetings with Shari, the girl would offer them donuts and be as sweet as could be, until 'Lamb Chop' recommenced yelling at them: 'We don't do satire. Write better!' Following another similarly bizarre meeting, Fred made a decision. 'We are done', he told Shari. 'I can't write for a piece of cloth any longer.' Garry concurred.
George Montgomery & wife Dinah Shore
Dinah with Frank Sinatra
In 1961, George Montgomery went off to the Philippines to make a B-feature titled Samar. While there he entered into a torrid affair with one of his co-stars, Israeli beauty Ziva Rodann, a relationship that went on for eight months. It appears he also became intimately involved with his other co-star, the lovely Joan O'Brien. Back home in California his wife, singer a TV star Dinah Shore, learned of his infidelity and sued for divorce, bringing to an end their 18-year marriage. The much-beloved Dinah had become somewhat of an icon, ever since the days when she was presented with the USO Medallion Award as the first entertainer to visit American GIs on the front lines during World War Two. She, too, was known to have had at least one lover during her marriage to Montgomery, a long-standing affair with none other than Frank Sinatra. After her divorce there were relationships with singer Eddie Fisher, comedian Dick Martin and actor Rod Taylor. Then, later in her life, Burt Reynolds came along.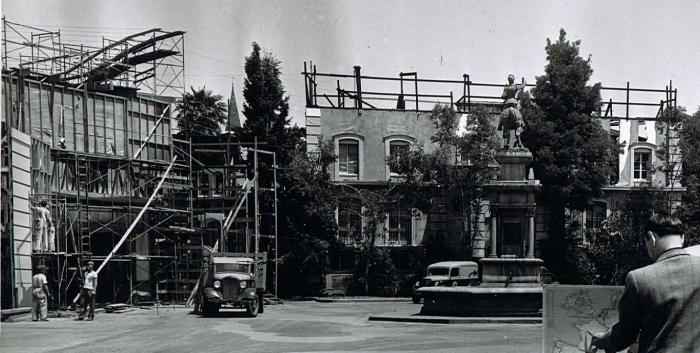 Part of the 20th Century Fox backlot
Century City was once the backlot of Twentieth Century Fox. When Fox had a string of movie disasters in the fifties and sixties, most notably Cleopatra (1963), it became necessary to sell off the 180-acre backlot to Alcoa who turned it into Century City. Cleopatra was originally budgeted at $2 million but by the time it was completed the cost had escalated to a staggering $44 million! The movie's star, Liz Taylor, scarcely helped the situation, milking every cent she could from the studio's coffers and then some.