Columbia head Harry Cohn pictured with Rita Hayworth
The notoriously vulgar Harry Cohn, head of Columbia Pictures, had his mind set on using Rita Hayworth, an actress he sexually harrassed for decades, for the role of Billie Dawn in the 1950 classic Born Yesterday, but she had just married Prince Aly Khan and had put her acting career on hold. Director George Cukor insisted on casting the wonderful Judy Holliday for the part, despite Cohn dismissing her in his usual crude way as 'that fat Jewish broad'. At their first official meeting after she had been cast, Cohn muttered, just loud enough for her to hear, 'Well, I've worked with fat asses before.' When she refused to sign the standard seven-year contract, agreeing only to her making one picture a year for seven years while maintaining her base in New York City, he managed to get her for just $30,000 for Born Yesterday, with paltry $10,000 rises for each subsequent film.
Judy Holliday, Broderick Crawford & William Holden in Born Yesterday (1950)
Katharine Hepburn deliberately leaked to the Hollywood press that Judy had stolen Adam's Rib (1949) from under hers and Spencer Tracy's noses. It was enough to convince Cohn to sign Judy to play Billie Dawn. She then virtually starved herself for months, ultimately emerging as a glamorous beauty in the Jean Louis gowns created for the picture. Not only did she win the Best Actress Oscar for her fabulous performance; she managed to beat both Bette Davis (All about Eve) and Gloria Swanson (Sunset Boulevard) in doing so.
Garson Kanin & his wife, actress Ruth Gordon
Garson Kanin wrote that Marilyn Monroe tested for the role in 1948 and those who saw her test said she was terrific. Cohn was told this but could not be bothered walking the half dozen steps from his office to view it in the projection room. Judy had a morbid fear of flying, so when it came time to do location filming in Washington, she insisted on taking the train from Hollywood to the nation's capital. Broderick Crawford sympathised with her fear of flying and agreed to accompany her on the 4-day trip. They played gin rummy all the way there, (just as their characters did in the movie), and became good friends for the remaining 15 years of Judy's life.
At the time of the release of Born Yesterday, Judy was publicly (and stupidly) accused by the anti-Communist publication Red Channels as being a member of several organisations fronting for the Communist Party. Furthermore, the reviewer for Tidings, a Catholic newspaper in Los Angeles, went along with the nation's rising tide of anti-Communist rhetoric and scathingly described the film's screenplay as being 'subtly moulded to carry destructive comment through disarming comedy.' Even gossip columnist Louella Parsons wasn't buying that and she countered with: 'If there are any pink ideas infiltrated into Born Yesterday, they are way over my head.'
The Hollywood Production Code Administration suffered palpitations over any overt reference to the fact that the Billie Dawn and Harry Brock characters lived together, so it became necessary for the writer, Garson Kanin, (and Cukor) to come up with a way of overcoming this. Shots of Billie sneaking in the back door of Harry's apartment were inserted to make it appear she had her own residence elsewhere. Speaking of Kanin, he once publicly declared that he would not sell the film rights to Born Yesterday to Harry Cohn, 'for any amount – not even a million dollars.' When Harry learned of this he offered that very amount, one million dollars, and Kanin changed his mind and accepted. It was a record payment for a movie property at that time.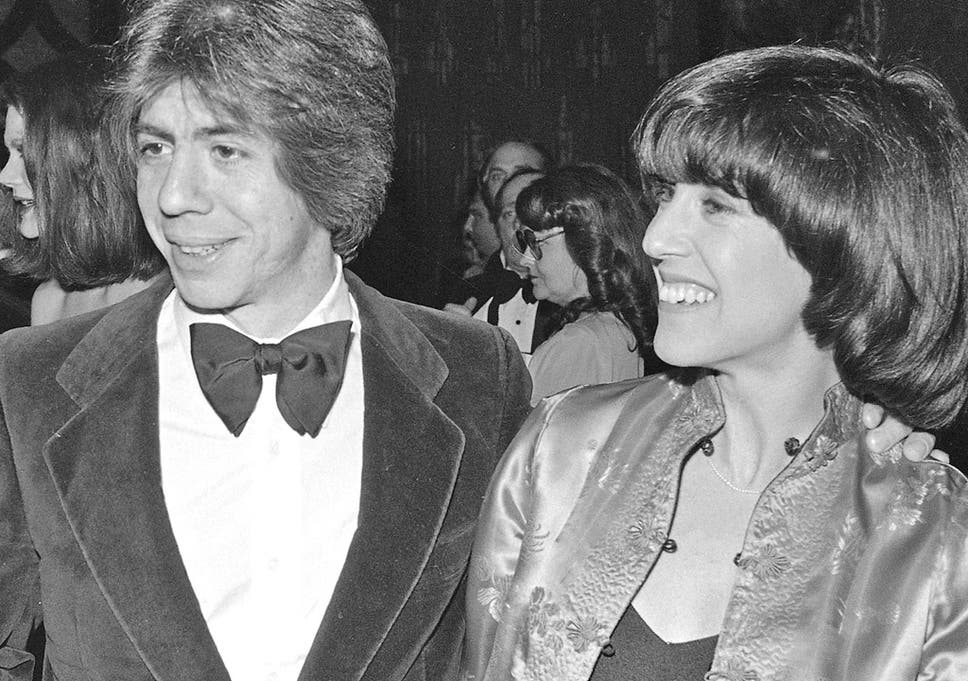 Writer Nora Ephron with her 2nd husband, journalist Carl Bernstein 1978
Screenwriter and gender-differences savant Nora Ephron was married to investigative journalist Carl Bernstein from 1976 until 1980. His infidelities led to her writing Heartburn. He wrote the book, titled All the President's Men, about the Watergate break-in and President Richard Nixon's involvement in its planning. Bernstein and fellow Washington Post journalist Bob Woodward were aided in their investigations by an 'inside-man' they referred to as 'Deep Throat', but whose identity they kept to themselves. Nora told interviewer Tom Brokaw in 2005 that she figured out the man's identity early in her marriage. Bernstein's notes mentioned 'M.F.', an abbreviation he said stood for 'my friend', but Nora correctly deduced that the initials stood for Mark Felt, former assistant director of the FBI during Nixon's administration. She was happy to say so to anyone who asked.
Mark Felt ('Deep Throat')
A prolific and successful screenwriter, Nora was thrice nominated for Academy Awards, Silkwood (1983), When Harry Met Sally… (1989) and Sleepless in Seattle (1993). Her parents, Henry & Phoebe, were also successful screenwriters, having jointly penned such screenplays as There's No Business Like Show Business (1954), Daddy Long Legs (1955), Carousel (1956) and Captain Newman M.D. (1963).
 Michael J. Fox & Christopher Lloyd in Back to the Future (1985)
Michael J. Fox played Marty McFly in the three Back to the Future features that began in 1985 and concluded in 1990. He recalled hiking in Bhutan, a remote little nation nestled between India and China in the eastern Himalayas, in 2010, when a group of Buddhist monks passed him by. As they did so, one looked at Michael and uttered the words: 'Marty McFly', before walking on! It was a surreal moment given the circumstances and the surroundings. Michael, incidentally, is only 1.63m tall, whereas his co-star in the trilogy, Christopher Lloyd, is 1.85m, so getting both actors in the same frame to accommodate their 9-inch height difference, required Lloyd to hunch over whenever they stood together.
Fritz Manes & Clint Eastwood in happier times
Producer Fritz Manes knew Clint Eastwood from their days at Piedmont Junior High School in Piedmont, California. He was two years older than Clint but in the same grade because Eastwood had been held back. Fritz became a producer on over a dozen of Clint's films and even had small acting roles in seven of them. Their relationship ended in bitterness during the making of Heartbreak Ridge (1986). While conducting on-site research, the Marines were respectful of Manes' Korean War record but took shots at Eastwood because he had spent the entire war as a lifeguard in California. How much of this derision was shared with Manes is debatable, but Clint threw a tantrum and had him dismissed on the spot! The man's possessions were dumped outside his Malpaso office after Eastwood had the locks changed. The two men reportedly never spoke again. Manes passed away in 2011.