Helen Mirren & River Phoenix in The Mosquito Coast (1986)
The Mosquito Coast (1986) is a disappointing film, mostly because of Harrison Ford's somewhat over-the-top performance in the lead. Oddly, of all the films he has so far made, he considers it to be his favourite. Considering it is the only one of his pictures not to turn a profit, it is an odd choice indeed. Jack Nicholson was initially chosen to star in Ford's role, but he turned the part down because it was to be filmed in Belize, and that meant he would be unable to watch his beloved Los Angeles Lakers basketball team. Jack's withdrawal resulted in the finance for the film falling through, thereby placing director Peter Weir in a difficult position. He called his agent and asked him to find a 'go' project into which he could step immediately as director. He was given three to choose from – Cocoon, The Mean Season and Witness. He opted for Witness and it proved to be an inspired choice. Both he and Ford, (he accepted the lead role), were nominated for Oscars and the movie itself was nominated for Best Picture.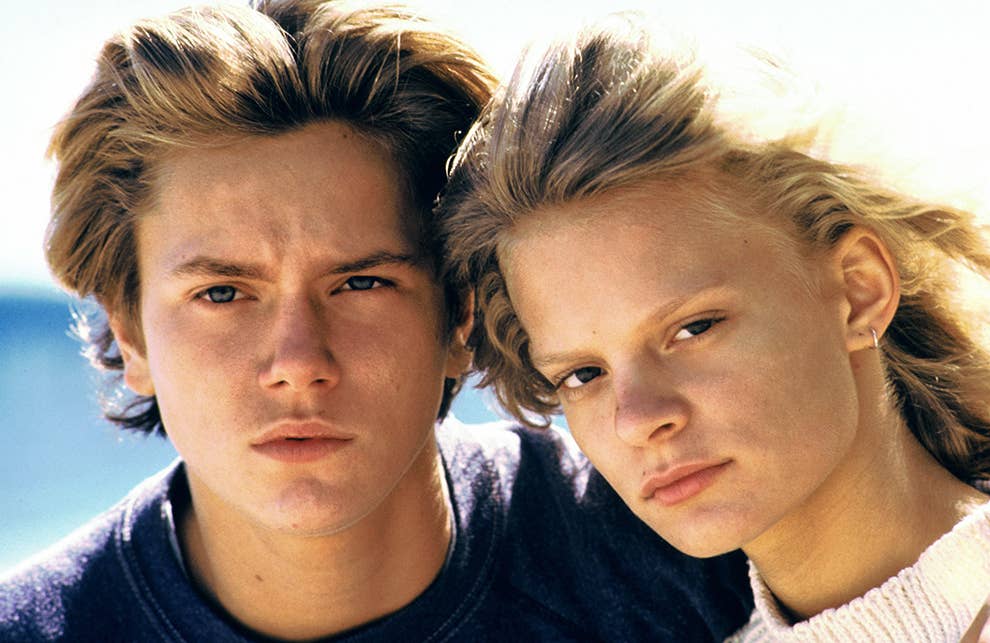 River & Martha Plimpton in Running on Empty
River Phoenix was 15 years old when The Mosquito Coast was cast. Considered too old for the part of Charlie Fox, he was passed over several times before Weir decided to ignore the age issue and cast him anyway. Martha Plimpton played Emily Spellgood in the film and she and River commenced a lengthy off-screen relationship that endured for a number of years. River had a reputation for being 'anti-establishment', particularly against big corporations, so Weir and others were greatly surprised to see him drinking cans of Coca Cola and devouring Mars Bars on the set. Publicly, he was also opposed to drug-taking of any kind, but clearly did not follow his own advice in private as his tragic death in 1993 indicated.
Butterfly McQueen as Ma Kennywick
Interestingly, the part of Ma Kennywick was played by Butterfly McQueen, the African-American actress who memorably portrayed the house servant, Prissy, in Gone with the Wind way back in 1939. The Mosquito Coast would be her final film. Nine years later, she died from burns suffered when she tried to ignite a kerosene heater in her Augusta, Georgia cottage. Firefighters found the 84 year-old actress (with severe burns to 70% of her body), lying on the sidewalk outside her home. She died a few days later in hospital. Ironically, Butterfly would probably never have even lived in Augusta had it not been for an incident in 1980. A Greyhound Bus Lines guard mistook her for a pickpocket, handled her roughly and threw her against a bench, cracking several of her ribs. She filed a law suit and was eventually awarded $60,000 in damages. With that money she purchased the small cottage in Augusta and moved there.
Jane Wyatt
Despite her impeccable upper-class British accent, lovely Jane Wyatt was actually born in Campgaw, New Jersey and raised in Manhattan. She entered this world in 1910, the daughter of a Wall Street investment banker and a drama critic for the Catholic World. Jane was directly descended (on her mother's side) from the van Renssalaer family, one of the earliest Dutch families to settle in the Colonies. The van Renssalaers arrived in the Americas in 1638 and at one time owned most of what is now New York City. Jane was also the great-great-great-great grand-daughter of Philip Livingstone, one of the signers of the Declaration of Independence. Her breeding counted for nought, however, when she landed one of her first Broadway jobs as understudy to Rose Hobart in a production of Trade Winds. She promptly lost her slot on the New York Social Register, but would be relisted upon her marriage to investment broker Edgar Bethune Ward. A devout Catholic (as were both her parents), she married Edgar in 1935, a happy union that ended with his death in November 2000, the day before the couple's 65th wedding anniversary.
Jane with Robert Young in Father Knows Best
Two years after her marriage, Jane starred opposite Ronald Colman in a 1937 classic, the Frank Capra-directed Lost Horizon. 'During the war [World War Two], they cut out all the pacifist parts of the film', she recalled. 'The High Llama talking about peace in the world. All that was cut because they were trying to inspire those G.I.'s to get out there and go, 'bang! bang! bang!' which sort of ruined the film.' The parts played by Jane and Margo in the film were one character in James Hilton's original novel.
In 1947, Jane joined the likes of Humphrey Bogart, Lauren Bacall and other Hollywood stars, and flew to Washington to protest the House Un-American Activities Committee hearings. 'I was never a member of the Communist Party', she said, 'but they brought up all sorts of charges that I had been to the Lab Theatre, which was considered subversive.' There is no doubt that her film career suffered because of her opposition to Senator Joseph McCarthy, the rabid anti-Communist. It was further derailed when, at the request of President Franklin Delano Roosevelt, she hosted a performance by the Bolshoi Ballet during the war. Presidential request or not, she was tainted by association by McCarthy and his supporters. The above photograph was taken on May 8, 1947 and shows members of the Committee for the 1st Amendment – L to R – Richard Conte, Jane, Paul Henreid & Marsha Hunt.
In 1954, she initially turned down the role of Margaret Anderson, the wife of Jim Anderson portrayed by Robert Young, in a new TV series titled Father Knows Best. 'I had been doing a lot of live TV drama in which I was the star', she later explained. 'I didn't want to be just a mother.' The show's ratings were down in its first season and CBS, so much so that it was cancelled in March 1955, but an avalanche of protest letters from viewers changed executive minds and they moved it to a different time slot instead. Father Knows Best would gain momentum and continue until 1960. In 1958, 1959 and 1960, Jane won consecutive Emmys for her work in the series.
Jane as Amanda Grayson in Star Trek
She was cast as Mr. Spock's earthling mother, Amanda Grayson, in a 1967 episode of the cult TV series Star Trek and, almost 20 years later, would appear in a solitary scene of Star Trek IV: The Voyage Home (1986), again as Spock's mother. Curiously, she received more fan mail related to those two portrayals than for any other role she ever played! Not wishing to come out of retirement, she knocked back the role of Old Rose in Titanic (1997), so it went to Gloria Stuart who was rewarded with an Oscar nomination. Jane was truly a class act on and off the screen, her gentle, beautiful face belying the steel in her soul. In October 2006, she died of natural causes at her Bel-Air, California home at the ripe old age of 96.