NOAH BEERY (1882 – 1946)
Like his younger brother, Wallace, Noah Beery hailed from Kansas City, Missouri in the 1880s. He made his stage debut at 16 before following Wallace into films in the early days of the motion picture industry. He never hit the same heights as his brother, but soon established himself as a competent 'heavy' in all kinds of movies, in particular westerns. In all, Noah racked up over 200 screen credits, more than half of them silent features. He married twice in his life, had two children (including Noah Jr), and died from a heart attack at the age of 64 in 1946.
NOAH BEERY Jr (1913 – 94)
Noah Beery Junior was a different kind of character actor to his father who nearly always played 'heavies'. By all accounts, he was a good-natured, easy-going man, very well suited to playing amiable second leads or friends and sidekicks to the hero. He had an elder brother (also named Noah Jr), but he passed away just 4 days after his birth in January 1912. Fans of The Rockford Files (1974-80) would, of course, immediately recognize Noah Jr as the actor who played James Garner's father in the series. I first saw him when I was a boy in the fifties. He played 'Joey the Clown' in an early TV series titled Circus Boy (1956-7). It was not much of a series, but Noah had one of those kindly, trustworthy faces. He was likeable.
Noah with James Garner in The Rockford Files (1974-80)
Beery always said that his personal favourite of all his own movies was Red River (1948), the great John Wayne western that featured the memorable 'yee-hah' scene at the start of the cattle drive. Noah was one of the 'yee-hah' cowboys. He married two women in his life, the first of these being Maxine Jones, daughter of cowboy star Buck Jones. They wed in March 1940, just two and a half years before her father perished in the Coconut Grove Night Club fire of 1942. They produced three children before divorcing in 1965. Beery passed away at 81 in 1994.
ED BEGLEY (1901 – 70)
Ed Begley was one of that raft of quality character actors that America seems to be able to produce at will; actors such as Martin Balsam, Warren Oates, Dean Jagger, Anthony Zerbe, Strother Martin, Murray Hamilton, Woody Strode and James Whitmore, to name but a few. Not all fine character actors are rewarded with Supporting Actor Oscars, but Ed deservedly picked one up for Sweet Bird of Youth (1962). He played 'Juror # 10' in the wonderful 1957 drama Twelve Angry Men, a picture that show-cased the depth of character actor talent available in the USA at that time. Ed's three marriages produced three children, one of whom was his namesake, Ed Junior, who followed in his father's acting footsteps.
ED BEGLEY Jr (1949 – ) with his wife Rachelle Carson
Unlike his thick-set, bushy eye-browed father, Ed Begley Junior stands 6'4" tall, has blonde hair, a pronounced lisp, and is of slender build. Approaching 70, he has chalked up a staggering 320 plus screen credits already, and is probably best-known for his portrayal of Dr Victor Ehrlich in the TV series St. Elsewhere (1982). Ed has been a devoted environmentalist all his adult life and lives his life along those lines. 'I bought my first electric car in 1970', he says with a grin. 'Its top speed was 15 mph and it had just a 15 mile range – it was essentially a golf cart with a windshield wiper and a horn.' From February 1990 until March 1991, he was in a relationship with actress Annette Bening. In April '91 she started dating Warren Beatty and, a year later, married him. Since 2000, Ed has been wed to actress Rachelle Carson. They share one child and he has two others from his first marriage.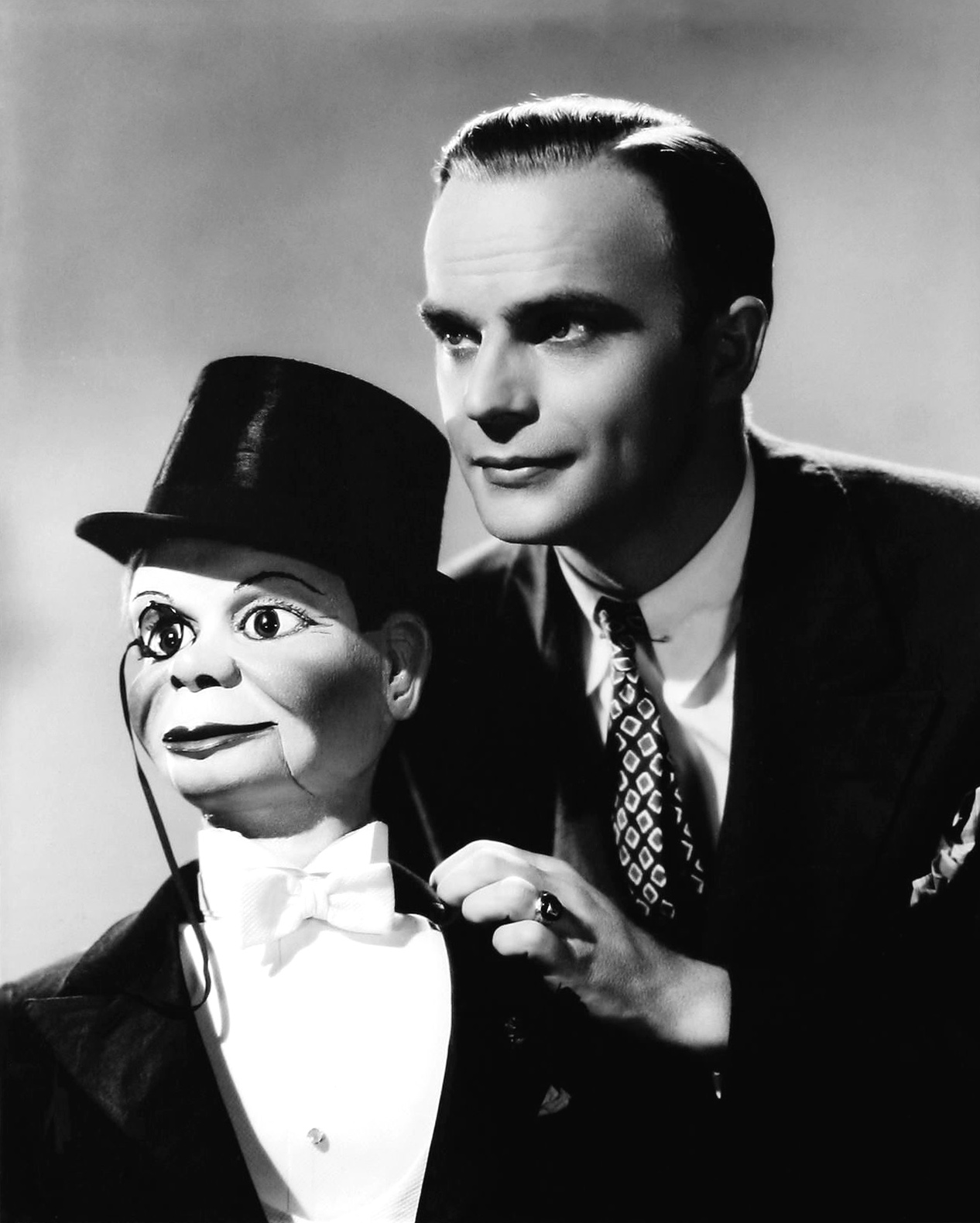 EDGAR BERGEN (1903 – 78) & Charlie McCarthy
Of all the people who have hit it big in both radio and the movies, Edgar Bergen must surely be the most puzzling success of all. The logic behind a ventriloquist proving to be a raging success, especially on radio, utterly escapes me. Edgar and his rather creepy-looking wooden dummy, Charlie McCarthy, were not even a quality act because Edgar was anything but a flawless ventriloquist. Even so, audiences tended to react to his wooden alter ego as if he was answering their questions, not Edgar. Even Edgar's final show at Las Vegas (he was 75) was to 'standing room only' and he was rewarded with six standing ovations! The man and his alter ego were truly loved. 'All the fan mail initially went to Charlie', recalled daughter Candice. 'And Edgar wasn't really welcome at parties unless Charlie was with him. It was totally surreal.'
CANDICE BERGEN (1946 – )
Candice is the daughter of Edgar and actress Frances Westerman (the Chesterfield Girl'. Although in radio at an early age (six) and then movies as a glacial, Grace Kelly type, Candice developed a second love, photography, and soon commenced a career as a photojournalist. Some of her work graced magazines such as Life, Playboy and Esquire. Interestingly, she auditioned to become one of Walt Disney's Mouseketeers for his Mickey Mouse Club when she was nine years old. Even though her father was a close friend of Walt's and lobbied hard on her behalf, she was not chosen.
Doris Day & her son Terry Melcher 
In the late sixties she was in a relationship with Doris Day's son, Terry Melcher, a Columbia Records producer. In 1968, the couple lived together at an address that would soon become infamous – 10050 Cielo Drive, Beverly Hills. In 1969 they moved to Malibu and leased the house to director Roman Polanski and his wife, actress Sharon Tate. Sharon and four others were murdered there on August 9, 1969 by the Manson Gang while Polanski was out of the country.
Candice & her husband Louis Malle 1992
In 1980 Candice married the much older (14 years) French director Louis Malle, a union that produced one child and lasted until his death in 1995. The late 80s saw Candice reach the zenith of her TV acting achievements when she starred in the title role of Murphy Brown, a highly successful series that ran for ten seasons, as she picked up five Emmys and two Golden Globe awards for her efforts. In 2005, she joined the cast of Boston Legal, another tremendously popular series. In Hollywood circles she has been described as the most beautiful woman ever to make it to the silver screen. Quite a compliment given the competition down the decades and her somewhat less than voluptuous figure. 'I'd like to have boobs!' she says.