GARY COLEMAN (1968 – 2010)                                     
Gary Coleman was born to a homeless woman in 1968 and adopted from a Chicago hospital by a fork-lift operator and his nurse practitioner wife. The boy experienced severe health issues from the age of two, having entered this world with one atrophied kidney and an endangered, weakened second one. By the age of sixteen he had undergone two kidney transplants, but the dialysis medication permanently stunted his growth and he never grew beyond 4'7" (1.4m).
Dana Plato as Kimberly in Diff'rent Strokes
NBC were impressed by a number of Chicago commercials featuring 9 year-old Gary and, before long, he was signed to a contract to star in his own prime-time sitcom, a new series titled Diff'rent Strokes. It was a weakly scripted premise that should have only lasted a season or two, but Coleman became the darling of TV audiences and was responsible for it lasting eight seasons! For almost a decade he starred in tele-movies and a few feature films. There was even an animated series created of his exploits – The Gary Coleman Show. His precociousness, however, eventually began to irk viewers as Diff'rent Strokes rolled on. He was eighteen years old when the series finally folded in 1986.
Todd Bridges as Willis
Approaching adulthood, he found work hard to come by and, after so many years at the top of the tree, took rejection badly. Indeed, all three juvenile stars of the Diff'rent Strokes series led tragic lives after the series was canned. Co-star Dana Plato fell heavily into drug addiction, petty crime and pornography and would take her own life in 1999. Todd Bridges, the actor who played Gary's older brother in the series, became heavily addicted to cocaine and was even charged (but acquitted) with attempted murder at one time. He has since overcome his cocaine problem and turned his life around.
Two images of Todd Bridges
In 1999, Gary was arrested for punching a persistent female autograph fan several times in the face. A judge ordered him to take anger-management classes. Several disorderly conduct charges and reckless driving offences followed, accompanied by a few feigned suicide attempts. He sued his adoptive parents and his manager, charging them with going through the fortune he had accumulated at the height of his popularity. He was awarded over a million dollars but it all went on legal fees and the accelerating cost of medicine and dialysis treatment. In 1999, he declared bankruptcy and started working outside the movie industry as a security guard.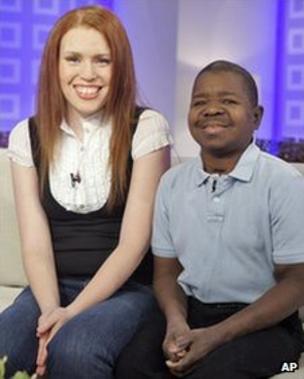 Gary & wife Shannon Price
His 2007 marriage to actress Shannon Price ended inside a year as he found himself in court facing spousal abuse charges. A crude, independent comedy film titled Midgets vs. Mascots provided him with a little extra money in 2009, but he contracted pneumonia following heart surgery later that year and was hospitalised. He suffered a heart seizure in February 2010 and died from a brain haemorrhage after a fall at home in May. He was 42.
CAMMIE KING CONLON (1934 – 2010)
Only the keenest of Gone with the Wind (1939) fans would be familiar with the name Cammie King Conlon, for she was the child actress who landed the role of Bonnie Blue Butler in that iconic film, arguably the greatest motion picture ever made. Her movie career consisted of just three films; beginning with the uncredited role of Millie in Blondie Meets the Boss (1939), then GWTW, and finally, in 1942, providing the voice (again uncredited) of Young Faline in Walt Disney's Bambi.
Cammie being kissed by Gable in GWTW (1939)
The role of Bonnie Blue Butler was supposed to be played by her older sister, but by the time the scenes were to be shot, her sister looked too old for the part and it was handed to Cammie. 'By the time I was twelve years old I was five feet ten inches', she said. 'I sensed that I had a problem from the way boys were reacting to me. That ended my ambitions for an acting career. I'm awfully glad, though, I played 'Bonnie'. The role didn't really change my life, but I don't recall ever meeting people, either in business or socially, where it doesn't come up.'
Cammie in later years
Judy Lewis (R) & her parents – Loretta Young & Clark Gable
She was often asked what it was like working with Clark Gable in Gone with the Wind. 'He was such a warm, friendly man', she recalled. 'When he kissed me, his moustache tickled. I'd tell that to my mother's friends and they'd swoon.' Cammie was a close friend of Judy Lewis, the love child of Gable and Loretta Young. Ironically, Gable is far more known as the fictional father of Bonnie Blue in GWTW than he is as the natural father of Judy. Cammie passed away from lung cancer in 2010. Judy died the next year.
TIM CONSIDINE (1940 – )
Most baby-boomers (like me) were avid fans of The Mickey Mouse Club in the fifties and were well aware of the name Tim Considine through his portrayal of 'Spin' in the 1955-7 serial titled Spin & Marty that popped up on the show for a couple of years. In truth, I remained glued to our TV during every episode of The Mickey Mouse Club for one reason and one reason only; to catch a glimpse of Annette, my first love. I was about ten, I think, and hopelessly smitten. I was about 15 when I discovered that she was twenty – an old woman! I was shattered. Just starting to get over it now.
But back to Tim. After Spin & Marty came another Disney serial, The Hardy Boys. He played Frank and Tommy Kirk played his younger brother Joe. Disney dug up an American folk hero from the days of the revolution, a dude named Francis Marion alias The Swamp Fox, and Tim portrayed his son Gabriel in that serial too. There were a handful of minor roles in decent movies for Tim, most memorable of these being his stint as Franklin D. Roosevelt's son James in the 1960 feature Sunrise at Campobello. Ten years later he played one of the two young soldiers suffering from shell-shock who were slapped about by General George S. Patton in the movie Patton (1970).
Tim with Don Grady of My Three Sons
In his teens Tim had always been a favourite of Walt Disney who tossed him into a lightweight comedy called The Shaggy Dog (1959) alongside Fred MacMurray. When the sitcom My Three Sons aired on ABC in 1960, Tim was cast as MacMurray's oldest son Mike and would remain until the fifth season when his character married and exited the show. It was picked up by CBS in 1965-6 and ran successfully for another seven seasons.
Charlotte Stewart as Miss Beadle
October 1965 saw 25 year-old Tim wed actress Charlotte Stewart in real life. She was well-known to the legion of Little House on the Prairie (1974-83) fans as the schoolteacher, Miss Beadle. In 1990 she played the mother of the little girl on the pogo stick in the enjoyable sleeper comedy Tremors, featuring Kevin Bacon and Fred Ward. The marriage ended in divorce inside four years and Tim has since remarried (in 1979), a union that continues today and has thus far produced one child. These days the former Disney star is a sports photographer and auto-racing expert.