Geoffrey Rush as Walsingham in Elizabeth (1998)
Conspiracy buffs should enjoy this. In the 1998 film Elizabeth, starring Cate Blanchett in the title role, there is a dining scene featuring Sir Francis Walsingham, Mary of Guise and Duc d'Anjou, during which the Duc says that he cannot marry Queen Elizabeth because she is really a man. He is referring to the legend of the Bisley Boy. The legend suggests that the child Elizabeth was sent away to the village of Bisley to avoid the plague, but died there and was replaced by a pretty boy child who posed as Elizabeth for the rest of his life! This, argue conspiracy buffs, might explain the monarch's determination to remain a life-long spinster. Well, unless the Royal family agrees to the exhumation of Elizabeth's remains from Westminster Abbey for examination (hardly likely), the lady shall remain England's greatest Queen. And rightly so.
After filming completed for the day, on April 1st, 1964, on the Beatles' first picture A Hard Day's Night, Alfred Lennon (John's father) suddenly appeared at NEMS Enterprises accompanied by a journalist. The group's manager, Brian Epstein, arranged for John to be brought over to meet him. 'What do you want?' was the Beatle's first, terse question to the man he had not seen for 17 years. The encounter lasted barely 20 minutes before a furious John ordered his father to leave the premises. Epstein quickly did some trading, offering the journalist exclusive stories about other bands he managed, in exchange for keeping this particular story out of the newspapers.
During a visit to the set of Joan of Arc (1948), Howard Hughes saved Ingrid Bergman from possible serious injury when he caught her as she fell from her horse while shooting a scene. It was an awkward catch and he unintentionally clasped her by the crotch! Hughes did the gentlemanly thing and made sure no photographs of the incident were taken. Audiences stayed away from the film in droves once news of Ingrid's affair with Roberto Rossellini became common knowledge during the picture's release. The fickle public considered it blasphemous that an adulterous woman should portray a saint. The response was particularly disappointing for Miss Bergman who had striven for years to get the project produced.
Richard Harris & Vanessa Redgrave in Camelot (1967)
For most of his career Richard Harris was a most difficult man to work with, although Russell Crowe would probably dispute that statement since the two got along famously when they co-starred in Gladiator (2000). Perhaps, Harris had mellowed by then. Julie Andrews refused to ever work with him again after putting up with his abominable behaviour on the set of Hawaii (1966) more than 30 years earlier. Consequently, she turned down the role of Guinevere in Camelot (1967) once she learned he would be playing King Arthur. Vanessa Redgrave got the part and she, too, refused to work with him again after filming ended. For a post-marriage bath scene in Camelot involving the two stars, Harris caused an uproar when he appeared on the set stark naked and sporting a large erection! Not everyone was enthralled by his outrageous behaviour over the years, not that this seemed to bother him in the slightest.
Dorris Bowdon & Henry Fonda in The Grapes of Wrath (1940)
In 1937, a pretty girl named Dorris Bowdon, from Coldwater, Mississippi, was crowned Miss Memphis. She and two other ingénues, Linda Darnell and Mary Healy (Miss New Orleans 1935), headed west to make their mark in Hollywood and the movies. Dorris met writer Nunnally Johnson (18 years her senior) and they soon married and remained husband and wife until his death 37 years later. Being the screenwriter, he used his clout to get Darryl F. Zanuck to give her the role of Rosasharn in The Grapes of Wrath (1940). The favouritism shown her evidently irritated director John Ford who treated the young actress harshly on the set for most of the shoot. Three years later she was content to retire from the screen with just seven credits to her name. She and Miss Healy remained friends until Dorris passed away in 2005.
Goldie Hawn & Gus Trikonis
In The Sand Pebbles (1966), the character of Restorff, an American sailor, is played by a former dancer named Gus Trikonis. He met Goldie Hawn around that time when they were both dancing in Anaheim. 'Before you know it', he recalled, 'she said to me; 'let's get married. I'm becoming a star, and I don't want to say I'm just living with a guy. I want a husband.' The couple did indeed marry in May 1969, but Gus refused her request to have children together. By then her flightiness made him worry about their relationship. By 1973 they had separated and, three years later, were officially divorced.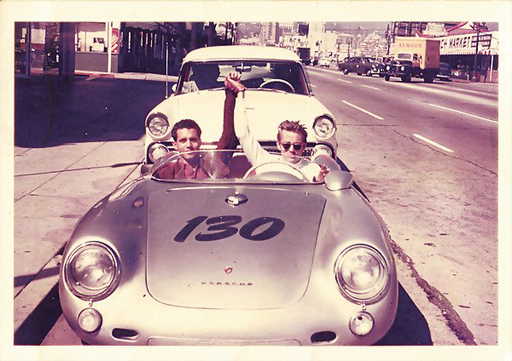 Rolf Wutherich & James Dean in Dean's Porsche Spyder
When actor James Dean was killed in a car crash on September 30, 1955, he was accompanied in his Porsche by his friend, a mechanic named Rolf Wutherich. When asked to describe what happened, Wutherich stated that he sneezed at the instant the Porsche collided with another vehicle and, consequently, could not recall hearing or seeing anything. Not everyone believed him. For years it was rumoured that he may have been behind the wheel, not Dean, but this possibility has since been proven to be groundless. Tragically, in 1981, Wutherich was himself killed in a car crash. The above photo is purported to be the last one taken of Dean alive. Beware, however, of re-enactments.
Barrymore in his final years
Iconic screen legend John Barrymore died in 1942, just a few months before his good friend Errol Flynn became an American citizen. The story of director Raoul Walsh paying $200 to the caretaker at the Pierce Brothers Mortuary on Sunset Boulevard, for a 'loan' of Barrymore's corpse, and how Raoul and others took it to Errol's home and propped it up in a chair inside his front door, has been told many times. What may be less well known is that Jack had saved up one last surprise for his funeral. He delighted in leaving instructions, naming the six pall-bearers he wanted to lug his remains to the graveside. They were the six men he hated most in the world! Nice touch, Jack.
Marlon Brando & Laurence Olivier
After sleeping with Marlon Brando for the first time, Laurence Olivier could hardly wait to confide his feelings to good friend, actress Mildred Natwick. 'Our love is triumphant!' he exclaimed. 'In Marlon, I have found what I have been seeking but never came across in all my life. Vivien [Leigh, his wife] will have to understand. I'm moving Marlon in with us.' Sadly for Larry, it was not to be. After less than a month of intimacy, Brando abandoned the English actor, just as he had done with former lovers, writer Clifford Odets and Leonard Bernstein. The 'Mumbling One' returned to his trawling for one-night-stands'. Sex was a smorgasbord in his eyes and he intended to sample everything he possibly could.