Greer Garson & Ronald Colman in Random Harvest (1942)                                                                 
Ronald Colman portrayed a man suffering from shell shock/amnesia in the 1942 melodrama Random Harvest. He was familiar with shell shock, having witnessed it many times during his time as a British soldier in the trenches of World War One. In fact, during the Battle of Ypres he received shrapnel wounds to a knee and an ankle and was hospitalised following a gas attack. Decorated for bravery, he was invalided out of the army several months later. In the novel on which Random Harvest is based, Colman's character, Smithy/Rainier, is a man aged in his early twenties, yet when Colman played him he was 51 years old! His leading lady, Greer Garson, spent most of her time on the set with her favourite cameraman, Joseph Ruttenberg. She loved the fact that he used a woman's stocking over the lens to soften and glamourize her features. He was also very quick to realise that Greer photographed best when shot from the right side and made sure the sets were constructed so he could favour that side.
There was a scene in Road to Utopia (1945) in which Bob Hope and Bing Crosby were to bed down near their cabin in the Klondike and be visited by a bear in the night. The animal's trainer assured the actors that his charge was totally tame and completely harmless. When it became agitated and started to growl, however, Bob and Bing beat a hasty, undignified retreat and refused to work with it. The next morning the bear attacked its trainer and tore off his arm!
Husband & Wife team Jessica Tandy & Hume Cronyn
Two of the players in the 1946 film The Green Years were the married couple, Jessica Tandy and Hume Cronyn. Jessica was heavily pregnant during the making of the picture and gave birth to their daughter the day after shooting completed. She was 36 years old at the time, two years older than Hume and portraying his daughter here. They had been married to each other for over four years, having tied the knot back in 1942, and would remain husband and wife until Jessica's death in 1994, one of the happiest marriages in Hollywood history.
Maureen Stapleton 1975
Actress Maureen Stapleton graphically recalled the days when Marlon Brando shared an apartment with fellow actor Wally Cox ('Hiram Holliday') on 57th street. She readily described Brando as a serial seducer of men in the theatre, 'although he was seducing far more girls at that time', she remembered. 'I heard that Wally and Marlon were having an affair, and I believed that, but he was also dating every dark-skinned, exotic young woman in New York'. And not all of them were slim or pretty. 'Fat girls need a good fucking from time to time', Brando confided to her. 'Not just the skinny ones.' He pursued sex on a daily basis – with either gender. Monty Clift and James Dean were two of his lovers long before he hit it big. Tennessee Williams was another.
Laurence Olivier & Jean Simmons in Hamlet (1948)
Laurence Olivier directed and starred in Hamlet (1948), collecting the Oscar for Best Actor along the way. Despite it being a 'shorn-down' version of The Bard's play, (Olivier actually removed two key players, Rosencrantz and Guildenstern, and 'modernized' some of Shakespeare's words), the film won the Best Picture Oscar. Ethel Barrymore, whose brother John was considered to be the Hamlet of the 20th century, denounced both the picture and Olivier. Ironically, on the night of the Academy Awards, it was Ethel who was called upon to announce the winning film, and she was visibly shaken when forced to read out the winner. Mercifully, Olivier was not present that evening. His wife, Vivien Leigh, had wanted to play Ophelia from the outset, but Olivier felt she was far too famous and gave the role to the relatively unknown youngster Jean Simmons. Vivien did not take the news well.
Valentina Vargas
Christian Slater was just fifteen years old when he was cast as Adso of Melk in The Name of the Rose (1986). Sean Connery's career was at its lowest ebb when he was handed the lead role of William von Baskerville and Columbia Pictures immediately refused to finance the film simply because he was to star in it! The director lined up three young women to portray 'The Girl' who was to seduce Adso in one scene. Slater was asked to read with them. The first of these aspiring actresses was 22 year-old Chilean-born Valentina Vargas. The 15 year-old Slater was so smitten with her, he asked his mother (casting agent Mary Jo Slater) to tell the director he did not want to read with the other two girls; that Valentina was perfect. The amused director complied with his wishes and cast her. In the wordless scene in which she seduces Adso, Valentina was allowed to do whatever she felt like doing with young Slater in order to elicit a more authentic performance from him. The shocked look on his face was genuine.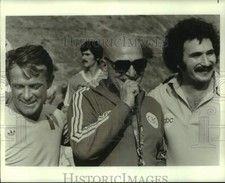 Robert Conrad (L), Telly Savalas (C) & Gabe Kaplan
During the 1976 Battle of the Network Stars, actor Robert Conrad (The Wild Wild West) captained the NBC team and Gabe Kaplan (of Welcome Back Kotter fame) was captain of the ABC team. A dispute arose over whose team won a particular event and Conrad lost his temper completely, refusing to accept that his team had been beaten. He angrily insisted that the two team captains have a foot race to determine whose team should be awarded the points. Conrad was a fit 40 year-old, but Kaplan, who was only 30, had once had aspirations to play major league baseball and was a lot fitter than he looked. He easily won the race and Conrad was made to look quite foolish.
Tom Selleck as Quigley firing his Sharps
The 1990 film Quigley Down Under was responsible for a massive increase in the sales of Sharps rifles in both the USA and in Australia after its release. Sales increased by over 1000% and continued to increase for the next 20 years or so! The star of the film, Tom Selleck, auctioned two of the rifles used in the picture as fundraisers for the National Rifle Association (NRA), him being a national board member and all. The opening scenes of this movie are supposed to be of Fremantle, Western Australia, this writer's hometown. The scenes were actually shot in Warrnambool, Victoria. Alan Rickman, hot from his success as the 'heavy' in Die Hard (1988), happily accepted another bad guy role here, primarily because he had always wanted to visit Australia.