BOBBY BREEN (1927 – 2016)
Bobby Breen was a boy soprano who had his moment in the sun back in the thirties. He was born Isadore Borsuk in Montreal, Canada in 1927, to Ukrainian Jewish immigrant parents. Between 1936 and 1942 he only made nine films in total before ditching his movie career to focus on a nightclub singing act. Unfortunately, patrons who came to see and hear him were expecting a boy soprano still in short pants. 'It takes a lot of work out there to make them believe I'm grown up', he lamented. 'They resent it somehow. It's something I have to fight every single performance.'
Bobby with his older sister Susan
The boy's older sister, Susan, realised his singing potential at an early age and worked to get him vocal spots at nightclubs. Before long, he was winning prizes in theatre competitions and supplementing the family's meagre income. Financed by his sister, the two siblings moved to the United States seeking greater opportunities. RKO Radio Pictures signed him to a movie contract in 1935 after his popularity soared through radio broadcasts in 1934. His rendition of 'Rainbow on the River' became his signature tune, but his voice changed when he was 16, so he gave up movies to study piano and to work on his vocalising instead.
Bobby as an adult
World War Two came along and he enlisted in the US Army with Mickey Rooney. They were quickly assigned to entertaining troops for the duration. Bobby never did enjoy playing the piano. Singing was his first love and he worked hard to develop his voice for his nightclub act throughout the fifties and sixties. He married twice in his life, the second time to a woman who joined with him to create a local talent agency, Bobby Breen Enterprises, in Tamarac, Florida. His sister died in 2002 and his second wife, fashion model Jocelyn Lesh, passed away in 2016. Bobby died just three days later.
KIRK CAMERON (1970 – )
Kirk Cameron started out in TV commercials for cereal, Polaroids and McDonalds, to name just three, and appeared in minor film roles before, at 14-15 years of age, he hit it big with a major role in the TV series Growing Pains (1985). The Nielsen's Ratings scored the series in the Top 20 for its first four seasons. By season five Kirk's pay had leapt to $50,000 a week. No doubt his 10,000 fan letters per week had much to do with that.
Kirk & Chelsea Cameron
Unknown to lovers of the series, however, things on the set deteriorated when the 17 year-old declared he had 'a life-changing encounter with Jesus' and had been 'born again'. He was soon at odds with the show's writers, unhappy with what he felt were 'un-Christian' aspects of the scripts. In fact, he flatly refused to do several parts as presented. Sometimes they would work around the problems – sometimes not. Kirk met his future wife, actress Chelsea Noble, when she made 14 episodes of Growing Pains playing Kate MacDonald. They are both 'born again' Christians and have six children, four of whom are adopted. They jointly founded the Firefly Foundation, which runs Camp Firefly, a summer camp that gives terminally ill children and their families a week's free vacation.
ANGELA CARTWRIGHT (1952 – )
Because of her role as Brigitta von Trapp in the 1965 smash hit film The Sound of Music, Angela Cartwright has an instantly recognizable face to most movie fans. Born in Cheshire, England in 1952, she made her first screen appearance (uncredited) as Paul Newman's three year-old daughter in Somebody up There Likes Me (1956). The family had moved to Los Angeles shortly after her birth and she was selected to play Danny Williams' daughter Linda in his popular TV series The Danny Williams Show which ran from 1957 until 1964. She remained close to him until his death in 1991.
Angela (L) with the cast of Lost in Space
After the series folded she returned to Europe to make The Sound of Music as one of the von Trapp children. The picture exceeded all expectations, eclipsing 1939's Gone with the Wind as the highest-grossing movie of all time to that point. Both Angela and her older sister Veronica auditioned for the picture but only Angela was selected. Making the film was a thoroughly enjoyable experience, except for the scene in which the canoe overturned throwing all the children and Julie Andrews into the lake. It was shot several times and there were leeches in the water!
Veronica (L) and Angela Cartwright
Angela's role as Penny Robinson in another hit TV series, Lost in Space (1965-8) further enhanced her popularity as she entered her teenage years. In 1976 she married Steve Gullion and they have two children. For the past 30 years she has been a successful black and white photographer since becoming interested in it in 1969. Her sister Veronica is also a successful movie actress. Refreshingly, the two ladies have a fine relationship and have enjoyed each other's success down the years.  
VERONICA CARTWRIGHT (1949 – )
Veronica Cartwright was born in Bristol, England, but was raised in Los Angeles. She has been in constant demand for both film and TV roles for over six decades. Among her earliest appearances were spots on the popular TV sit-com Leave it to Beaver during the late fifties and early sixties. In fact, she gave 'The Beaver' (Jerry Mathers) his first screen kiss. From 1964 until 1966 she played Jemima Boone, Daniel's daughter in Daniel Boone, for 37 episodes of the series, but it was her highly successful movie career that she will be remembered.
Veronica Cartwright & Sigourney Weaver in Alien (1979)
At the age of 13 she was cast as Cathy Brenner in the grossly over-rated 1963 Hitchcock 'thriller' The Birds. As an adult she was originally cast as the lead character, Ellen Ripley, in the sci-fi thriller Alien (1979), unaware she had been replaced by Sigourney Weaver until the first morning of the shoot), and that she had been given a supporting role instead. She would go on to make The Right Stuff (1983) and The Witches of Eastwick (1987), just two of the fifty or so pictures she has appeared in. Her portrayal of Ethel Kennedy in the hit mini-series Robert Kennedy and his Times (1985) was especially memorable among her scores of TV roles.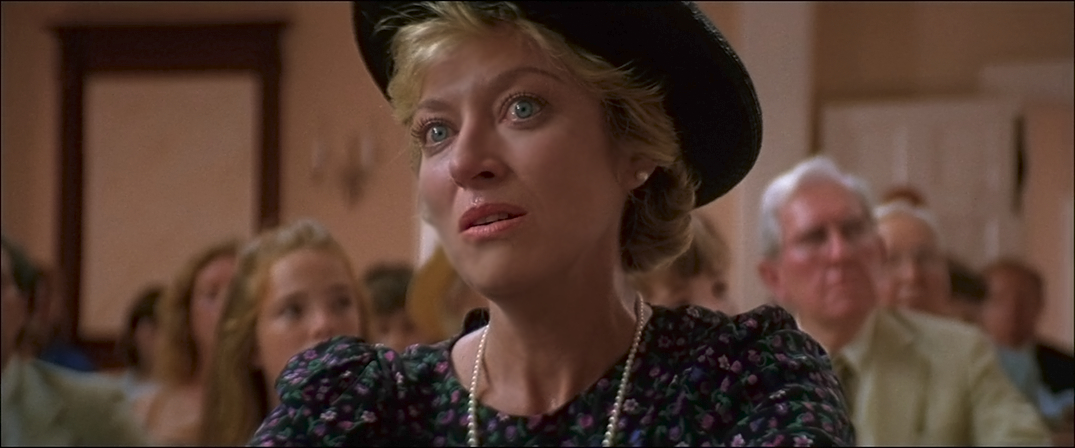 Veronica in The Witches of Eastwick (1987)
Veronica married three times, the first two of these unions ending in divorce. Her 26 year marriage to director Richard Compton ended with his death in 2007. They had a daughter, Dakota, together. For several years during the eighties Veronica was intimately linked with actor Jack Nicholson while he was heavily involved in an on-off relationship with long-time lover Anjelica Huston at the time.