FREDDIE BARTHOLOMEW       (1924 – 92)
London-born Freddie Bartholomew's career spanned just 21 years and 28 screen appearances. Twenty-two of those performances were as a boy or juvenile; the other six after he was no longer a teenager. He was a precocious boy, reciting and performing on the stage from the age of three. He also sang and danced. MGM signed him to a seven-year contract and tossed him into its 1935 production of David Copperfield. He was an overnight sensation. Without doubt, his best film was the 1937 hit Captains Courageous, alongside Spencer Tracy, Mickey Rooney and Lionel Barrymore. It is worth the price of admission to see Freddie get his ears well and truly boxed by Barrymore in one memorable scene!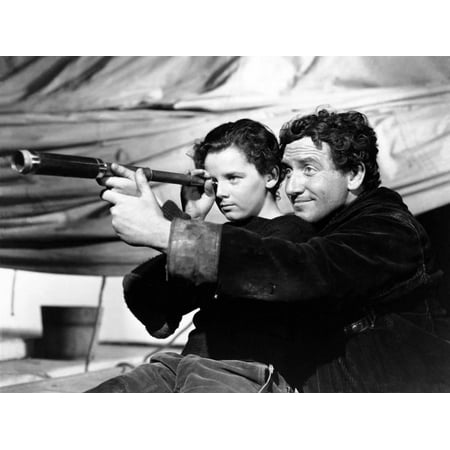 Freddie & Spencer Tracy in Captains Courageous (1937)
Raised by his unmarried Aunt Millicent, Freddie began making features for MGM, including the excellent Little Lord Fauntleroy (1936). His enormous success soon had his birth parents scuttling out of the woodwork, hell-bent on re-acquiring their boy and his money. At his peak Freddie was earning $2,500 a week, a lot of money in the mid-thirties, especially with the nation in the grip of the Great Depression. The only child star earning more at the time was Shirley Temple. As was often the case, however, once he reached adulthood Freddie's services were no longer sought after. Six years of court cases involving his aunt and his parents drained him of the fortune he had accumulated at MGM, so he worked behind the cameras in television for many years until his death from emphysema in 1992.
SCOTTY BECKETT          (1929 – 68)
There has never been a shortage of tragic stories in Hollywood and, sadly, far too many of the worst of these involved child actors. Scotty Beckett's tale is terribly sad. Of all the many child stars in Hollywood history, I cannot recall any individual, (with the singular exception of the one and only Shirley Temple), as cute as little Scotty. He truly had the face of an angel. Born in Oakland in 1929, he moved with his folks to Los Angeles at the age of three. He was spotted by a movie scout singing and dancing, 'Shuffle off to Buffalo' for his hospitalised father, and signed to a seven-year contract. Before long he had replaced Dickie Moore in the one-reel Our Gang comedies, going on to complete fifteen of them in all.
Scotty's first wife, tennis star Beverly Baker
Unlike a great many child stars, Scotty made the transition from child star to adolescent actor seamlessly, making numerous movies through his teens. But then it all came crashing down as his nocturnal activities became more and more erratic and reckless. Partying with the likes of Liz Taylor, Roddy McDowall, Jane Powell and Edith Fellows, coupled with his penchant for bourbon, brought the spoiled star headlines for all the wrong reasons. Arrested for drunk driving in 1948, the 19 year-old actor ran from the arresting officer and refused to hand over his possessions. In September 1949, he eloped with tennis champ Beverly Baker, but the unsuited couple separated five months later and divorced the following year. A control-freak, he had tried to get her to give up tennis and stop seeing her parents. When he forbade her to have a soft drink 'with any boy or man between 6 and 60', it was the final straw and she walked out.
Scott & Liz Taylor in A Date with Judy (1948)
Scotty began dating actress Sunny Vickers in 1951. She was soon pregnant and they wed five months before their son, Scott Junior, was born. The bad publicity over his first marriage and the 'shotgun' scenario of the second, made Scotty an outcast in Hollywood and decent roles completely dried up. He became desperate. In February, 1954, the Cavalier Hotel in Hollywood was robbed of $130, the desk clerk being pistol-whipped in the process. Scotty was discovered passed out drunk in the basement of the hotel, armed with a pistol and a knife. He was released from police custody after the desk clerk was unable to make a positive identification. Scotty, Sunny and their three year-old son hightailed it to Tampico, Mexico under assumed names.
Sunny Vickers, Scott's 2nd wife
Things quickly escalated out of control when he ran out of cash, passed some bad cheques, and attempted to elude Mexican authorities in Ciudad. A gunfight with his pursuers ensued in which over 20 shots were exchanged before Scotty and Sunny were captured. Incredibly, no-one was hurt. Scott Junior was returned to Los Angeles and his father given four months in a Mexican jail before being extradited to California. It was September 1954 and, amazingly, he was only given a three-year probationary sentence by a US court after vowing to change his ways. A month later he was arrested in Vegas for bouncing another cheque.
Scott being restrained by police, California 1948
In the mid-fifties Scotty started to get a few minor film and TV roles and he quickly demonstrated that he still had appeal and talent. But then he self-destructed again. In February 1957, he was arrested at the US-Mexican border and charged with trying to bring illegal drugs (pills) into the USA. He claimed they were for Sunny who was ill, but she had already checked herself into the Metropolitan State Hospital, suffering from alcoholism. When she filed for divorce in August and was awarded custody of their son, Scotty attempted suicide by swallowing a bottle of sleeping pills. His acting career over, he tried using his still considerable charm to sell used cars, but trouble was never far away.
Scotty as fans care to remember him
In 1959, he was arrested twice for drunken driving. The second of these came after he crashed his '52 sedan into a tree. His injuries were severe – a fractured skull, thigh and hip, plus multiple lacerations to his head. He remained crippled for the rest of his short life. In September 1963, the wheelchair-ridden actor was charged with assault with a deadly weapon after he attempted to stab a neighbour during a dispute! By this time he had been married for two years to his third wife, Margaret, a divorcee with a teenage daughter. Three days after the assault charge he slashed his wrists but survived. Margaret had had enough and attempted to leave him. He hit her over the head with his crutch and was again arrested. At his sentencing he vowed 'never to drink again'. It appears that he tried very hard to live up to his promise, but booze was only the main cause of his problems. There were others. He started taking pain-killers for his car-crash injuries.
By 1967 he was addicted to prescription drugs. He gained employment driving an ambulance, quite possibly to be closer to the drugs he so desperately craved, although we will probably never know for sure. In May 1968, Scotty checked into the Royal Palms Hotel, a nursing home in Hollywood, after suffering a beating in what may have been a drug deal gone wrong. Two days later he was dead from an overdose of barbiturates. He was 38 years old. Maybe, he had simply run out of options. One of the screen's most delightful child stars had allowed booze to ruin what could have been a long and happy life. All we are left with are celluloid images of one of the screen's most charismatic child stars. Such a waste.