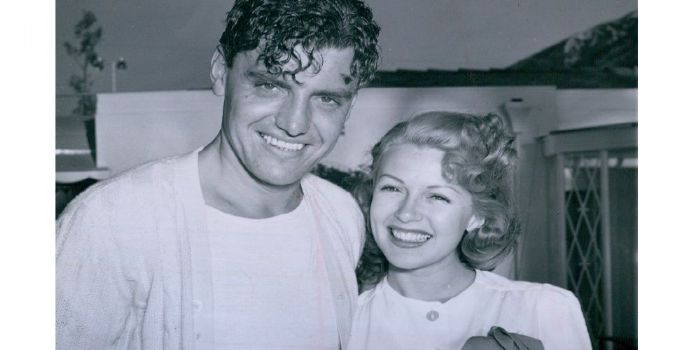 Greg Bautzer & Lana Turner
There has never been a shortage of playboys in Hollywood, especially during the studio system's heyday. I thought it might be of interest to take a close look at some of these gentlemen as they cut a swathe through the ranks of stars and starlets down the decades. I have lit upon the attorney Greg Bautzer to start the ball rolling. No particular reason, except for the fact that he ultimately married one of my heart-throbs, the stunning German-born British actress Dana Wynter, so I have always wondered what made him so attractive to such a classy woman.
Gregson Edward Bautzer entered this world in 1911 in San Pedro, California. In 1928 he entered the University of Southern California on a scholarship, became a member of the Skull & Dagger honour society and was made captain of the varsity debate team. At the age of 25, he acquired a law degree before marrying a society girl. The union ended two years later. Then, in 1938, he began dating an unknown 16 year-old beauty named Lana Turner! He introduced her to sex, although Mickey Rooney always claimed it was he who took her virginity. Whatever the truth is, the future screen goddess took to it with a reckless abandon not often seen in young women.
Dining out with Dorothy Lamour
Greg and Lana were an item for a few years and were even engaged for a while, but they tended to clash over his roving eye and she eventually broke their engagement. He was also seeing Dorothy Lamour and he was engaged to her briefly as well, but it did not last. He was soon back dating Lana, but their fiery relationship ended abruptly when the 19 year-old screen goddess, in a fit of pique, dashed off to Vegas and married bandleader Artie Shaw in February 1940. She would divorce Shaw in September, and it would be Bautzer who handled her side of the settlement. In fact, in 1944, he would arrange her divorce from her next husband Steve Crane, as well.
Dancing with Joan Crawford
In 1944, the same year he started legally representing billionaire Howard Hughes, Bautzer surprised Hollywood society by suddenly tying the knot with little known 19 year-old actress Buffy Cobb. They divorced the following year, and he promptly took up with legendary man-eater Joan Crawford. Their steamy relationship would survive for almost four years. Fans of Mommie Dearest (1981), will recall 'Uncle Greg' in the film. He is, of course, a thinly disguised depiction of Bautzer. Greg and Joan's fights were the stuff of legend, and usually brought on by Joan's extreme jealousy. Joan Fontaine recalled watching while she threw a glass of red wine over Arlene Dahl at a party because Greg had been flirting with her.
Buff Cobb
Dating Ginger Rogers
After Joan, in 1948, Ginger Rogers became his next eager bed-mate. Once again, after their romance ran its course, he found himself representing her in her divorce suit. By 1950, he was trotting around town with wild party-goer Barbara Payton. They, too, were briefly engaged to marry, but his perpetual roving eye ended that relationship too. When he started dating sexy actress Terry Moore, he gave her an ultimatum – choose between him and her other lover, the filthy rich Howard Hughes. She chose Hughes. The two men were cut from the same cloth and often dated the same women. Ava Gardner and singer Rosemary Clooney also dated Greg and the latter would remain a close friend for the remainder of his life.
On the town with Jane Wyman
Jane Wyman divorced Ronnie Reagan in 1949 and dated Greg in early 1952, a few months before she met and married her fourth (and fifth) husband, Fred Karger. Bautzer was next seen around town with up and coming actress Mari Blanchard. In 1955, he represented the highly-strung Susan Hayward in a child-custody battle and used his union and mob connections to get Confidential magazine to drop plans for an expose on her suicide attempt over the predicament.
With Mari Blanchard
Bautzer knew everyone in the movie business and used his influence and contacts to promote opportunities for friends and acquaintances. Ambitious hanger-on Robert Evans was one such benefactor. Greg took him under his wing as a client and got him started as a producer, optioning books to adapt for the screen. Charles Bluhdorn was head of Paramount's parent company Gulf & Western, but he was new to Hollywood and did not know any of the major players. Bautzer convinced him that Evans had connections in the business when, in fact, it was Greg who had all the contacts. After all, he was known as 'The King Maker' because of the way he manipulated the likes of Hughes, Kirk Kerkorian, and other big shots. Bluhdorn, on the other hand, was star-struck and easily impressed by his inside stories about Hollywood players and their affairs, so Bautzer used him to get Evans advanced at Paramount.
Greg & his wife Dana Wynter
During his years as the movie colony's premier divorce lawyer, Greg handled settlements for Nancy Sinatra, Rock Hudson and Ingrid Bergman. He was a man who possessed an engaging personality, an ability to make friends easily, and an uncanny knack for mesmerizing juries. He was smart, erudite and financially able to take dates to the best restaurants and clubs in Hollywood. He was a terrific dancer as well. In short, he was a good catch, provided the lady was prepared to overlook his playboy reputation; and provided she could handle his alcoholism and short temper. He was known to become easily enraged if he felt he had been slighted. In fact, if not for the intervention of Frank Sinatra one evening, his life might well have ended prematurely when he got into a fight with some gangsters in Vegas. Unaware his antagonists were extremely dangerous individuals, Greg was fortunate indeed that Frank was able to extricate him from a potentially lethal situation.
Dana Wynter entered Bautzer's life in 1955 and he was instantly smitten. Three studios were chasing her, before she eventually signed a seven-year contract with 20th Century Fox. Greg made a point of learning her telephone number the moment she hit town and in 1956 he convinced her to marry him. They became man and wife a few months later and she gave birth to their son in 1960. Unfortunately, they separated in 1964, but did not get around to divorcing until 1981. Dana never remarried. For several years in the eighties he represented Kirk Kerkorian in his endeavours to wheel and deal with MGM. In 1983, Greg married again, this time to Nicola Dantine. She was the daughter of Nicholas Schenck and the ex-wife of actor Helmut Dantine. Four years into their marriage Greg succumbed to a heart attack while dressing to go to work. He was 76.