Ashley Judd
Actress Ashley Judd was not about to take a backward step when she spoke about having an abortion when she was young. 'As everyone knows, and I'm very open about it, I'm a three-time rape survivor', she said. 'And one of the times I was raped, there was a conception, and I'm very thankful I was able to access safe and legal abortion, because that rapist, who is a Kentuckian, as am I, and I reside in Tennessee, has paternity rights in Kentucky and Tennessee. I would have had to co-parent with a rapist.' She also told The New York Times of being sexually harassed by producer Harvey Weinstein over 20 years earlier. 'I told the story of Harvey's sexual harassment of me the moment after it happened', she declared. 'I told everybody about it, but no-one was able or willing to listen. That was in June 1996.'
Peggy Cummins 
Twenty-three year-old Welsh beauty Peggy Cummins was selected from 200 hopefuls to play the title role in Forever Amber (1947) and was sent to the US where filming was to be carried out. Production was suspended for a month, however, while work was done on the script, and during that time Darryl F. Zanuck at 20th Century Fox decided she was not well enough known to carry the lead in such an expensive production, so he replaced her with Linda Darnell. Opinions vary, but it appears that Peggy was involved in filming for approximately two months (according to Vincent Price's recollection) before she was replaced. Her costumes alone cost $65,000 and had to be adjusted to fit Miss Darnell. Regarding being replaced, Peggy was adamant. 'Say it was my lack of experience; say it was the colour of my eyes; say it was a lot of little things, but please don't say I don't have enough sex appeal.'
L to R – James Mason, Peter Ronson, Arlene Dahl & Pat Boone in a scene from Journey to the Centre of the Earth (1959)
The 1959 version of Journey to the Centre of the Earth is almost as pathetic as the 2008 remake. Almost. James Mason must have been flat broke or desperate for work (or both) to agree to act alongside such cinematic tadpoles as Pat Boone and Arlene Dahl. 20TH Century Fox then decided they needed a strong, athletic Scandinavian type to provide some brawn in the film. They came up with a young man named Peter Ronson, a 25 year-old Icelandic former member of his country's national decathlon team, whom they discovered studying at the University of Southern California. He could not act to save himself, so he was quite at home alongside Boone and Miss Dahl. Believe it or not, at completion of the shoot, he was offered a seven-year contract by Fox! Not comfortable in the spotlight, however, he chose not to pursue an acting career and the world breathed a little easier. In 1960, he represented Iceland in the 110 metre hurdles at the Rome Olympics but failed to make the final, whereupon he returned to obscurity.
Jim Carrey & wife Melissa Womer
Comedian Jim Carrey was a 22 year-old virtual unknown when he embarked upon an 8-month relationship with 37 year-old singer Linda Ronstadt in 1984. By 1987, he was performing stand-up at the Comedy Store (often appearing on-stage wearing nothing but a sock over his penis), when he met and wed waitress Melissa Womer. They had a daughter but divorced in 1995. He had tasted success with Ace Ventura: Pet Detective in 1994 and, according to Melissa, 'he decided he wanted to enjoy success from the perspective of a single man', so he walked. He was already in a relationship with actress Lauren Holly anyway.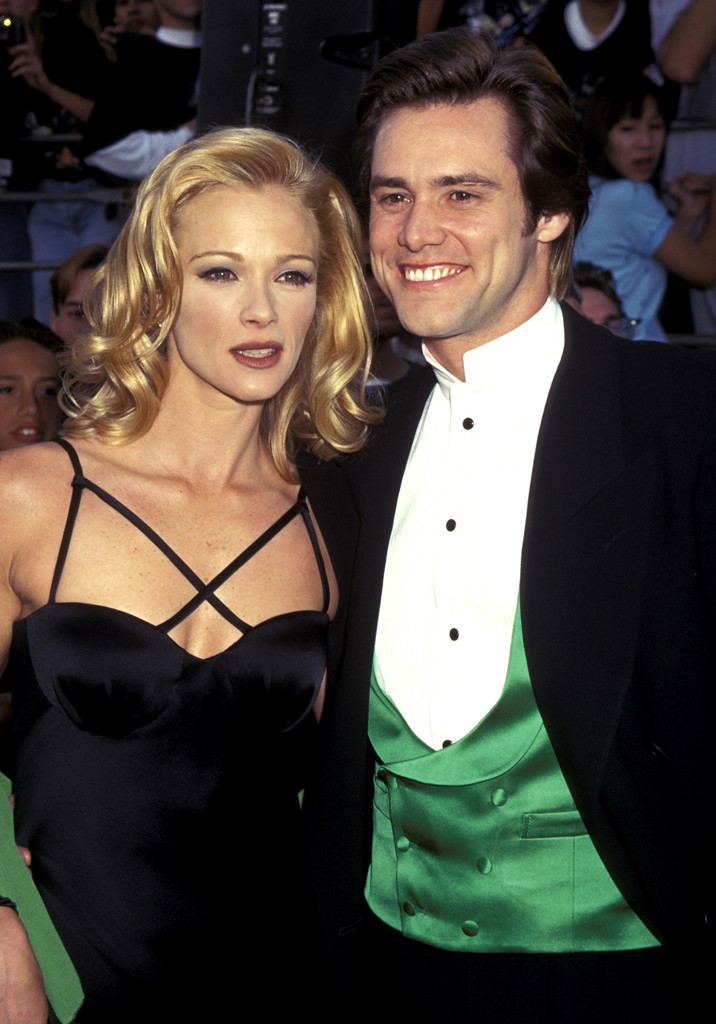 Carrey & his second wife Lauren Holly
An exhibitionist right down to his socks, Carrey burst onto the set of the film Lauren was making, flashed a huge ring and proposed in front of cast and crew. The marriage was over inside eight months. He insisted that monogamy was not man's natural state and certainly not his. Intimate relationships with January Jones of Mad Men fame, The X-Files actress Laurie Holden, and Danish actress Anine Bing came and went as Carrey played the field for all he was worth. Renee Zellweger lasted longer than most of them, eighteen months in all. In fact, he even presented her with a $60,000 engagement ring in 2000 in London, where she was making Bridget Jones's Diary. She gave him six months to name a wedding date, but he delayed and dithered until she walked out.
With his late girlfriend Cathriona White
In 2005, he commenced a five-year relationship with former Playboy pin-up Jenny McCarthy. Her autistic son, Austin, developed a close bond with Carrey. Jenny bitterly accused Carrey of walking out on a child who regarded him as a father figure, but the self-absorbed funny man walked anyway. In 2012, he became involved with a young Irish-born make-up artist named Cathriona White. They argued during their relationship and split twice, the second time with catastrophic results. Cat (28) was found dead from a suspected drug overdose in her rented Los Angeles home four days after they broke up. A suicide note she reportedly left was dated September 24, the same day 50 year-old Carrey was photographed chatting up two beautiful women at a Hollywood party. The dead woman was the same age as his daughter. Friends and family claimed Cat was deeply depressed and felt she had 'nothing to live for' after splitting with the man she was 'madly in love with.' Today, 57 year-old Carrey continues to goes his own way, content to live his life to please his own wants and desires.
Marilyn Monroe & Michelle Williams as MM 
The 2011 feature My Week with Marilyn is a classic example of how to use a movie to create a slice of make-believe and pass it off as real life. I must admit I enjoyed the picture despite its tampering with the facts, because I think Marilyn Monroe and Michelle Williams are worth watching anytime, anywhere. Here, Michelle portrays Marilyn in the autumn of 1956 as the world's most famous movie star comes to England to film The Prince and the Showgirl at Pinewood Studios. The picture focuses on a totally bogus romantic relationship between Marilyn and Colin Clark, a minor employee of Sir Laurence Olivier's production company. In reality, Clark had only contempt for MM, whom he considered to be a hopeless neurotic. Besides, he was in the middle of an affair with a much older married woman at the time anyway. He was also indulging in certain homosexual escapades with some of the actors after hours. In short, he was nothing like the innocent, easy-going Colin portrayed by Eddie Redmayne in the film. So, My Week with Marilyn is an enjoyable little story, albeit one that never actually happened. Still, Michelle is drop-dead gorgeous anyway.