Clark Gable as Rhett Butler in GWTW (1939)        
The Academy Awards is a competition, but it is one that has seldom been conducted on a level playing field. A winner one year may very well not even have been nominated in a stronger year. Historically, the two strongest years in terms of the quality of movie released in those years, are generally considered by the experts to have been 1939 and 1950. Let's start with 1939, the year of Gone with the Wind.
Robert Donat for Goodbye, Mr. Chips beat Gable to the Best Actor Oscar
In that amazing year there were an extraordinary number of exceptional pictures made, topped of course by GWTW. And I am not just referring to the other nominees for Best Picture either – and there were ten of them! The nine nominees other than GWTW, were (in alphabetical order), Dark Victory, Goodbye, Mr. Chips, Love Affair, Mr. Smith Goes to Washington, Ninotchka, Of Mice and Men, Stagecoach, The Wizard of Oz and Wuthering Heights. Needless to say, there was only ever going to be one winner and the producers of the other nominees were in no doubt about the inevitable outcome. Civil War pictures were notorious for not making money at the box-office, but Gone with the Wind was no ordinary production. It was the biggest thing in Hollywood history; a movie so famous that the mere thought of any of the other nine nominees winning Best Picture did not bear thinking about. America, indeed the world, would contemplate only one outcome.
(L to R) Ray Milland, Robert Preston & Gary Cooper in Beau Geste
Not all of the nominations might have been victorious in other, weaker years, but surely Goodbye, Mr. Chips would have been a worthy winner in any of two dozen lesser contests. The same could be said of the wonderful Wizard of Oz. There were, however, a number of above average productions in 1939 that failed to be nominated. My personal favourite of these was the quite brilliant Beau Geste, starring Gary Cooper at his cinematic peak, Ray Milland, Robert Preston and Brian Donlevy. Susan Hayward had a small role as did a very young Donald O'Connor playing Beau as a boy. When comparing this picture to the list of nominees, I would certainly choose it over, for example, Stagecoach.
Henry Fonda & Claudette Colbert in Drums Along the Mohawk
There were two other quality westerns that year, Destry Rides Again and Drums Along the Mohawk. The first of these starred Jimmy Stewart and Marlene Dietrich and it, too, was better than Stagecoach. Drums Along the Mohawk was a vehicle for Henry Fonda and Claudette Colbert and was set in the Mohawk Valley during the American Revolution. It is beautifully photographed in Technicolor and was nominated for two Oscars – for Best Cinematography and for Best Supporting Actress (Edna May Oliver). Neither was successful. Not a great film, by any stretch of the imagination, but beautiful to look at.
Charles Laughton in The Hunchback of Notre Dame
The Hunchback of Notre Dame, starring Charles Laughton, was another fine film to miss nomination in 1939. Errol Flynn and Bette Davis had a great time of it making The Private Lives of Elizabeth and Essex, while Joan Crawford, Norma Shearer, Rosalind Russell, Paulette Goddard (and just about every female in Hollywood), had an even better time churning out The Women, a fast-moving, very talky romp, spoilt only by Norma's appalling final line, in my opinion, possibly the worst piece of acting in movie history. Henry Fonda and Alice Brady graced John Ford's Young Mr. Lincoln, Mickey Rooney and Judy Garland had a box-office smash with Babes in Arms (Mickey inexplicably being nominated for Best Actor in a Leading Role), Bill Holden made his debut as a leading man in Golden Boy alongside Barbara Stanwyck and Gable demonstrated his ability as a hoofer in Idiot's Delight. Then there was Bette Davis, Miriam Hopkins and George Brent in the well-received The Old Maid, and Leslie Howard and Ingrid Bergman in the not so well-received Intermezzo: A Love Story. No doubt about it, 1939 was the greatest Hollywood year.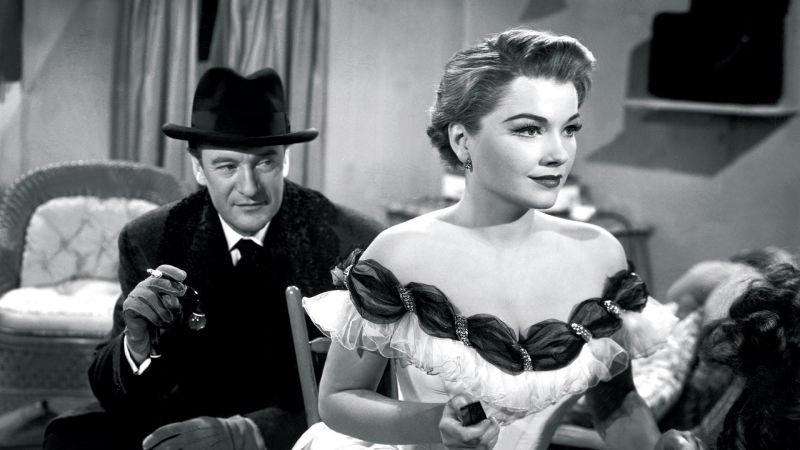 George Sanders & Anne Baxter in All About Eve (1950)
The other great Oscar year was 1950. Once again we have an extraordinary film almost sweeping all before it. All About Eve is a truly great movie. It is brilliantly acted by the likes of Bette Davis, Anne Baxter, Celeste Holm, Gary Merrill and George Sanders, and is built around a superb screenplay, written by Joseph L. Mankiewicz who also directed. Just as in 1939, the winning picture was up against some formidable opposition. By 1950, the nomination list had been (mercifully) cut down to just five. The biggest challenger came from Billy Wilder's superb Sunset Boulevard. It starred Gloria Swanson in her 'swan-song' (no pun intended), and William Holden in the performance of his life (in my opinion), although fans of Network (1976) might disagree. Bill was nominated but beaten to the statuette by Jose Ferrer in Cyrano de Bergerac, a movie and performance I personally considered far inferior to Bill's and 'Boulevard'.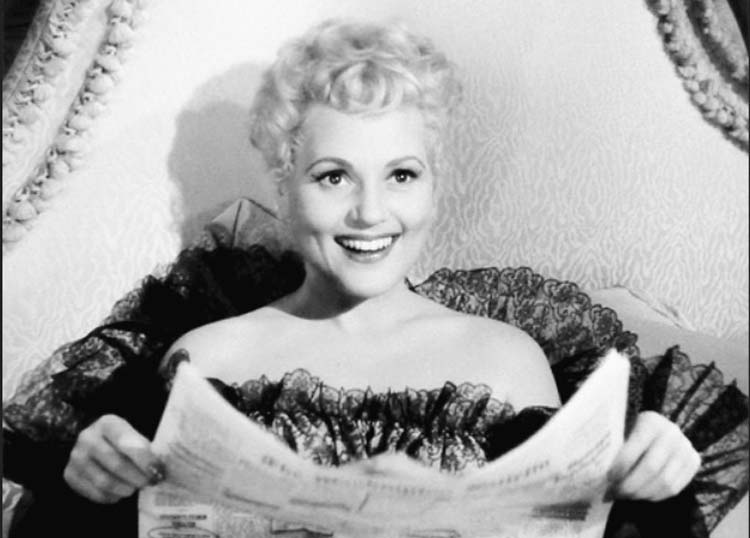 Judy Holliday as Billie Dawn in Born Yesterday
Born Yesterday was also one of the Best Picture nomination. It is a pretty good film (if you can put up with Broderick Crawford's annoying staccato vocals), and Holden is in this one too, although he does not have a lot to do. Clearly, the picture belongs, lock, stock and barrel, to Judy Holliday and her fabulous performance as Billie Dawn. Poor Gloria never stood a chance against such a thoroughly eye-catching turn. And she knew it. 'Why did Judy have to be nominated this year?' she wailed, understandably. Any other year might have seen a win for Miss Swanson but 1950 was a tough gig indeed.
Eleanor Parker in Caged
Apart from Miss Holliday, Bette Davis would have been hard enough to beat, anyway, for her portrayal of Margo Channing in All About Eve, had she not been forced to share votes with her co-star Anne Baxter. The all but forgotten fifth nominee was the under-rated Eleanor Parker in Caged. As I said, 1950 was a tough year. Celeste Holm and Thelma Ritter also had to vie for Best Supporting Actress votes in All About Eve, consequently, losing out to Josephine Hull for Harvey in the process. George Sanders, however, was a thoroughly deserving Best Supporting Actor winner for his waspish portrayal of Addison DeWitt.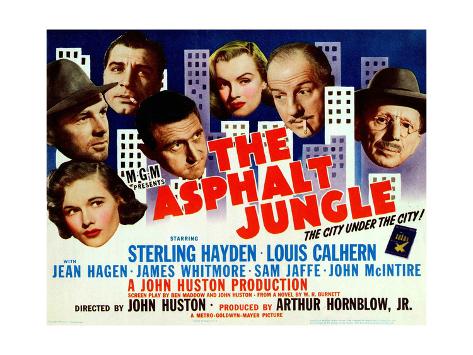 The above-mentioned Harvey seems to still enjoy a reputation for being some kind of fantasy classic, although I have never shared that view. In fact, I found it deathly dull. The Asphalt Jungle, however, is a movie I have always rated highly, certainly more so than two of the Best Picture nominees – King Solomon's Mines and Father of the Bride. Sunset Boulevard, All About Eve and Born Yesterday were all meritorious nominees, but not the other two. John Ford's Rio Grande was a terrific western. So, too, was Broken Arrow (thanks to a refreshing depiction of Apache chieftain Cochise by Jeff Chandler). I thought both were worthier as nominees, but I admit I do have a penchant for good westerns.
Panic in the Streets, directed by Elia Kazan and starring Richard Widmark, is another fine drama that went pretty much unacknowledged. A Judy Garland, Gene Kelly musical titled Summer Stock was popular light fare, and Annie Get Your Gun, regardless of the excellent Irving Berlin score, was a genuine disappointment. Brando was good in The Men, yet was surprisingly overlooked. All in all, 1950, was a year in which it was exceedingly difficult to enjoy success at the Academy Awards. When we consider the years (and there have been plenty of them), in which the output was poor, it is hard not to sympathise with the 'also-rans' of 1939 and 1950.