A scene from the 1952 feature Scaramouche
Stewart Granger and Mel Ferrer fought a duel early in Scaramouche (1952), and part of the sequence required Granger to lie on the wooden floorboards as an iron chandelier dropped towards him. It was rigged to stop just inches from his face. The director wanted to do the scene without a trial run, assuring Granger that the safety rope that halted the chandelier had been tested beforehand and was perfectly sound. Granger wasn't having a bar of it and insisted they do a test run before he would condescend to lie under the heavy chandelier. Reluctantly, the director ordered the test run and, lo and behold, the safety rope snapped and the chandelier crashed through the floor of the set! The scene had to be reshot, of course, but Granger refused point blank to remain under the re-rigged fixture as previously planned. He would only agree to do the stunt if he could roll out of its way at the appropriate moment. And that is what we see in the film.
Clint Eastwood & Clyde the Orangutan
Given the man's enormous popularity as a screen idol, it might surprise Clint Eastwood's fans to learn that his biggest hit (after inflation) of his entire career has been the 1978 comedy Every Which Way But Loose, a picture that certainly owed much of its appeal to an orangutan named Clyde (played by Manis the Orangutan). The movie enjoyed great box-office success in small towns across the US. Eastwood was extremely nervous about doing a comedy (his first), but was advised to take it on because of Burt Reynolds' runaway box-office hit of the previous year, Smokey and the Bandit. In fact, the screenplay was initially intended for Burt who turned it down, but generously offered Clint advice on how to play comedy.
George Sanders
Quite often a significant actor or actress got his or her start in the movie business by chance. Take George Sanders, for instance. Born in Russia in 1906, he was in England at school when the revolution took place at home. His family escaped the Bolsheviks and he was raised in England before moving to South America for work. He was evicted from Chile for fighting a duel over a girl whereupon he returned to Britain and landed a job in an accountancy firm. The company's market researcher was a beautiful redhead who suggested he might like to join her amateur theatrical group. This he did, picked up a little radio work followed by bits in plays and then his first movie, a small part in Lloyd's of London (1936) with Tyrone Power. It was Ty's first leading role and it made him a star. The market researcher who got George interested in acting in the first place was none other than the then unknown Greer Garson!
Tracy & Hepburn in Woman of the Year (1942)
Woman of the Year (1942) was the first of nine movies Katharine Hepburn and Spencer Tracy made together, and it was apparent to LB Mayer and everyone at the studio that they had become romantically involved. The normal studio procedure was to curtail such activities at once for fear of adverse publicity, but in this instant they chose not to. First, the two stars were discreet and second, Kate was helping to keep Tracy's drinking under control. Whenever he went on one of his benders she would sleep on the floor outside his hotel room, waiting until things got quiet, whereupon she would enter and sober him up for the day's shoot. It was often through her efforts alone he was able to make it to the set on time. The press eventually became aware of the romance but kept quiet about it out of respect for Tracy's wife whose charitable work for the deaf was well known. She and Spence were the parents of a deaf son named John.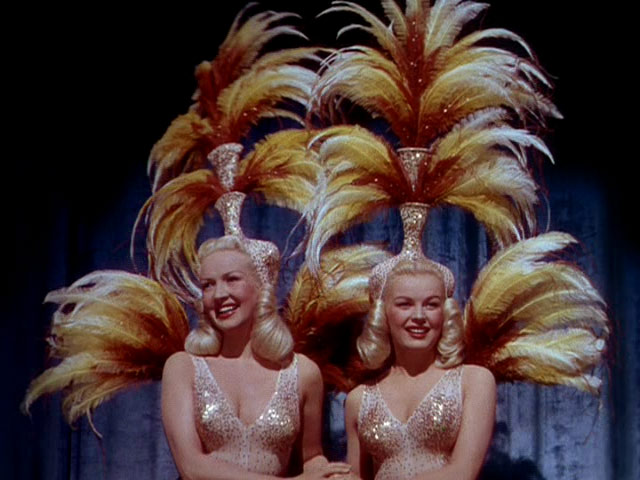 Betty Grable (L) & June Haver in The Dolly Sisters (1945)
June Haver was known as 'The Pocket Grable' and co-starred with Betty in the 1945 musical The Dolly Sisters. It was the only musical in which the shapely June and Betty appeared together. Before entering the movie business, June was a teenaged big band singer with the Ted Fio Rito Band. Her first husband was trumpeter Jimmy Zito (1947-8), and shortly after their parting she met and became engaged to studio dentist John Duzik who tragically died following complications from surgery. She was earning $3,500 a week at Fox when, in February 1953, she suddenly retired from the screen and entered the Sisters of Charity convent as a novice nun! A serious illness forced her to leave the convent in September that same year and return to California. In 1954 she wed actor Fred MacMurray. They adopted twin daughters and were together until Fred's death in 1991. June passed away in 2005, aged 79.
John Wayne, Paulette Goddard & Ray Milland in Reap the Wild Wind (1942)
Reap the Wild Wind (1942) was a 'physically' unfortunate film to be involved in from an actor's point of view. Character player Victor Kilian lost an eye during a fight scene with star John Wayne that went tragically wrong. Wayne himself sustained an ear injury that helped keep him out of the military during the war. And Ray Milland later blamed his premature baldness on the primitive electric hair rollers used on him by studio hairdressers while making this picture. Wayne was unhappy with the part he was given, claiming he was only brought into the picture to make Milland 'look like a real man'! Clearly, he and Milland did not see eye to eye. The Duke did not like the director, Cecil B DeMille, either. He was still dirty on CB overlooking him for the lead in The Plainsman (1936), a role he felt would have catapulted him to stardom. DeMille gave the role to Gary Cooper.
Orson Welles was only 42 years old when he played patriarch Will Varner in the 1958 production of The Long Hot Summer, yet he convincingly portrayed a man aged 61. In fact, I watched the picture recently for the first time and when Varner admitted to being 61, I chuckled to myself because he looked a lot closer to seventy! For reasons known only to him, he liked to don a fake nose when he worked, and the extremely hot conditions around Baton Rouge (where the picture was shot) caused the glue to melt and the nose to fall off occasionally, ruining a lot of takes. For much of his work in The Long Hot Summer, his speech was unintelligible and had to be improved through post-dubbing.