Zsa Zsa Gabor arrested for slapping a police officer 1989
Zsa Zsa Gabor was 72 years old in 1989 when she was pulled over by police officer Paul Kramer because the registration plate on her Rolls Royce had expired. He asked to see her driver's license, but she had left the new one at home, so she handed him an old, expired one she carried in the glove compartment. He returned to his patrol car and contacted his HQ while Zsa Zsa sat in her hot vehicle and waited. When she walked over and asked if she could go, he allegedly replied: 'Fuck off', and she said later in court that she mistook that to mean, 'Yes, you can go.' So she went! Kramer pursued her and grabbed her by the arm when she refused to get out of her car. So she slapped his face! Kramer threw her across the bonnet of the Rolls, cuffed her, and arrested her. In court she was convicted of slapping a police officer, possessing alcohol in her car and driving without a license. The conviction carried a 3-day jail sentence in El Segundo and 120 hours community service.
Robert Dewey Hoskins & Madonna
Robert Dewey Hoskins was a homeless drifter who, on April 7, 1995, scaled the 40 foot wall surrounding Madonna's home with the intention of meeting the famous singer. She was not at home at the time and he was chased away by her bodyguard Basil Stephens. Undeterred, he reappeared the next morning and rang the gate, demanding to speak with his idol. Again she was out, this time riding her bicycle, but Hoskins refused to believe it and threatened to 'slice her from ear to ear and kill everyone else in the house', unless she was produced at once! The greatly disturbed young man then handed Stephens a note addressed to Madonna. It read: 'Defiled. I love you. Will you be my wife for keeps? Kiss. Kiss. Kiss. Kiss. Kiss.'.
Several weeks then elapsed until, on May 29, he returned, this time toting several bags of belongings. He climbed over the wall again and trudged up to the front door. He then announced he would be moving in, whereupon Stephens and other security guards lost their patience and threw him out! Yet again he returned, took a dip in Madonna's pool, made a lunge for Stephens' gun, and was promptly shot twice for his trouble – once in the stomach and once in the arm. He was taken to hospital where he made a full recovery. It took until January 1996 before he could appear in court where he was sentenced to ten years in prison. On his release, he was taken to a psychiatric hospital in Norwalk, California from which he escaped on February 3, 2012! By then Madonna was residing in New York City with her family and out of harm's way. Hoskins was caught near the hospital a week later. In a locker he had rented, police found box-cutters, condoms, a creepy mask and a mass of Madonna memorabilia. He was returned to the hospital where he resides to this day.
(L to R) Carole Landis, Mitzi Mayfair, Kay Francis & Martha Raye 1944
In October 1942, Kay Francis joined Carole Landis, Martha Raye and Mitzi Mayfair on a USO tour to London. It was a six-week tour, comprising six days of shows a week. The itinerary covered England, Algiers and North Africa and the group travelled 37,500 miles, gave 125 performances and put in 150 personal appearances! These included a Command Performance for the Royal Family on December 4, 1942 at Windsor Castle, after which Mitzi taught young Princess Margaret how to jitterbug! Over the Bay of Biscay their B-17 was attacked by two German fighters and the tail-gunner was killed. A totally exhausted Kay slept through the attack, while Carole, Mitzi and Martha were curled up in foetal positions and praying for deliverance. In 1944 the same actresses made a movie of their experience. It was titled Four Jills in a Jeep.
Pete Duel
Kim Darby
Pete Duel was an affable young man, albeit one prone to fits of despondency from time to time. He fell in love with actress Kim Darby but she suddenly married a complete stranger and it shattered him. The union did not last long, and although Kim attempted to rekindle her relationship with Duel, it was too late. He had transferred his affections elsewhere by then. In 1970 he landed the lead role of Hannibal Heyes (alias Joshua Smith) in a new TV series titled Alias Smith & Jones (1971-2). Most actors would be thrilled to get a series, but not Pete Duel. He found the hours long and the role one that restricted his artistic progress. In short, he hated it. On December 31, 1971, the deeply unhappy actor took a pistol from his bureau and shot himself in the head. His body was found lying under his Xmas tree. He was 31.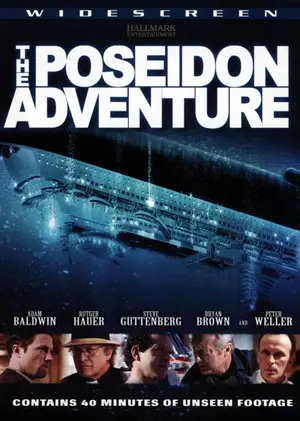 Paul Gallico wrote his novel on which The Poseidon Adventure (1972) was based, after recalling a terrifying incident he experienced aboard the Queen Mary. At breakfast time one morning, the vessel was struck by a freak wave that sent passengers and furniture crashing to the other side of the ship. A similar wave (but considerably larger) hit the same liner while she was chock full of American soldiers bound for Europe during World War Two. It has since been estimated that the ship would have capsized had she listed just five more inches. In The Poseidon Adventure, many of the interior sequences, prior to capsizing, were shot on board the actual Queen Mary. Midnight Express (1978) is an extremely biased film that portrays the nation of Turkey and its people as both brutal and quite worthless. Billy Hayes, the film's subject, has returned to Turkey in the 21st century and personally apologised to the nation for the many liberties taken with the truth in the picture. 'The message of Midnight Express', he told reporters, 'isn't 'Don't go to Turkey.' It's 'Don't be an idiot like I was, and try to smuggle drugs.' His speech in the courtroom scene, in which he rails against the Turkish penal system, was entirely made up by screenwriter Oliver Stone. Hayes barely spoke when offered the opportunity in real life.
Oliver Tobias & Joan Collins in The Stud (1978)
Jackie Collins wrote a novel titled 'The Stud' in 1969 and gave her sister Joan the film rights to it and the movie was released in 1978. Jackie attempted to get singer Tom Jones to play opposite Joan, but he read the script and declined. 'I was shocked!' he said. Oliver Tobias, of TV's Luke's Kingdom (1976), took it on and later complained that it ruined his career. The film is abysmal but it made money at the box-office and even revived Joan's career which had been languishing for some time. Jackie scrawled a sequel titled 'The Bitch', to cash in on The Stud's success, and Joan got her gear off in that one, too. The Sunday Times described the original picture as, 'sexual athletics among the In-crowd.' An apt assessment.