Peggy Shannon (1907-41)
Peggy Shannon, a beautiful 16 year-old redhead, visited her aunt in New York City in 1923 and was 'discovered' by Broadway hot-shot Flo Ziegfeld who rushed her into his Follies chorus line. She married an actor in 1926 and starred in a couple of Broadway shows before Paramount came calling. By 1931 she was an established movie star, but one with an escalating booze problem and a reputation for being difficult to work with. She divorced in 1940 and married a cameraman named Al Roberts soon afterwards. On May 11, 1941 he returned home from a trip to find 34 year-old Peggy dead, slumped at a table near their pool, an empty glass clutched in her hand. Her ruined liver had brought on a heart attack. Nineteen days after her death, Roberts sat in the same chair at the same spot and shot himself.
For Darryl F. Zanuck, his 1944 biopic Wilson was a labour of love, so much so that he premiered the film in his home town of Wahoo, Nebraska. It cost $5 million to make back in '44, more than Gone with the Wind had cost five years earlier. But nobody seemed even vaguely interested in the life of President Woodrow Wilson, so the public stayed away in droves. FDR screened it at the Second Quebec Conference in 1944 and among those watching it was Prime Minister Winston Churchill. He was unimpressed and left early to go to bed. Perhaps, it was the total whitewash of Wilson's character that annoyed him and others. For example, there were numerous allusions throughout the film comparing him to both George Washington and Abraham Lincoln while conveniently overlooking the fact that he was a known supporter of the Ku Klux Klan.
Part of the appalling media circus at Ty Power's funeral in 1959
The Hollywood funeral of Tyrone Power in 1959 was held at the Chapel of Psalms. It was a Catholic service so most of it was intoned in Latin, a bewildering situation for most of the mourners. Outside the chapel a crowd gathered, complete with boxed lunches, bawling babies and hula hoops! The arrival of each celebrity mourner was greeted with applause and cheers, more in line with Academy Awards red carpet conduct, than that expected at a funeral service. Power's replacement in Solomon and Sheba, (only half the scenes had been shot when a heart attack felled him), was Yul Brynner. When he arrived at the chapel the crowd erupted into the biggest cheer of the day. It was bizarre. A phalanx of motorcycle police revved their machines in their endeavours to push the crowd back and the noise drowned out much of Cesar Romero's eulogy. To cap things off, Loretta Young arrived, direct from the set of a TV show and dressed in oriental garb. If poor Ty was not already spinning in his casket, he should have been by then.
Michael Caine has said that Ashanti (1979) is the worst film he has ever been associated with and advises cinema-goers and TV fans not to waste their time watching it. I have seen it a few times and it is not really as bad as all that. Granted, the title is completely misleading and the characters are not fleshed out, but it is really a 'revenge' flick, not unlike Death Wish or Taken or a dozen similar vehicles. It is not a great picture by any stretch of the imagination but neither is it the catastrophe described by its star. I could name a hundred far worse films.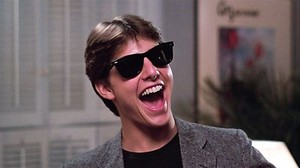 Tom Cruise and his Ray-Ban Wayfarers in Risky Business (1983)
It is quite extraordinary how a movie will impact on an entire industry. The most famous example, of course, is the decimation of the undershirt [singlet] industry when Clark Gable chose not to wear one in It Happened One Night (1934). The picture was popular, Gable was popular and just like that undershirts became very unpopular. About fifty years later, two movies had a combined impact on the sunglasses industry. The Blues Brothers (1980) lifted Wayfarer sunglasses out of the doldrums and when Tom Cruise sported Ray-Ban Wayfarers in Risky Business three years later, sales rocketed upwards by an astonishing 2000%.The company has not looked back since.
Victor Mature & Hedy Lamarr in Samson & Delilah (1949)
He was built like a block of flats and women found him irresistible, yet Victor Mature was riddled with phobias and fears. During the jawbone battle in Samson and Delilah (1949), the wind machine kicked up some quite violent gusts that caused the timid Vic to flee the sound stage. Director CB DeMille found him hiding in terror in his dressing-room. Charles Higham, DeMille's biographer wrote that the irate director snatched up a megaphone and announced to cast and crew: 'I have met a few men in my time', he said. 'Some have been afraid of heights, some have been afraid of water, some have been afraid of fire, some have been afraid of closed spaces. Some have even been afraid of open spaces – or themselves. But in all my 35 years of picture making, Mr. Mature, I have not met a man who was 100% yellow!'
Marilyn Monroe and the Red Velvet Session
On May 29, 1949, a young actress was way behind in her rent and in danger of losing the car she needed to drive herself to auditions. So she went to the apartment shared by photographer Tom Kelley and his partner Natalie Grasko, shed her clothes before them, and posed naked on a red velvet blanket. She was paid $50 and signed her name as 'Mona Monroe' on the release form. The pictures were not pornographic; in fact they were quite tastefully done, but they eventually wound up on a calendar in 1952, titled 'Golden Dreams' and 'A New Wrinkle'. By then Mona was, of course, Marilyn Monroe, and a starlet at 20th Century Fox. The studio wanted her to deny the shots were of her, but she chose to be forthright about them and they actually helped make her famous. She even autographed many copies and gave them as gifts to her friends, including her future husband, baseball great Joe DiMaggio.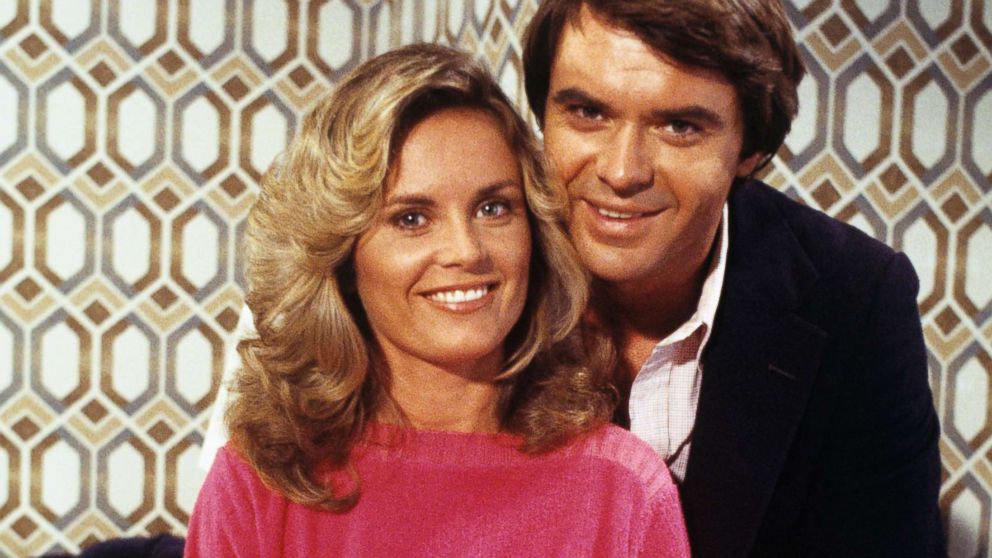 Heather Menzies and her husband Robert Urich
Heather as Louisa in The Sound of Music (1965)
In the 1978 feature Piranha there is a topless scene that was supposed to be played by the female lead, Heather Menzies-Urich, the wife of actor Robert Urich. However, a waitress, from the Holiday Inn where the cast were staying, stood in for her because Heather was concerned about her husband's reaction to his wife appearing naked, even though she had previously done a nude pictorial in the August 1973 edition of Playboy magazine. Fans of The Sound of Music (1965) will know the name Heather Menzies because she was the 15 year-old who played Louisa, one of the von Trapp children. She also appeared alongside Julie Andrews in Hawaii (1966). Sadly, in 2017, 68 year-old Heather lost her battle with brain cancer.