Marion Davies
Marion Davies acquired a reputation for showing kindness to actors down on their luck. She was always writing cheques to help out struggling careers and to rejuvenate many. 'You're rich', she said many times, 'not because of money, but only through what you give.' She also built a children's wing on UCLA's Medical Centre and used a trust fund to maintain it. At home she protected her lover's (W R Hearst) sons from their father's wrath, giving them money and mothering them for 30 years. In spite of all her kindnesses, however, on his death all five sons turned on her. After all, she was still the woman who took their father from their mother and broke up the family. Blood is indeed thicker than water. The family made sure Marion did not attend their father's funeral. When WR's fortune crumbled in the thirties, Marion lent him a million dollars to stave off ruin, leaving herself temporarily penniless. 'It came from him', she explained. 'He needs it.' On her death in 1961, writer Frances Marion affectionately described her as 'a butterfly with glue on her wings.'
Ginger & Fred – the Carioca – Flying Down to Rio (1933)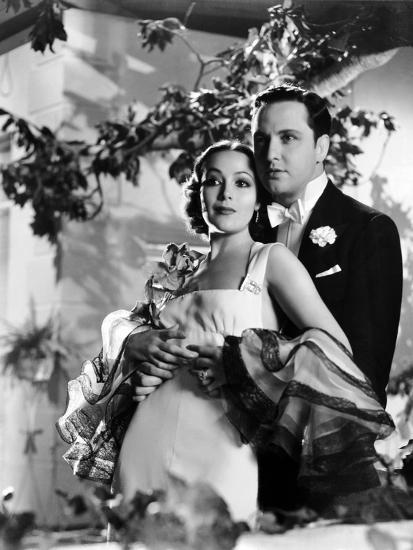 Dolores Del Rio & Raul Roulien
The first male Brazilian star to succeed in Hollywood was Raul Roulien, the actor/singer who sang 'Orchids in the Moonlight' in the smash hit of 1933, Flying Down to Rio. He was tragically widowed during the production when his young wife, Tosca, was struck down and killed by a motor vehicle driven by a very drunken John Huston. The accident was hushed up by MGM's Louis B. Mayer as a favour to Walter Huston, John's father. The movie was supposed to be a starring vehicle for Dolores Del Rio, but when Ginger Rogers and Fred Astaire danced 'the Carioca', they took the world by storm. Fred had just shed himself of his dancing partner, his sister Adele, and was keen to become a solo performer, but the enormous popularity of this picture was enough to see him pushed into another nine features teamed with Ginger.
Geena Davis & Brad Pitt about to get it on in Thelma & Louise (1991)
Christopher McDonald in Thelma & Louise
Director Ridley Scott intended to use a body double for Geena Davis in her steamy bedroom scene with Brad Pitt in Thelma & Louise (1991), but when Geena learned of this she convinced him that her own body was good enough to use and he allowed her to do the scene herself. Susan Sarandon believes that Geena and Brad had an off-screen romance. 'The day they did their scene in bed was the only day they watched the dailies right through' she noticed, 'which was suspicious to me. It was a very long lunch!' By the way, Christopher McDonald, the actor who played Geena's chauvinist husband, was once engaged to her in real life.
Ty Power (L) & George Sanders in Solomon and Sheba (1959)
According to his co-star George Sanders in Solomon and Sheba (1959), Tyrone Power did not collapse and die during their duelling scene as most publications claimed. The two stars rehearsed the scene and then retired to their respective dressing room/trailers, to wait while the set was being lit for the real thing. Soon afterwards, the assistant director told George there would be a delay because Ty had 'experienced some kind of spasm'. Sanders went to Power's dressing room where he found the actor slumped in a chair, 'twisted over on his left side and clutching his arm'. 'Oh, it'll go away', said Ty. 'I've had it before. It's this damned bursitis.' George returned to his dressing room where, sometime later, the assistant director again dropped in to advise him that shooting was called off for the day. Sanders was momentarily delighted to get the day off, but was stunned by the next words from his visitor: 'I suppose you know that Tyrone died?'
Red Skelton
Marathon dancers in the thirties
Comedian Red Skelton survived the thirties, mostly by working as a marathon dancer. Fourteen year-old future movie star, June Havoc, also entered thirties 'walkathons', primarily to eat. Contestants were fed 12 times a day, a huge plus during the Great Depression. Mind you, dancers had to eat standing up and moving, but it was reasonably nourishing fare and better than that served in the soup kitchens. Dancers were given a 15 minute 'rest' every hour, a horn blasting after 11 minutes, warning them to return to the floor or be disqualified. Marathons attracted an average of 2,500 patrons and were big business for promoters and local businesses. Contestants had to remain upright and attached to their partners at all times except the official breaks. If either dancer's knees touched the floor they were both disqualified. The first three placegetters earned money, but promoters generally ensured that their professional dancers (usually posing as amateurs) won the prize money. A Spokane show in October 1935 lasted two months, 1638 hours of perpetual motion! World War Two eventually put paid to this abominable form of 'entertainment'.
Ernie Kovacs & wife Edie Adams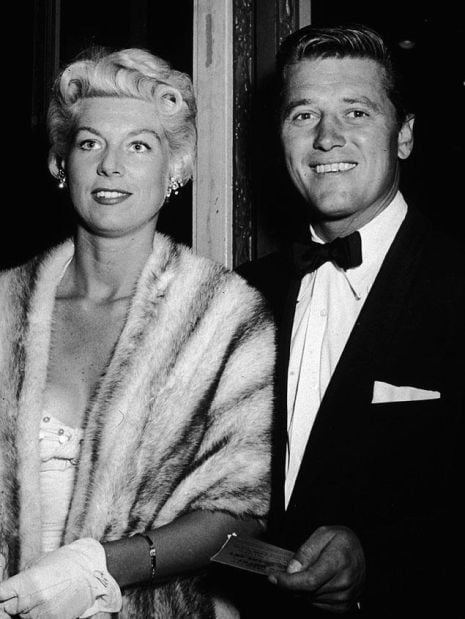 Sheila & Gordon MacRae
Fan magazines knew nothing about it because studios kept secrets by the truck-load, but there were a number of big stars who had severe gambling problems. Funny man Phil Silvers (Sgt Bilko) lost heavily at the tables in Vegas and elsewhere most of his adult life. Another loser was fellow comedian Ernie Kovacs. At the time of his death in a car crash, he owed around $600,000 in gambling IOU's. His widow, Edie Adams, to her enormous credit, refused to declare bankruptcy and worked for years until she had paid back every cent he owed. Singer Gordon MacRae, (star of Carousel and Oklahoma!), lost a fortune at the Vegas tables. Consequently, he and wife Sheila were compelled to work 43 a weeks a year at mob joints to pay off his debts.
Meredith Wilson wrote 40 songs for the musical play The Music Man (1962), 17 of which were used in the film version. I have forced myself to sit through this lousy musical twice, but never again. Robert Preston is fine and Shirley Jones is pretty and a superb vocalist, but the music…! Only two tunes are passable at best, ('76 Trombones' and 'Til There Was You'); the rest are, in my opinion, sub-standard rubbish. The Music Man has to be one of the worst musicals ever put on film so, of course, it was Oscar-nominated for Best Picture! Lawrence of Arabia took the honours that year, I am very happy to say.
During the filming of The Mark of Zorro (1940), Tyrone Power liked to take an early morning dip in the hotel pool. He personally arranged for the water to be carefully pre-heated before he plunged in. One morning Fox head Darryl F. Zanuck played a prank on him and had the heating turned off. Totally unaware, Ty dived into the icy water and almost had a heart attack! He had his revenge a few days later. Zanuck was watching the dailies showing a scene in which Zorro robs a coach carrying the Governor and his wife. Zorro is supposed to slash his trademark 'Z' in the coach seat, but the reverse angle reveals he has slashed a 'DZ' instead. 'Zanuck!' gasps Edward Bromberg as the evil Alcalde. 'Let that be a lesson to you, damn it!' sneers Power. Zanuck loved it.