Marlon Brando & Karl Malden in One-Eyed Jacks (1961)
One-Eyed Jacks (1961) was to have been directed by Stanley Kubrick at a budgeted cost of $1.8 million, but then Kubrick left and the picture's star, Marlon Brando, took over as director. Day one, ominously, saw him throw away the script and announce to cast and crew, 'We are going to improvise.' For the next 6 months production costs soared to $42,000 a day as Mr. Brando did as he pleased. For example, he would spend hours on the shores of the Pacific waiting for the water to 'look more dramatic'. Everyone would be kept waiting as he sat for 20 minutes at a time with his head between his knees until he 'got in the mood'. Six months of such antics cost Paramount in excess of $6 million. One-Eyed Jacks turned out to be a very ordinary western that had no hope of ever recouping its costs, much less make a profit.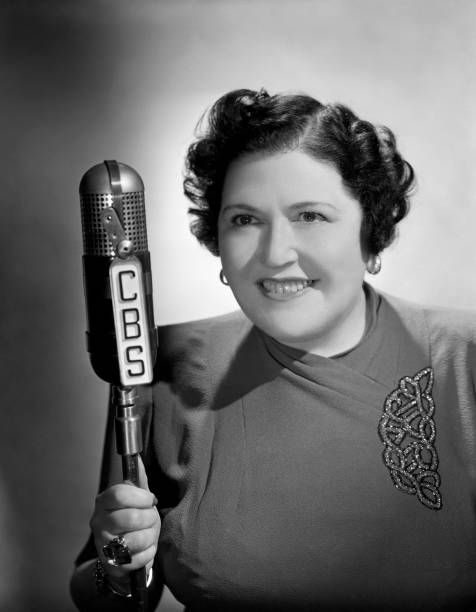 Louella Parsons on her radio show in WW2
During World War Two, Louella Parsons was riding high with her column and her own radio program, 'Hollywood Hotel'. The sponsors paid her $2,500 a week, mainly because she was able to get almost any Hollywood star to guest on her program for free. Only two stars, Ronald Colman and Ginger Rogers, stubbornly refused to grace her program.  Working for nothing did not appeal to them. Consequently, they were ex-communicated by Louella in her column for years. Eventually, the Screen Actors Guild (SAG) insisted its members be paid for all work, including radio guest spots. Louella's program lasted just 13 more weeks before being taken off the air. Sponsors did not fancy paying for services that were previously gratis.
Norma Shearer & Charles Laughton in The Barretts of Wimpole Street (1934)
When MGM producer and 2IC Irving Thalberg cast his wife Norma Shearer as Elizabeth Barrett Browning in the 1934 film The Barretts of Wimpole Street, he infuriated newspaper tycoon William Randolph Hearst who had expected his mistress Marion Davies to get the part. He immediately pulled Marion out of MGM (trailer and all) and moved everything across to the Warner Brothers lot. Furthermore, he made certain that Shearer's name did not appear in any Hearst newspaper anywhere in the world. A few years later he did his best to get Marion cast in the title role of Marie Antoinette (1938)…and Miss Shearer was given that role as well! There was a disturbing sub-plot in the 1934 picture that worried MGM considerably. The father of Elizabeth Barrett Browning had harboured incestuous designs on his daughter in real life, so it became necessary to 'tone down' Charles Laughton's portrayal of him. As Laughton famously remarked later, however: 'They couldn't censor the gleam in my eye.'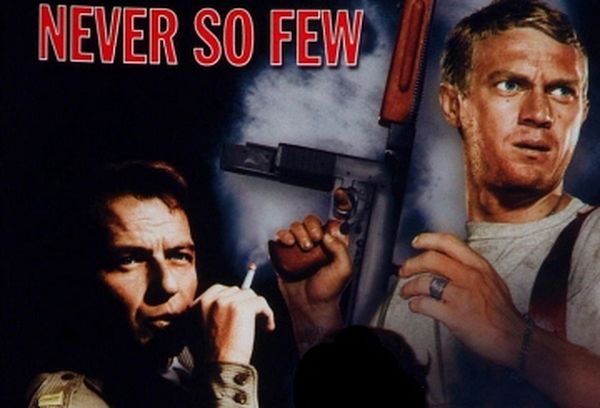 Sinatra & McQueen
It usually did not take much to get Frank Sinatra's dander up. When his pal Sammy Davis Jr stated on radio that he was a better singer than Sinatra, 'Old Blue Eyes' reacted angrily by dropping him from the cast of Never So Few (1959), and replacing him with Steve McQueen! A few months later, Frank took McQueen on a junket to New York City to promote the picture. Steve thought he might liven things up by hurling lighted Mexican firecrackers into Central Park from his 10th floor hotel apartment! It took all of Sinatra's charm and persuasion to keep his co-star from spending the night in a cell.
Natalie Wood in This Property is Condemned (1966)
This Property is Condemned (1966) is an uneven and disappointing film, and no-one was more dismayed and infuriated by what was done to his play on the big screen than its author Tennessee Williams. He even threatened to have his name taken off the credits. During the shoot, in November 1965, Natalie Wood attempted suicide, and it was not the 27 year-old actress's first attempt either. There was a skinny-dipping scene in which she was required to stand in a steel water tank for cattle. Natalie's morbid fear of dark water was such that supporting actor Robert Blake had to dive under the water, hold his breath and steady her legs to enable her to complete the scene. Of course, as we know, she would lose her life one night in dark water in 1981. After breaking up with Warren Beatty around this time she temporarily abandoned movie-making to focus on her mental health issues and emotional wellbeing.
Howard Hughes & Ava Gardner on the town
Ava Gardner discovered, during her time with Howard Hughes in the forties, that he was shockingly racist. 'When I told him that my closest childhood friend, Virginia, was black, he didn't call me for about six weeks', she recalled. 'I think he was sulking.' 'He wouldn't employ blacks in his aircraft plants', she added. 'Fuck him! Fuck all bigots!' 'Howard wouldn't piss on a black man to put him out if he was on fire', she remembered. 'I knew him before he became that crazy basket-case, holed up in a Las Vegas hotel, surrounded by fucking Mormons and as mad as a hatter.' Their battles were epic. On one occasion Hughes punched her out and Ava hit him over the head and knocked him out! When he came to, he did what he always did after one of their fights. He asked her to marry him. And she did what she always did. She said no.
Sinatra as Nathan Detroit in Guys & Dolls (1955)
Sam Levene as Nathan on Broadway
In the era of the big studios, it was an understood thing that Jewish actors would not be cast as Jewish characters in movies. 'It wouldn't work on the screen', explained Samuel Goldwyn. Because of this curious mind-set, Frank Sinatra replaced Sam Levene as Nathan Detroit in Guys and Dolls (1955), regardless of Levene's superb portrayal on Broadway. Rosalind Russell was chosen over Gertrude Berg in A Majority of One (1961) and Exodus (1960) was transformed into a Protestant epic (instead of a Jewish one) and starred Paul Newman and Eva Marie Saint in the leads. Even Millie Perkins found herself in the title role for 1959's The Diary of Anne Frank.
Dick Van Dyke & Michelle Triola
Dick Van Dyke had already separated from his wife of 28 years, the former Marjorie Willett, when he became involved with Michelle Triola in 1976. Michelle, briefly the former wife of actor Skip Ward, was embroiled in a much-publicized 'palimony' case with her live-in lover of 6 years Lee Marvin. She sued him for a six figure sum but lost the case. Michelle and Dick moved in together in 1976 and remained together until her death from lung cancer in 2009. When Dick gave her, out of his own pocket, the six figure sum she had sued Marvin for, Marjorie finally divorced him. It was 1984. He is now in his nineties and still acting.