George Clooney as Ulysses Everett McGill in O Brother, Where Art Thou? (2000)
This charming comedy is very loosely based on Homer's 'Odyssey' and is a wonderful vehicle for George Clooney, ably supported by the brilliant John Turturro and Tim Blake Nelson. He demonstrates a natural flair for comedy and deservedly picked up a Golden Globe for his performance. The Academy, as usual, showed its usual lack of interest in comedy performances by nominating only the screenplay and cinematography, both unsuccessfully. The film's catchy soundtrack sold 5 million copies worldwide. Although Clooney only mimed 'Man of Constant Sorrow', Tim Blake Nelson did his own singing on 'In the Jailhouse Now'. A highly entertaining film, thanks to a wonderful soundtrack and to a quirky performance from Clooney in particular who proves he is not just a pretty face.
Robert Donat as Mr. Chips in Goodbye, Mr. Chips (1939)
Greer Garson & Robert Donat – Mr. & Mrs. Chipping
The film takes place from 1870 to 1933, so 34 year-old Robert Donat ends up portraying an 88 year-old at its conclusion. Mr. Chips (Charles Edward Chipping) is 25 years older than his wife Katherine (played by newcomer Greer Garson) although, in reality, Donat was actually five months younger than Garson. He was a worthy Best Actor winner in what has often been described as the strongest year in the history of the Oscars. He was up against Clark Gable for Gone with the Wind; Laurence Olivier for Wuthering Heights; James Stewart for Mr. Smith Goes to Washington and (believe it or not) Mickey Rooney for Babes in Arms. His only other nomination was for The Citadel (1938). He was unsuccessful.
Edward G. Robinson as Barton Keyes in Double Indemnity (1944)
Edward G. Robinson turned down the role of insurance investigator Barton Keyes in Billy Wilder's classic 1944 thriller Double Indemnity. He resented being third-billed behind Fred MacMurray and Barbara Stanwyck. It wasn't until Wilder told him that his career was in a transitory phase and reminded him that he was getting the same money as the two leads (but for doing far less work), that he changed his mind and accepted the role. There is an extraordinary scene where Keyes rattles off the various actuarial tables for suicide that is a highlight of the picture. And what a picture! Robinson was never Oscar-nominated in his career. Not ever. He should have been for this picture. In 1973 he was belatedly granted an Honorary Oscar by the Academy for his life's work. He died two months before the ceremony.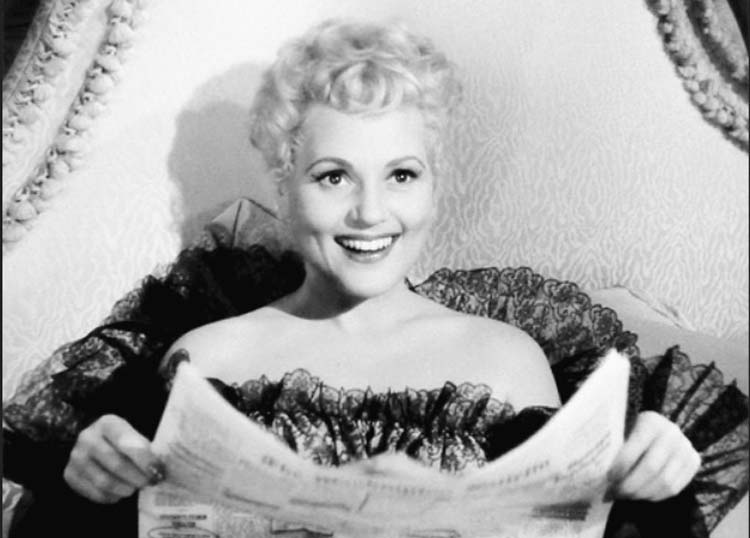 Judy Holliday as Billie Dawn in Born Yesterday (1950)
Judy Holliday was a mildly successful Broadway actress until she was chosen to replace Jean Arthur in the Garson Kanin play Born Yesterday in 1946. When Columbia head Harry Cohn paid Kanin an unprecedented million dollars for the film rights his intention was to put Rita Hayworth in the Billie Dawn role, but Rita had just married Prince Aly Khan and declined it. Holliday was anything but the dumb blonde she so brilliantly played in Born Yesterday (1950). Boasting an IQ of 172, she was capable of playing a variety of roles. Her Oscar for portraying the ditzy Billie Dawn in this picture, however, more or less typecast her from that day onward. She only made a handful of movies before returning to her first love, the New York stage. Tragically, this gifted lady succumbed to breast cancer two weeks shy of her 44th birthday in 1965.
Audrey Hepburn as Nicole Bonnet in How to Steal a Million (1966)
And as Regina Lampert in Charade (1963)
I suppose most Audrey Hepburn fans would argue that her best performance was as Holly Golightly in Breakfast at Tiffany's in 1961, a movie I have never particularly enjoyed. Personally, I feel she was infinitely more appealing in two other sixties films – Charade (10963) and How to Steal a Million (1966). She was bubbly, charming, funny and as pretty as a picture in both roles. She did not have a lot to do (acting-wise) but who cares? Audrey was one of those creatures who made it a pleasure to go to the movies simply to bask in the pleasure of her company. Her rapport with her leading men (Cary Grant in 1963 and Peter O'Toole in 1966) was quite natural and completely unaffected. Clearly, everyone was having a grand old time. Away from the screen she and O'Toole enjoyed a sizzling romance in 1966. Like many of her co-stars, the Irishman was captivated by her extraordinary beauty, personality and sense of fun.
Richard Dreyfuss as Elliot Garfield in The Goodbye Girl (1977)
Richard Dreyfuss had been around since the age of 17, mostly in television spots, and was not really making his mark until he hit the big time with Jaws (1975). Two years later he scored a double whammy with Close Encounters of the Third Kind and The Goodbye Girl. I thought 'Close Encounters' was slow and basically over-rated, but he kicked a massive goal with the lead in Neil Simon's The Goodbye Girl. It was a part to die for and he handled it brilliantly, becoming (at 30) the youngest ever to win the Best Actor Academy Award. His co-star Marsha Mason was married to Neil Simon at that time and she, too, was nominated, but unsuccessfully. Dreyfuss needed to lose weight during the shoot, so he ate only sushi at every meal. 'The man lived and breathed – and reeked – sushi', recalled Marsha. That aside, she found her co-star was, 'bright, bright, bright, incredibly well read, and comfortable with his intelligence.' Dreyfuss himself was well aware of how good Simon's screenplay was. 'I once said I'd like to play Elliot until I retired and got a Swiss watch', he said, 'because he was great.' Amen to that. The trouble for Dreyfuss was, I feel, that he never quite hit the same heights again.
Jane Seymour as Elise McKenna in Somewhere in Time (1980)
There is something whimsically magical about the Christopher Reve, Jane Seymour romance Somewhere in Time (1980). Much of that has to do with the lovely Jane Seymour who seems ideally cast as the pre-World War One stage star whose black and white photograph enchants writer Richard Collier (Christopher Reeve), causing him to obsess about travelling back in time to meet her. Scriptwriter Richard Matheson dreamt of meeting renowned stage actress Maude Adams after spotting her portrait in Piper's Opera House in Virginia City, Nevada, and fantasized about going back in time to meet her. The movie is an exercise in nostalgia and Jane really does represent the stuff of dreams. John Barry's score adds to the overall romantic fantasy aided by a perfect setting, the Grand Hotel on Mackinac Island, Michigan.