Sandra Bullock & her Oscar for The Blind Side (2009)
Sandra Bullock enjoys a reputation for being kind and attentive, highly professional and a pleasure to work with. Unlike many of her contemporaries, she does not permit her ego to interfere with her sense of humour either. In 2009, she readily turned up at the Razzie Awards to collect her gong for her performance in a spud awful little outing titled All about Steve, in which her performance was judged the worst of the year. The very next night she was on hand at the Academy Awards to collect the Best Actress Oscar for The Blind Side! True to her nature, she was equally gracious as she accepted both awards. Miss Bullock is a class act on and off the screen.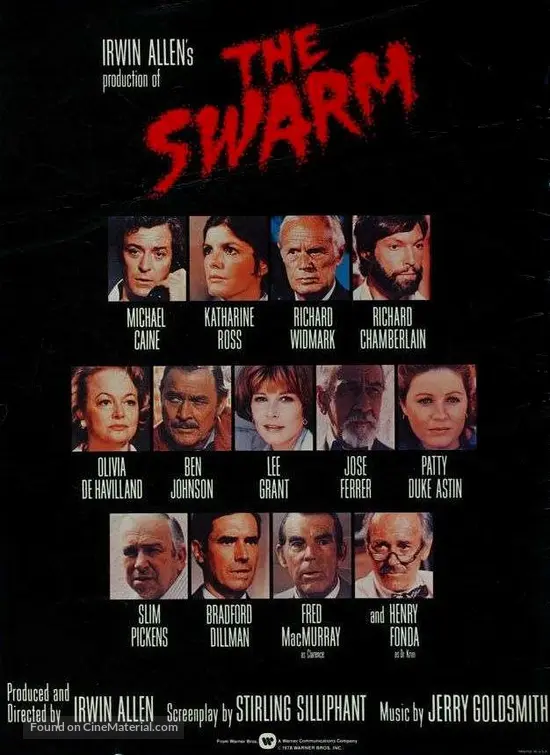 I doubt very much if there has ever been a film with so distinguished a cast that is as bad as 1978's The Swarm. Included among the picture's illustrious line-up were no fewer than seven Oscar-winners, all of whom really should have known better. In no particular order, Michael Caine, Henry Fonda, Olivia De Havilland, Lee Grant, Patty Duke, Jose Ferrer and Ben Johnson all fell for The Swarm. Add to those names the likes of Katharine Ross, Fred MacMurray, Bradford Dillman, Richard Widmark, Richard Chamberlain, Cameron Mitchell, Alejandro Rey and Slim Pickins, who also featured. Perhaps, most of these people were sucked in by seeing Irwin Allen's name as director. After all, he had produced both The Poseidon Adventure (1972) and The Towering Inferno (1974), but the key word there is 'produced', not 'directed'. Then again, disaster flicks were all the rage at the time and The Swarm was deemed a disaster picture. And they were right! At least Michael Caine had an excuse. British taxes in the seventies had forced him to sell his England home and switch domicile to Hollywood. He needed to pay for the move although, like the rest of the cast, he had no idea The Swarm was going to be such a 'stinker'. Still, the money was good even if the picture was not.
Raymond Massey in Abe Lincoln in Illinois (1940)
Raymond Massey received an Oscar nomination for his portrayal of Abraham Lincoln in the 1940 feature Abe Lincoln in Illinois. He also portrayed Honest Abe on Broadway, on radio a couple of times, and at private gatherings and parties. In fact, he would dress in Lincoln attire, adapt Lincoln mannerisms and assume the great man's speech patterns at the slightest opportunity. His good friend, playwright George S. Kaufman, drily observed to the amusement of his friends and associates that, 'Massey won't be satisfied until someone assassinates him!'
Pharmacists Mate Wheeler Lipes 1942
In the 1943 Cary Grant film Destination Tokyo, an operation is performed on a sailor with appendicitis on board a submerged submarine. The incident is based on an actual incident in 1942; a real-life operation was indeed carried out aboard the US submarine Seadragon by a 22 year-old pharmacists mate named Wheeler Lipes, 120 feet below the surface of the South China Sea in. Lipes' actions were criticized afterwards by US Navy doctors and the US Surgeon-General even considered court-martialling him. Over 60 years later, in April 2005, common sense finally triumphed and Wheeler Lipes received the US Navy Commendation Medal – two months before his death.
The refurbished Formosa Club 2018
Ball of Fire (1941) starred Barbara Stanwyck as a mouthy nightclub singer named 'Sugarpuss' O'Shea who has a gangster boyfriend named Joe Lilac played by Dana Andrews. Andrews decided to model his role on mobster Benjamin 'Bugsy' Siegel who owned a Hollywood club called 'The Formosa'. It was situated across the street from the Goldwyn Studios and Dana would go there after work to take special note of the suits, hats and even the spats worn by Bugsy and his mobster cronies. Siegel actually made many friends among the Hollywood elite during his years in Tinsel Town and even arranged for a screen test at one time. Unfortunately, the footage (like most screen tests, sad to say) has long since disappeared.
Julie Walters & Michael Caine
Michael Caine and Julie Walters were nominated for Best Actor and Best Actress for their terrific performances in Educating Rita (1983). Neither won. Caine described arriving at the theatre on Academy Awards night and assessing their chances of winning as he did so. '…as soon as you get inside the theatre you know what the likelihood of winning is', he wrote. 'If you are seated on the aisle or near the front, then it's clear you are in with a chance. If you are on the inside of a row, the chances are you're not…as soon as I was shown to my seat, halfway back, and looked over to see Robert Duvall sitting bang in the front row, I started practising my gallant loser's smile. I could see that Shirley MacLaine was in pole position for Terms of Endearment, too, so it wasn't a wild guess to make that Julie Walters had also been unlucky for Best Actress.'
The hair-raising climbing of the vertical cliff-face at the start of the mission in 1961's The Guns of Navarone was not quite as difficult or perilous as it appeared on-screen. The rock-face was actually a painted backdrop laid out on the ground, so the actors were simply required to 'climb' across the studio floor! The image was then tilted on camera. Mallory (Gregory Peck) was supposed to be fluent in German but he could not speak the language at all so his German lines were dubbed. And whenever he spoke Greek that, too, was dubbed. James Darren leapt at the opportunity to play Private Pappadimos, hoping it would get him out of the 'teen idol' stage of his career. Unfortunately for him, the sequel to Gidget (1959) came out later in the year and there he was once again playing a character named 'Moondoggie'!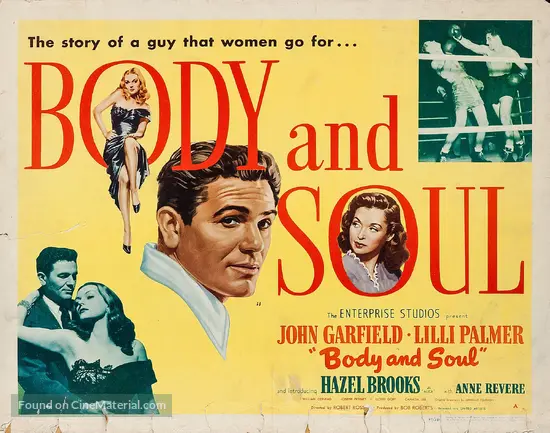 Body and Soul (1947) is a fine film that has achieved a kind of historical notoriety because of the number of people associated with it who were blacklisted during the 1950s 'Red Scare'. Producer Bob Roberts refused to name names and was first to be outlawed. Writer Abraham Polonsky was named by Elia Kazan and suffered the same fate. 'He's a creep', was Polonsky's comment on Kazan. 'I wouldn't say hello to him if he came across the street.' The picture's star, John Garfield, died the night before he was due to face the HUAAC. Anne Revere did not make another film for 20 years after being blacklisted in 1951; Lloyd Gough returned to the New York stage and bit players Canada Lee and Art Smith lost their movie careers. Shimen Ruskin became one of the 'suspected communists' named by actor Lee J. Cobb and director Robert Rossen saved his own neck by naming 57 others.