Franciska Gaal
The name Franciska Gaal is long lost to modern movie-goers. Her Hollywood screen career was very short indeed, only three pictures released just prior to the outbreak of World War Two. Born in Budapest, Hungary, the Jewish Franciska had enjoyed success in German cinema until Hitler came to power in the mid-thirties. Brought out to America in 1937, she starred opposite Fredric March in the Cecil B. DeMille production The Buccaneer (1938), but she did not overly appeal to American audiences and returned home to Budapest in 1940. She was fortunate to avoid deportation to the death camps during the war. Most of her family perished but she was hidden in a bombed out estate for the duration and somehow survived. After the war she returned to the US, but little is known of her remaining years in New York City. She died impoverished and all but forgotten in 1972 at the age of 58.
Liz Taylor and one of her pieces of diamond jewellery
In his autobiography titled 'The Elephant to Hollywood', Michael Caine wrote of meeting Elizabeth Taylor when they made Zee & Co (1970). He ran into her again at a party a few years later and told her how much he admired the obscenely expensive diamond necklace she was wearing, the one purchased for her by Richard Burton. 'It's not the real one', she whispered. 'It's paste!' It was too dangerous to wear the real one, she said, as she inclined her head to the two bodyguards that accompanied her. 'They're always here when I'm wearing this', she told Caine. 'But surely you don't need them if the necklace is paste', he remarked. 'If I didn't have the guards, Michael,' she patiently explained, 'everyone would know it was paste.'
Gene Tierney & Tyrone Power in The Razor's Edge (1946)
While filming The Razor's Edge (1946), Tyrone fell in love with his co-star Gene Tierney. After the picture's premiere he bought her a gift, a scarf with the word 'love' embroidered on it. She was married to fashion designer Oleg Cassini at the time but they had already agreed to divorce. However, she had to tell Power that she could not reciprocate his feelings because she was currently involved with a young and dashing naval officer; a man named John Fitzgerald Kennedy.
Orson & Rita (with her new hairstyle) in The Lady From Shanghai (1947)
It can sometimes be intriguing how certain films came into being. Take the 1947 picture The Lady from Shanghai, for instance. Orson Welles' Mercury Theatre Company was in dire financial straits, his musical production of 'Around the World in 80 Days' needed to find $55,000 at once or costumes would be impounded and its Boston preview cancelled. Orson stumbled upon a copy of 'If I Die before I Wake' and promptly phoned Columbia boss Harry Cohn. If he would buy the rights to the novel, Orson would write, direct and star in a movie version, provided Harry would send $55,000 to Boston within two hours. Harry agreed, the money arrived, the musical went on as planned, and Orson and his wife Rita Hayworth eventually co-starred in the movie version of the novel (The Lady from Shanghai). Welles ordered Rita to cut her hair and bleach it for the picture and Cohn nearly had apoplexy. Audiences did not like her new look either.
Lupe Velez & her husband Johnny Weissmuller
Errol described Lupe's breasts as 'probably the most beautiful that even Hollywood had ever seen.' Her unique ability to rotate (and counter-rotate) her left breast at will was something that most of Hollywood (including Errol) had witnessed more than once. It was her most famous party trick. Director Eddie Goulding, a close friend of hers, once convinced Lupe that Errol was madly in love with her. It was blatantly untrue, but when she made a surprise midnight visit to his apartment he dutifully serviced her anyway. At that point in time she was married to Johnny Weissmuller, not that this bothered Lupe (or Errol) in the slightest.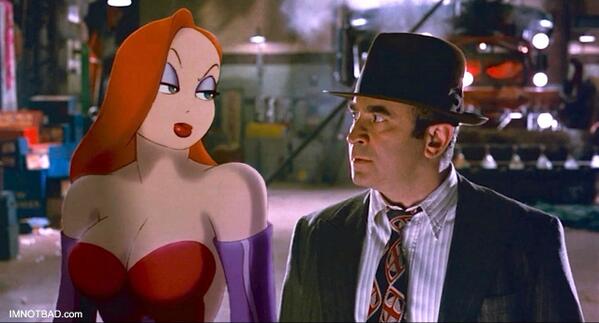 Bob Hoskins (and Jessica Rabbit in Who Framed Roger Rabbit (1988)
Who Framed Roger Rabbit (1988) marked the only time cartoon characters from Walt Disney and Warner Bros appeared together on-screen. The live star of the film, British actor Bob Hoskins, recalled how his little boy wouldn't talk to him for two weeks after he made the movie. The lad could not believe that his father would work with characters such as Bugs Bunny and not let him meet them! Warners would only agree to its biggest cartoon stars (Bugs Bunny and Daffy Duck) appearing in the picture if they were afforded an equal amount of screen time as Disney's two 'biggies' (Mickey Mouse and Donald Duck). The problem was solved by having both sets of characters always together in frame when on the screen. Incidentally, there is no question mark in the title because this is considered to be bad luck in the industry.
Cyd Charisse in Brigadoon (1954)
The next time you watch Brigadoon (1954), take a close look at the long-horned cow in the sequence it shares with the star of the film Gene Kelly. Gene was scared of the animal and insisted that it be blindfolded and chained to the floor before he would participate in the scene. Believe it or not, plastic eyes were then attached to the blindfold! Even though the movie failed to break even in the United States, Cyd Charrisse considered it to be the best of the films she made with Gene Kelly. She was a fabulous dancer but a lousy singer, so all her songs here and in three other films were dubbed by Carol Richards. Carol is probably best remembered for recording a duet with Bing Crosby in 1952 of the annual Christmas song 'Silver Bells'.
After the Thin Man (1936) was the second in the series that made Nick and Nora (William Powell and Myrna Loy) household names. Fans across America were convinced that the two stars were not only husband and wife on-screen, but involved off-screen as well. In truth, they were good friends only and married to others. The picture was mostly shot in San Francisco, so when the stars booked into the St. Francis hotel, the management very proudly directed 'Mr. & Mrs. Powell' to the establishment's most luxurious suite. Accompanying Myrna and Bill was the real Mrs. William Powell, superstar Jean Harlow! Eventually, the error was corrected (kind of) and Myrna and Jean ended up sharing the suite while Bill was relegated to a far less elegant room. The girls had a ball and became life-long friends from that night onwards.