Sterling Hayden as Dix Handley in The Asphalt Jungle (1950)
Sterling Hayden was one of those actors who did not have to act tough. He was tough. Hayden made two movies in 1941, found time to wed British beauty Madeleine Carroll in February 1942, and then headed off to war. He changed his name to John Hamilton to obscure his Hollywood past and join the Office of Strategic Services (OSS), the fore-runner to the CIA. Trained in guerrilla warfare, Hayden operated a boat off the coast of Yugoslavia, rescuing downed Allied pilots and running supplies Tito's partisan forces. He was awarded a Silver Star for his efforts. On his return to Hollywood he and Madeleine divorced in 1946 and Hayden joined the Communist Party. During his life the 6'5" actor married five times, three of which were to the same woman – Betty Ann de Noon. They wed three times, divorced three times and had four children along the way. The Asphalt Jungle is rarely spoken of these days without Marilyn Monroe's tiny role being mentioned, but it is a fine picture in its own right, due in no small part to Hayden's role as the hoodlum who simply wants to get back home.
Irina Demick (multiple roles) in Those Magnificent Men in Their Flying Machines (1965)
Irina & Darryl F. Zanuck
Irina Demick had no screen career to speak of, other than a fun stint in a movie I have always found to be an enjoyable, harmless romp – Those Magnificent Men in Their Flying Machines (1965). In it she plays a half dozen characters (Brigitte, Ingrid, Marlene, Francoise, Yvette and Betty) Away from the silver screen Irina took full advantage of her status as the mistress of studio boss Darryl F. Zanuck. He left his wife for the French beauty, not that marriage was ever going to be an option. In time Irina and Zanuck would part company and she would wed another man in 1964 (they divorced in 1979). She passed away in 2004, her film career consisting of just 19 credits. But she sure was pretty. Could she act? I don't really care.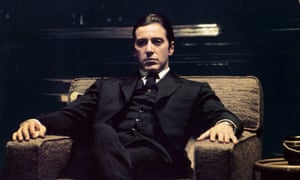 Al Pacino as Michael Corleone in The Godfather (1972)
Even though Al Pacino picked up an Oscar for Scent of a Woman (1992), most fans would probably agree with me when I say that, as Michael Corleone in The Godfather (1972), he was already at the pinnacle of his stellar career. All the accolades were directed at Marlon Brando's performance, but Pacino was fantastic as Michael and should have been nominated for Best Actor. No wonder he refused to attend the Academy Awards ceremony. He had far more screen time than Brando yet was only nominated for Best Supporting Actor. Worse still, his co-stars, Robert Duvall and James Caan were also nominated in that category, thus ensuring that none of them could expect to win. And none did. To rub salt further into the wound, Brando turned down his Best Actor Oscar and sent a young woman, Sacheen Little Feather (real name Maria Cruz), to refuse it on his behalf. If he felt so strongly about the Amerindian issue he should have protested personally, instead of sending a young woman to cop the flak for him.
Linda Koslowski as Sue Charlton in Crocodile Dundee (1986)
Linda (59) and Moulay Hafid Babaa
American-born Linda Koslowski had some stage experience (and a little TV) when she was chosen to play Paul Hogan's love interest in Crocodile Dundee (1986). The stunning 27 year-old met 46 year-old Paul Hogan, the Australian star of the picture, and they hit it off at once. They would marry in 1990, the union enduring for 24 years. Most red-blooded males (including yours truly) thought she was a 'knockout' in Crocodile Dundee, and the scene at the billabong where the crocodile tried to take her was a very sexy highlight of this most popular movie. In 2001, Linda became disillusioned with the acting business and retired from the screen altogether. One wonders how her career might have progressed had she not married Hogan. In 2017 she married her Moroccan lover of four years, tour guide Moulay Hafid Babaa.
Val Kilmer as Doc Holliday in Tombstone (1993)
Jason Robards Jr made a pretty good Doc Holliday in Hour of the Gun (1967); Dennis Quaid was better in Wyatt Earp (1994); Kirk Douglas not as good as either of them in Gunfight at the O.K. Corral (1957), and Victor Mature surprised most people with his shot at portraying the Doc in My Darling Clementine (1946). But Val Kilmer outdid them all in Tombstone (1993). The film is a highly stylised western. Everyone and everything is way too clean for one thing. However, there are a number of terrific performances (and a couple of 'shockers', too). Stephen Lang as Ike Clanton is terrific, Powers Boothe as Curly Bill Brocius is also highly watchable while Kurt Russell gives his usual professional performance. Michael Biehn's Johnny Ringo, however, is almost laughable and Dana Delany as Josephine Marcus is just plain dumb. She's usually much better than that. As for Kilmer, he quite simply steals every scene he is in. Every one. The guy was a serious talent before he went off the rails. What a pity.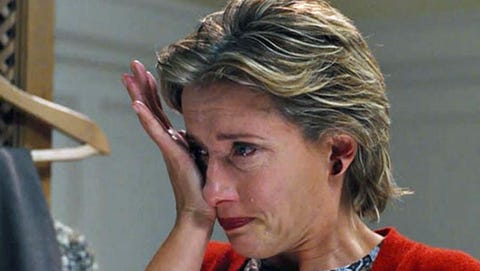 Emma Thompson as Karen in Love Actually (2003)
Love Actually (2003) is the kind of film that gives the movies a good name. It is uplifting, moves along at a rapid pace, is full of rich performances by a number of truly beautiful people and has scarcely a dull moment anywhere. Scarcely. The Laura Linney character and her brother are a tad tedious and Olivia Olson (Joanna) sings that diabolically tuneless Yuletide song, 'All I Want for Christmas is You.'. Not her fault, of course. It's the song. The rest of the picture is great fun and well-acted. Emma Thompson as Karen, the PM's sister, has a wonderful scene where she realises her husband has bought an expensive gift for another woman and not for her. Emma deservedly scored a BAFTA nomination for Best Performance by an Actress in a Supporting Role. It almost goes without saying that this delightful film was totally ignored by the Academy.
Clark Gable as Rhett Butler in Gone with the Wind (1939) 
If ever an actor deserved an Academy Award and yet missed out, it was Clark Gable in Gone with the Wind (1939). And for once it was not the Academy members' fault. He just happened to be up against Robert Donat's marvellous portrayal of the title character in Goodbye, Mister Chips. I have no doubt that Gable would have walked off with the statuette on any other year a decade either side of 1939. He was just plain unlucky. When it came to casting the role of Rhett Butler there was always just one contender. Gable was Rhett Butler in the eyes of 99% of Americans. Watching GWTW today, his performance is flawless, every bit as good as Vivien Leigh's Scarlett O'Hara, yet Vivien won and Clark lost. It was simply the luck of the draw.