Peter Finch as the Sheriff of Nottingham in Disney's The Story of Robin Hood & His Merrie Men (1952)
Rank Organization producer Earl St. John was greatly impressed by the young actor portraying the Sheriff of Nottingham in Disney's The Story of Robin Hood and His Merrie Men (1952), so he asked the unknown actor (Peter Finch) if he would come to talk business at Pinewood Studio. Finch was soon signed to play the Australian soldier, Joe, in the upcoming A Town like Alice (1956). The role kicked off his outstanding career. This fine film was initially withdrawn from the 1956 Cannes Film Festival for fear it would offend the Japanese present. However, the Japanese delegation watched a private showing and reportedly received it warmly.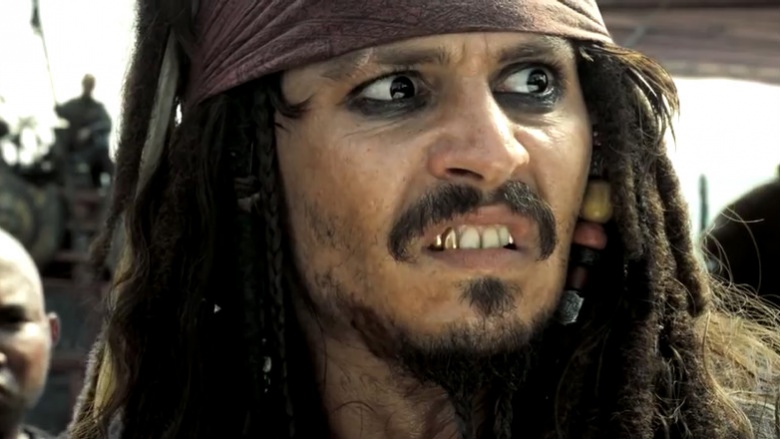 Johnny Depp as Captain Jack Sparrow in Pirates of the Caribbean: Curse of the Black Pearl (2003) 
Johnny Depp's bizarre take on Captain Jack Sparrow, his character in the Pirates of the Caribbean franchise, was to combine characteristics of the Warner Bros cartoon skunk 'Pepe Le Pew' and Rolling Stones guitarist Keith Richards. 'I thought to myself', Depp recalled: 'the pirates of the 18th century, who would they be like in today's world? And it occurred to me – rock stars!' From that assumption he arrived at the highly debatable conclusion that the greatest rock star on planet Earth – was Keith Richard. Uh-huh. The 'Pepe Le Pew' angle he does not really explain. Then, entirely off his own bat, he had his dentist cap four of his teeth; one in 14-karat gold; one in 18-karat; another in 22-karat and the last in platinum. To round off the image he had little trinkets hanging in his hair, 'each one a vivid and extremely important memory for Jack', he said. Similarly, Johnny himself has been quoted as saying: 'My body is my journal and my tattoos are my story.'
He Walked by Night (1948) was loosely based on the 1946 crime spree of Erwin 'Machine Gun' Walker who was captured, tried and sentenced to death for first degree murder. Two days before his scheduled execution in 1949, he attempted suicide so the execution was postponed. He was declared insane and sent to the Mendocino State Hospital for the next 12 years. Pronounced sane again in 1961, his death sentence was commuted to life in prison without parole. He filed several motions in the seventies to appeal his case and, in 1974, the 'without parole' part of his sentence was vacated. That same year he was granted parole, legally changed his name and spent the final eight years of his life on the outside as a chemist. He died in 1982 at the age of 64.
Elizabeth Taylor wanted to play Anne Boleyn in the 1969 costumer Anne of the Thousand Days, opposite her then husband Richard Burton who was cast as King Henry VIII, but at 37 she was considered too old for the role. It was given to 26 year-old Canadian actress Genevieve Bujold. Convinced that Burton and Bujold were having an affair, Liz made sure she was present at the final Tower of London scene to keep an eye on her husband. Her presence infuriated Genevieve who declared to the director, 'I'm going to give that bitch an acting lesson she'll never forget!' According to Burton's biography 'And God Created Burton', he and his co-star did have an affair during the shoot.
Valerie Hobson & husband John Profumo
Quintessentially English, although born in Northern Ireland, Valerie Hobson was a fine actress and an especially classy lady. On-screen she is probably best-remembered for playing Edith in the 1949 farce Kind Hearts and Coronets, alongside Alec Guinness who memorably portrayed no fewer than eight characters in the film. Valerie's second husband was British politician John Profumo, the man who notoriously had an affair with call-girl Christine Keeler in 1963 and brought down the Conservative Government as a consequence. Despite Profumo's clear guilt, his wife steadfastly supported him and stayed by his side until her death in 1998 at 81. Following the scandal, the couple devoted the remainder of their lives to working for charity with mentally handicapped children and lepers. John passed away eight years after Valerie in 2006.
Joe Pesci and his Oscar for Goodfellas 
Whatever happened to good screenwriting? Back in 1990 the popular feature Goodfellas boasted the use of the 'f' word and its derivatives no fewer than 321 times, an average of just over two per minute. About half of them were uttered by Joe Pesci. At the time the picture held the record for the most profanities spoken in any movie in history. Today, I am sorry to say, it runs a distant twelfth on the list of 'f' word-laden pictures! So much for the overall quality of many of today's writers. I hasten to add that the marvellous Aaron Sorkin is a notable exception.
Ann Miller in Easter Parade (1948)
Dancer Ann Miller auditioned for her role in Easter Parade (1948) wearing a back brace. Her then husband, millionaire Reese Milner, had gotten drunk one night, beaten her and thrown the 9-months pregnant Ann down a flight of stairs. The fall caused her serious injury and she had to give birth to his child whilst suffering with a broken back! The baby, a daughter, was still-born and Ann divorced Milner soon afterwards. Her other two husbands were both rich oilmen. William Moss married her in 1958 and they divorced in 1961. Her marriage to Arthur Cameron was annulled inside a year.
Ann Sheridan & Ronald Reagan in King's Row (1942) 
Ann Sheridan was in King's Row (1942) with Ronald Reagan who was married at that time to Jane Wyman. 'I used to visit them because Jane was such a good cook', Ann recalled. 'On one occasion, Ronnie, a baseball nut, had heard a game on the radio and he gave us a play-by-play account. After the fourth inning, Jane said, 'Ronnie, please stop. Annie doesn't care about baseball.' But he went on for all nine innings.' Jane told Ann that Reagan was such a non-stop talker that he was making speeches in his sleep. At a Screen Actors Guild (SAG) meeting, Ronnie as president was rambling on and on about something when Jane became fed up and sprang to her feet. 'Oh, for God's sake, Ronnie, shut up and go shit in your hat!' On another occasion, she warned her pal June Allyson: 'Don't ask Ronnie what time it is because he will tell you how a watch is made.'
Most of The Lives of a Bengal Lancer (1935) was filmed in the hills surrounding Los Angeles. Paramount hired hundreds of Native Americans (Paiutes) from nearby reservations and a lot of mostly Hindu Indians from the olive and fruit pickers working in the Napa Valley to portray the Afridi tribesmen needed for the battle sequences. Nearby ranchers were hired to make up the number of British soldiers required. Paramount supplied boxed lunches for everyone, but the Hindus were unable to eat theirs because they could only eat curry prepared by a person from the 'correct' caste.