Van Heflin, Barbara Stanwyck, Lizabeth Scott & Kirk Douglas
 The Strange Love of Martha Ivers (1946)
Kirk Douglas made his screen debut in The Strange Love of Martha Ivers (1946). It was also Van Heflin's first picture since returning from his three-year stint with the US Army Air Force in World War Two. Producer Hal Wallis managed to get his new discovery, Lizabeth Scott, third billing in the film (ahead of Douglas), although it was only her second screen appearance. Before that she was Tallulah Bankhead's understudy on Broadway in The Skin of Our Teeth and the two women, notoriously, did not get along. Douglas wrote that Lizabeth was Wallis's mistress during the shooting of Martha Ivers. Neither of Miss Scott's marriages lasted a year and rumours of her lesbianism were strengthened in 2015 when, on her death, her ashes were presented to her long-time companion Mary Goodstein.
The extremely annoying 1990 Christmas outing Home Alone set a new record as the Highest Box-Office Grossing Comedy when it drew in a massive 476 million dollars worldwide! Because of the budget, Warner Bros put the film into turnaround, which prompted 20th Century Fox to snatch up the rights. Home Alone was just three weeks away from production at Warners and the decision to put into turnaround was over a budget discrepancy of just $3 million. Fox decided to back the project and a massive worldwide success was born. Warner Bros has been reluctant to put anything in turnaround since then. No wonder.
Brando & Maria Schneider in Last Tango in Paris (1972)
According to Maria Schneider, the notorious 'butter scene' in Last Tango in Paris (1972) was improvised at the last minute by co-star Marlon Brando and director Bernardo Bertolucci. Neither man consulted her about it at all. The director's excuse (or so he said), was that he wanted Maria's reaction as a girl, not as an actress. The whole concept for the film grew from Bertolucci's own sexual fantasy, a dream he had 'of seeing a beautiful, nameless woman on the street and having sex with her, without ever knowing who she was.' How this garbage could earn him enough votes to get him nominated for a Best Director Oscar, says much about the directing fraternity's mind-set in 1972.
 Dolores Gray in Kismet (1955)
Broadway star Dolores Gray did not have much of a screen career, just six pictures, two of which were 'uncredited. She played Lalume opposite Howard Keel in the very ordinary Kismet in 1955 and was one of very few pluses in the picture. For six decades she performed in nightclubs, cabaret, TV, film and on Broadway, as well as making recordings and being heard on radio. Astonishingly, she did all this (her entire life) with a bullet lodged in her left lung! As a child in Chicago she had been accidentally shot in a gang crossfire. The wound was deemed 'inoperable' so the bullet was left in her body.
Henry Willson & Rock Hudson
Rock Hudson's screen test for 20th Century Fox was woeful. Indeed, it was so bad that it was actually kept by the studio and shown to other aspirants as a perfect example of how not to perform in front of a camera. He managed to get his foot in the door while he was still a truck driver. He would idle his engine outside studio gates while dropping off his picture to producers on the other side. Agent Henry Willson was a talent scout for David O. Selznick when he realised Rock's potential and gave him one of his business cards. It read: 'If you're interested in getting into the movies, I can help you. Henry Willson, agent.' Henry dubbed his latest find Rock Hudson, bedded him, paid to have his teeth fixed, and landed him an uncredited 'bit' in Fighter Squadron (1948). By 1957, Hudson was number one at the box-office.
John Wayne & Montgomery Clift in Red River (1948)
John Wayne and Montgomery Clift held diametrically opposing political views and neither man was shy about voicing them. Consequently, when they co-starred in the classic 1948 western Red River, there was no love lost between them. Walter Brennan and Wayne were like-minded, politically, so Clift had to contend with them both. The three agreed not to discuss politics throughout the shoot so it went smoothly enough, even though Wayne and Brennan did not socialize with Clift off-screen at all. When the opportunity to play the Dean Martin role in Rio Bravo (1959) arose, Clift quickly turned it down. He did not relish working with Wayne and Brennan again. Interestingly, in an interview with Life magazine years later, Wayne described Monty as, 'an arrogant little bastard.'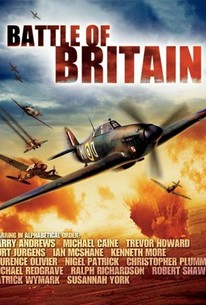 It was vital to the making of Battle of Britain (1969) that producers would be able to find and obtain the necessary World War Two aircraft. Only 27 Spitfires could be found, 12 of which were able to be made airworthy. Hurricanes were even scarcer. Only six still existed, three of which were made flyable. The Spanish Air Force had retired all of its Messerschmitt 109s, so the production company purchased every one of them (about 50), and put 17 back in flying condition. The Spaniards were still using Heinkels as transport planes and they generously loaned 32 (with their crews), plus two Junkers 52s, to the makers of the picture. In the real battle the Spitfires, whenever possible, took on the German fighters, while the Hurricanes focused on shooting down the bombers. Many of the actors were actually too old to be Battle of Britain pilots. Most of the real pilots had been in their twenties. Curiously, the list at the end of the picture listed one Israeli pilot. It is common knowledge that Israel did not even exist until 1948!
Elvis Presley & Jane Elliot in Change of Habit (1969)
Elvis Presley was quoted as saying that he slept with all his leading ladies – bar one! Mary Tyler Moore was his last leading lady (in Change of Habit in 1969), and she suggested that he was referring to her, that she was the one that got away. Needless to say, Elvis's nights were not all spent alone. In that film Jane Elliot played Sister Barbara. It was strongly rumoured he had an off-screen romance with Jane Elliot who portrayed Sister Barbara in Change of Habit. With the exception of concert features, this was Elvis's last movie prior to his death in 1977 at the age of 42.