Anastasia (1956) has often been referred to as Ingrid Bergman's 'Hollywood comeback' film, but that is misleading. She had been effectively blacklisted by Hollywood since 1949 over the affair with director Roberto Rossellini that produced a child out of wedlock prior to their marriage. Studios refused to cast her on moral grounds, an incredibly hypercritical reaction from an industry whose moral history is anything but squeaky clean. Anastasia, however, was filmed in its entirety in Europe, the interiors at MGM's British studios in Borehamwood, England and location footage in France. Ingrid did not even travel to the US to accept her Oscar for it. In fact, she would not set foot in Tinsel Town again until Cactus Flower in 1969.                                                 
Twenty-eight year old Carroll Baker starred opposite 57 year-old Clark Gable in But Not For Me (1959). 'I was very young when I saw Gone with the Wind', she recalled, 'but I fell in love with Clark Gable. And when I got to work with him, I couldn't believe it. I still had a crush on him. He was quite an old man by then; he must have seen that I was head over heels, even though I was married. When he kissed me, they had to carry me off the set.'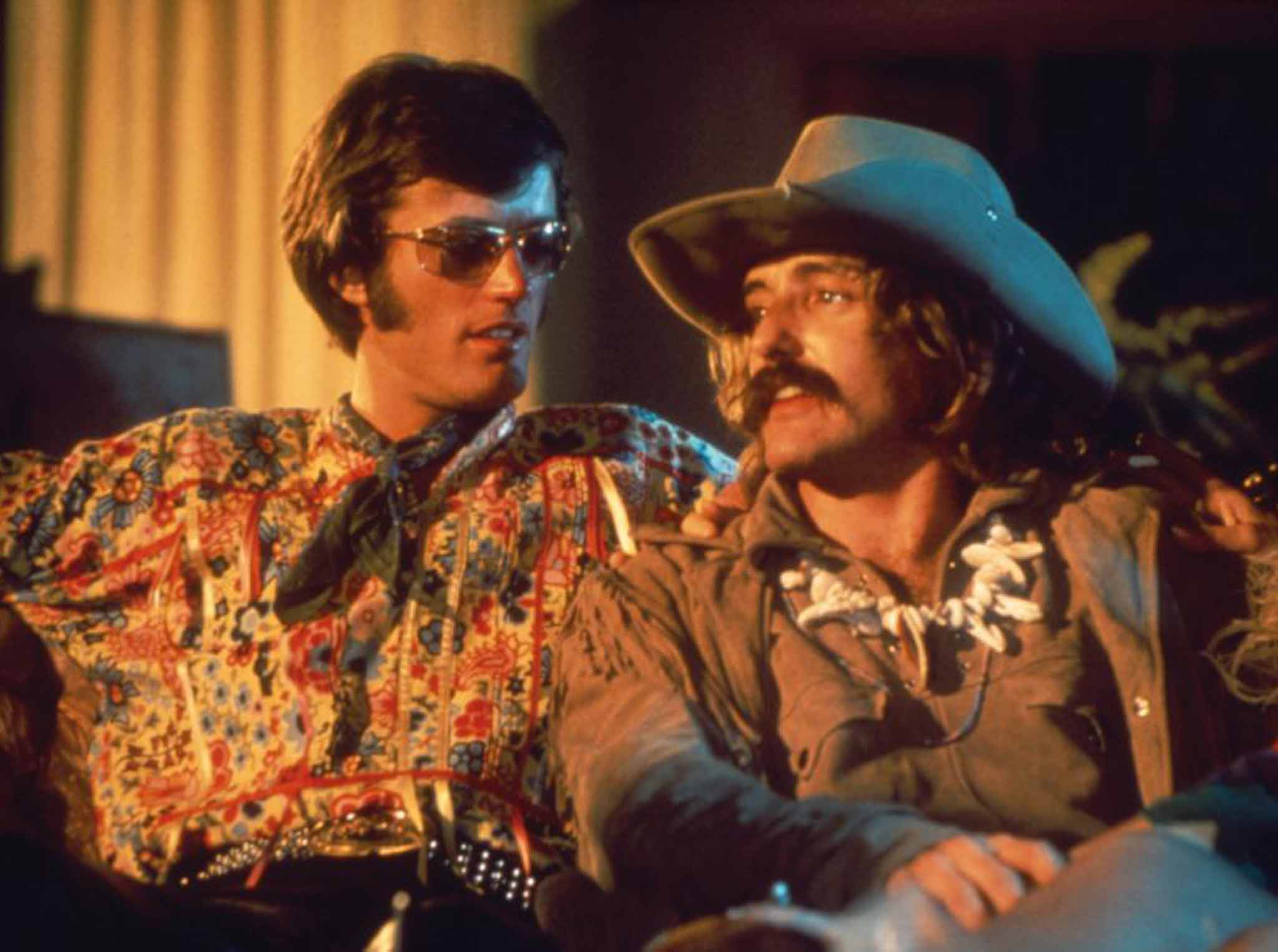 Peter Fonda & Dennis Hopper in Easy Rider (1969)
Dennis Hopper was seriously considering leaving the movie business and becoming a teacher when Peter Fonda convinced him to star in and also direct Easy Rider (1969). It was a decision that Fonda soon regretted, for the two men quarrelled continuously throughout the shoot. In fact, Peter did his utmost to have Hopper fired. Rip Torn was all set to play George Hanson (Jack Nicholson's eventual role), but walked out after Hopper pulled a knife on him at a pre-production meeting. At another meeting at Columbia, Hopper stood up and stuffed his finger up an executive's nose! Much of the time the grossly over-rated actor was in a state of drug-induced paranoia and screaming at everyone. Crew members secretly recorded his tirades and sent the tapes to the production company in Los Angeles to explain why so many of them quit the film.
Johnny Depp with his fiancee's name etched on his helmet in Platoon (1987)
Sherilyn Fenn & Johnny Depp
After the disappointment of seeing most of his performance in Oliver Stone's Platoon (1987) wind up on the cutting room floor, Johnny Depp's fortunes turned on their head when he was offered a prime role in a new TV series to be titled 21 Jump Street. At first the 23 year-old actor rejected the offer, not wishing to be tied down for several seasons should the series take off, (which it did), but the lure of $45,000 an episode was too great and he ultimately signed on. He even set up a guest appearance in one episode for his fiancée Sherilyn Fenn. Inside just a few short months the series would make him the idol of teenage girls throughout the USA.
Montgomery Clift & Joanne Dru in Red River (1948)
Red River (1948) is a terrific western thanks to an outstanding performance from John Wayne, (one that deserved Academy recognition but did not get it), and a star-making debut from Montgomery Clift. Having said that, the picture has a serious flaw that comes in the final reel. Writer Borden Chase's original script had Tess (Joanne Dru) and Matt (Clift) escorting a mortally wounded Dunston (Wayne) across the Red River so that he can die in Texas, but director Howard Hawks would not have a bar of it. Instead, he lumbered us with the woefully inadequate final scene in which Tess ludicrously settles the issue between Dunston and Matt with just a few well-chosen words; words delivered very poorly indeed by Miss Dru. A superb movie crippled by a totally lame finale. Pity.
Butch (Paul Newman) & Sundance (Robert Redford) up against it in Butch Cassidy & the Sundance Kid (1969)
Conspiracy theorists have always claimed that the real Butch Cassidy and Sundance Kid were not killed in Bolivia at all (as depicted in the 1969 movie Butch Cassidy & the Sundance Kid), that their deaths were faked and that both men eventually returned to the states and lived out long lives in peace. Extremely unlikely. In the movie, the character played by the excellent actor Strother Martin was based on real life Maryland mining engineer Percy Seibert, a man who at one time employed the two outlaws in Antofagasta, Chile. Percy was still alive when they were killed in Bolivia and he served as the coroner's witness who identified the bodies in 1908.
 George Burns (L) & Jack Benny
At a lavish dinner party at the Park Avenue apartment of US Supreme Court Justice Lauer in 1938, a gathering attended by a half dozen movie stars and studio executives, the conversation turned to politics and the rise of Nazism in Hitler's Germany. Overhearing continual criticism of the Nazi leader the maid, Rosa Weber, stood at the dining room door and made an astonishing announcement: 'Ladies and gentlemen, I am a true German. I love Adolf Hitler. If you don't stop talking against Hitler I will stop serving the dinner right now. It is up to you.' Lauer, not surprisingly, fired her on the spot and she vowed revenge. Within days federal customs agents were searching the judge's apartment and confiscating expensive clothes and jewellery. Guests at the party, among them comedians George Burns and Jack Benny, were also investigated and smuggling charges were laid. Both men were fined thousands of dollars and given suspended sentences for importing jewellery for their wives without declaring it. Justice Lauer resigned from the New York Supreme Court and his wife served three months in prison for not declaring expensive gifts to customs. As for Miss Weber, she was paid more than $8,000 for acting as a government informant!
When it comes to nominating for Academy Awards, the rules are simple although imperfect. Whereas all members can submit nominations for Best Picture, only actors can nominate actor awards; only cinematographers can nominate cinematographers; only directors can nominate directors and so on. And that can lead to problems. For instance, when Argo (2012) won for Best Picture, its director Ben Affleck was not even nominated for Best Director, presumably because a substantial number of directors considered him to be more actor than director and refused to nominate him. For the first time in Academy Awards history the director of the Best Picture winner was not even a nominee. Once the nominees in all categories are announced, each Academy member receives a final ballot and he or she may vote in every category, regardless of what branch they are based in, but nominations are arrived at differently.