In my movie collection is the 1992 Sean Connery-Lorraine Bracco film Medicine Man, one of those pictures that critics in their unchallenged wisdom chose to lambast from the moment it was released. As director John McTiernan said, 'If the press hadn't defined it as an action movie, it probably wouldn't have been considered a disappointment.' An astute assessment I believe. It was never meant to be an action film at all. And for some unfathomable reason Miss Bracco was nominated for The Golden Raspberry Award for the year's Worst Actress. Who makes such judgments? Personally, I thought she was terrific. And Jerry Goldsmith's superb score provided the finishing touch for me. I watch Medicine Man about once a year.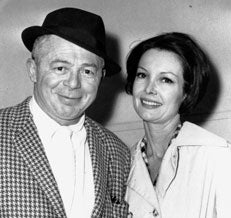 Billy Wilder & wife Audrey
When Billy Wilder began shooting The Lost Weekend in 1944, he was smitten with one of the extras, a 21 year-old beauty named Audrey Young. There is a cloakroom scene in the picture and the hand we see giving Ray Milland his hat belongs to her. Wilder and Miss Young married in 1949 and the union endured for 53 years until Billy's death in 2002. Audrey's screen career amounted to very little but she was costume consultant on two of her husband's best films, Some Like it Hot (1959) and The Apartment (1960). She passed away at 89, a decade after her beloved Billy.
Francesca Annis in Macbeth (insert Roman Polanski)
William Shakespeare made no mention of what Lady Macbeth was (or was not) wearing when she sleep-walked in Macbeth so, of course, that provided license for Roman Polanski to show her doing so stark naked in his 1971 version of Bill's play. Polanski wanted Tuesday Weld for the role but she turned him down flat when he advised her that she would be revealing all. Not a problem. Lovely actress Francesca Annis was quick to take her place. After all, this was the first ever movie financed by Hugh Hefner's Playboy Empire, so a certain amount of 'tits and ass' were to be expected. The British Board of Film Censors (BBFC) nearly gave Macbeth an X-Rating, partly because of the nudity, but mostly because the film's appalling violence 'echoed the notorious murders by followers of the American cult leader Charles Manson two years earlier.' The slaughter of Polanski's wife Sharon Tate (and others) at his California home were still fresh in everyone's mind and there were those on the board who felt the bloody scenes in the movie reflected his wife's murder. Some wondered why a still grieving widower would even contemplate directing a bloodbath scene in the first place.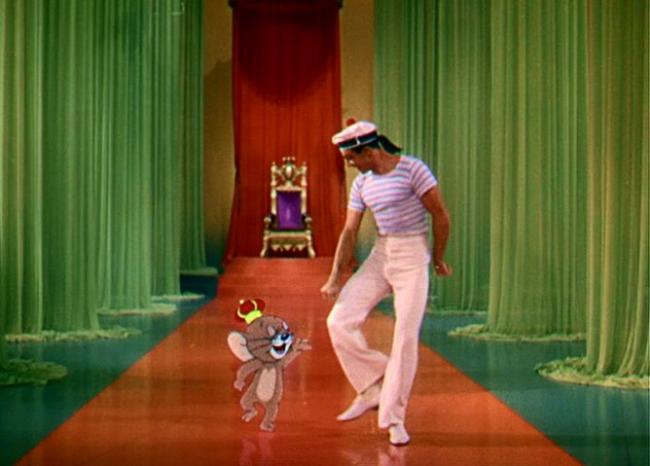 Gene Kelly & Jerry the Mouse in Anchors Aweigh (1945) – note their reflections.
When MGM made Anchors Aweigh (1945), it was intended for Mickey Mouse to be Gene Kelly's dancing partner in the ground-breaking sequence where Kelly and an animation character dance together. Walt Disney was not averse to the notion but his brother and business partner Roy was not about to let their most famous character appear in an MGM film. Furthermore, the war years had not been kind to the Disney studio and it was in dire financial difficulties. MGM was, therefore, compelled to use Jerry the mouse from their own Tom & Jerry cartoons instead. The animators then made a costly error, one that required 10,000 extra drawings, when they neglected to draw Jerry's reflection on the polished floor as he danced with Kelly whose own reflection was clearly evident. The movie, however, was a triumphant success; the 5th biggest grossing film of 1945.
Charlie Sheen & Wesley Snipes in Major League (1989)
Charlie Sheen and Wesley Snipes are two of the stars of the 1989 baseball comedy Major League. Snipes had rarely picked up a baseball or bat in his life and was completely unskilled in all facets of the game. He was so awful at throwing that it was decided to not show him doing so in the picture at all. He wasn't a very fast runner either, but that problem was disguised by having him base-stealing in slow motion. Charlie Sheen, on the other hand, was once considered for a baseball scholarship and was a promising pitcher whose fast ball was clocked at almost 90mph. Be that as it may, the distance between the pitching mound and home plate was shortened by ten feet anyway, then Charlie's 'fast ball' was filmed from behind him to make it appear even quicker than it was.
Roger Ebert is regarded by many as the all-time best movie critic in history, a view that was enhanced when he became the first ever movie critic to win a Pulitzer Prize. It became news, therefore, when he actually walked out of the screening of The Statue in 1971, describing it as the worst picture he had ever seen to that time. Seven years later he stated that 1978's I Spit on Your Grave now held that dubious honour. In 2010, he updated his opinion yet again, declaring that the 1978 picture's remake was even worse! Ebert was certainly not above making controversial statements. After watching Rocky (1976) he described Sylverster Stallone as 'the next Marlon Brando'. Oops!  Another judgment that drew quite a lot of derision was his observation that, in his opinion, awarding the Best Picture Oscar to Gladiator (2000) was the Academy's biggest ever mistake. Maybe he was unconscious when The Greatest Show on Earth (1952) came out!
Ann Savage & Tom Neal in Detour (1945)
Aficionados of film noir may recall a wonderful little 1945 offering titled Detour that starred Tom Neal and Ann Savage, although few other film fans will probably recall the picture or its two stars. Neal was a muscular leading man whose turbulent private life far exceeded anything he did on the screen; Detour being the singular exception. In fact, he was sent to prison in 1965 for the murder of his third wife; fortunate indeed to escape a one way trip to the gas chamber! His co-star in four of his movies was the lovely Ann Savage, a popular WW2 pin-up who regularly visited army camps entertaining the troops during the conflict. When Neal stuck his tongue in her ear to impress some cronies visiting the set of Detour, she hauled off and belted him as hard as she could and never spoke to him again unless the script demanded she do so.
Eve Arden as Our Miss Brooks
When Eve Arden signed to make a TV series called Our Miss Brooks in 1952, her salary was a whopping $200,000 a season (it ran for five years), a huge amount for that time in what was a relatively new, much-maligned medium. 'I was quitting [movies] and made my last in 1951', she recalled, 'a Joan Crawford comedy called Goodbye My Fancy. Joan did not have a funny bone in her body. She loved to suffer. One day, Joan stops me and says, 'Eve, they say you are going into television. So sorry.' 'So I read her my contract which made me very wealthy, and she had bug eyes. She never did get to do a series because, like Bette Davis, she was too big for the small screen.'