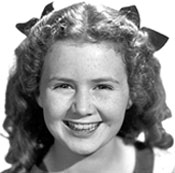 Ann as Becky Thatcher                                             Ann with Alan Gifford in Kubrick's 2001: A Space Odyssey               
Ann Gillis played Becky Thatcher in The Adventures of Tom Sawyer (1938). Director Norman Taurog gave the 10 year-old no direction, whatsoever, not even when she was required to be hysterical in one scene. The girl's mother had to explain and demonstrate what 'hysterics' actually were. She also played Isabel Rivers as a little girl in Beau Geste (1939) and Shirley Temple's friend, Becky Anderson, in Since You Went Away (1944). 'I remember watching her [Shirley] on the set one day', Ann recalled. 'She got in place for the camera and her mother started yelling at her. I felt bad for her. Her mother pushed her hard and in an unpleasant way.' Shirley was 15 at the time. Ann's final role was as Gary Lockwood's mother in Stanley Kubrick's 2001: A Space Odyssey in 1968. 'Kubrick was a real jerk', she said. 'It shows you what can happen when a director is given a blank check.' Ann passed away in 2018, a month shy of her 91st birthday.
                                                 Ned Glass (L) with James Coburn in Charade
Polish-born character actor Ned Glass had completed all but a necessary close-up for his role as a wardrobe-man in The Bad and the Beautiful (1952), when MGM security informed him he was blacklisted and banned from entering the premises. Studio heads called an emergency meeting and decided that paying out an extra $30,000 to re-shoot his scenes with another actor was far too exorbitant, so they opted to quietly ignore the blacklist until he had completed his close-up. Glass continued to land minor roles throughout his blacklisting, but was 'uncredited' for several years, spending most of his working day as a carpenter. Fans of the 1963 comedy/romance/thriller Charade will recall him playing Leopold W. Gideon, one of the crooks pursuing Audrey Hepburn.
                       Steve McQueen & Rupert Crosse (R) in The Reivers                                                         Sharon Farrell                                                    
The Reivers (1969) is without doubt one of the most boring movies I have ever watched. Having gotten used to being thoroughly entertained by Steve McQueen in several fine pictures, I was expecting more of the same but, alas, it was not to be. I think the picture was supposed to be a good-natured 'awakening' kind of film, but it crawled along at a snail's pace, not helped by a weak script and equally weak performances from Steve and black actor Rupert Crosse. Unbelievably, Crosse would be nominated for Best Supporting Actor for his performance! He didn't win, even though it was a particularly weak field that year, Gig Young winning for They Shoot Horses Don't They? Blonde actress Sharon Farrell, who played a hooker named Corrie here, was romantically involved with McQueen off-screen during the shoot.
There is still a strong belief today that The Greatest Show on Earth only won the Best Picture Oscar for 1952, because a large number of Academy voters were reluctant to vote for High Noon. It was an anti-Joseph McCarthy western whose screenwriter, Carl Foreman, had just been blacklisted in Hollywood. Many voters felt it wiser and safer (career-wise) to disassociate themselves from such a movie. However, at the time the winner was a most popular choice indeed for critics and public alike. Question marks have only arisen since then. Most noticeable is the conspicuous mention during the film of the circus tent's fireproof quality, seen by many to be an elaborate public relations ploy by Ringling Bros. Why? Because only a few years earlier (in 1944), a Ringling Bros 'big-top' caught fire in Hartford, Connecticut, resulting in 167 patrons dying and hundreds more being injured.
Bing Crosby & Louis Armstrong in High Society
The next time you watch High Society (1956), take a close look at the mansion that Louis Armstrong and his band arrive at in the bus. It is the Kirkeby mansion in Bel Air Road, Los Angeles (not in Rhode Island). Later, it would become the Clampett mansion in The Beverly Hillbillies. Speaking of the great 'Satchmo', former entrepreneur Harry M. Miller brought him out to New Zealand to perform and learned something very interesting about the man. The white handkerchiefs he used to mop his brow when he was playing were, in fact, dusted with cocaine! They were carefully folded and placed in his favourite trumpet case. As Miller remembered: 'Armstrong got his snort – right in front of the audience and whenever he desired during a performance.'
Margaret & Jimmy in The Mortal Storm                                       Margaret & husband Henry Fonda                                        Gloria McLean Stewart & husband Jimmy
Margaret Sullavan and Jimmy Stewart made four pictures together. Those who knew them felt that, despite Jimmy's reputation for womanizing, the reason he held off marrying until he was 40 was because of his unrequited love for Margaret. They further noticed the uncanny resemblance between his bride, former model Gloria McLean, and Miss Sullavan. In fact, Gloria herself once said, 'I always knew he was madly in love with Margaret Sullavan, and she with him. But she was more in love with her career.' One of Margaret's four husbands was Stewart's best friend Henry Fonda.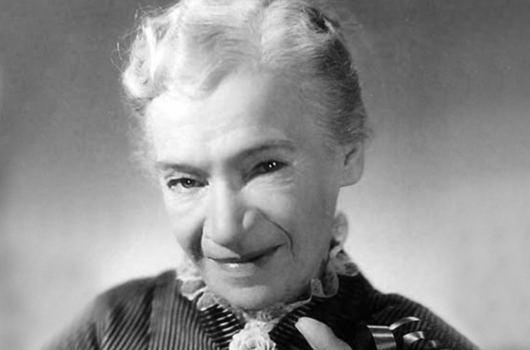 Maria Ouspenskaya
A Kiss in the Dark (1949) proved to be the final film for Russian-born character actress Maria Ouspenskaya. She is possibly best-remembered for her portrayal of Maleva the Gypsy in 1941's The Wolf Man. A heavy smoker, she fell asleep in bed with a lit cigarette in her fingers in late November 1949 and suffered severe burns in the resultant conflagration. A stroke claimed her three days later in the Motion Picture & Television Country House and Hospital. She was 73.
                   Victor Mature in Demetrius & the Gladiators
Demetrius and the Gladiators (1954) is a story set in Rome during the first century AD, so it was fascinating to see a sulphur-crested cockatoo perched next to Messalina's couch in one scene. These birds are native to Australia only, so the chances of one being in Rome (or anywhere else but Australia) at that time in history are zero. Furthermore, in real life the Emperor Caligula was murdered in an underground passage by a group of conspirators and not by a solitary individual in the arena as depicted here. Of course, Hollywood has never shied away from using dramatic license in the place of historical fact.
                                                                                                                                                        Angela marrying Kenneth More
Most of the 'Carry On…' pictures of the sixties and seventies were pretty lame. Carry on Cowboy (1965) was no exception, but it did have the services of the lovely Angela Douglas portraying Annie Oakley. She was a class act (on and off the screen) and was married to fellow Brit Kenneth More for fourteen years until his death in 1982. Now in her late seventies, she is still one of Britain's most respected ladies of the screen.