Bridgette Andersen                                         in Savannah Smiles                                     as a young woman
For her screen test for Savannah Smiles (1982), 7 year-old Bridgette Andersen was asked to recite a bedtime story. She chose the tale of Brer Rabbit and her recitation was so impressive it was included in the picture when she landed the title role. Tragically, this delightful little girl would not live to see her 22nd birthday. By the time she reached her teens Bridgette was heavily into booze and drugs, especially heroin. On May 18, 1997, she accidentally overdosed on alcohol and heroin and could not be revived.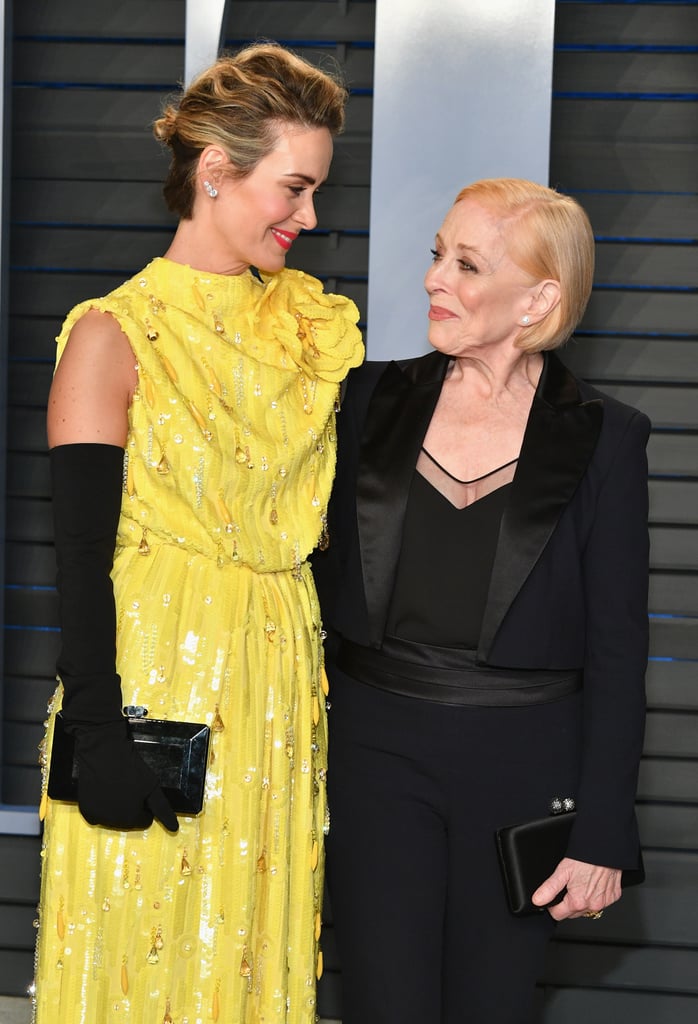 Holland Taylor in One Fine Day                                         Sarah & Holland
George Clooney and Michelle Pfeiffer co-starred in the entertaining romantic comedy One Fine Day (1996). They were backed by a fine supporting cast that included the always interesting Holland Taylor who played Michelle's character's mother Rita. In a 2015 radio interview, 72 year-old Holland joked about her relationship with 40 year-old actress Sarah Paulson. She memorably portrayed the horrible Mary Epps in 12 Years a Slave (2013). 'What I can say absolutely', Sarah told an interviewer, 'is that I am in love, and that person happens to be Holland Taylor.' As for George and Michelle, they knew each other from back in the eighties when George was dating Dedee, Michelle's actress sister.
         Doris Day & Jack Carson in Romance on the High Seas                                           Doris and her son Terry
When Warners gave her fourth billing in Romance on the High Seas in 1948, Doris Day had been a big band singer for several years and was looking for something different. The late hours as a singer meant she rarely saw her boy Terry, whom she was compelled to permanently place with her mother. When cast in the lead roles in It's a Great Feeling and My Dream is Yours the following year, Doris decided that studio hours working as an actress were far preferable to those of a band singer, so she happily signed a contract with Warners and immediately bought a home in Hollywood. Then she moved her mother and son into it at once. Doris's rise to first billing as an actress was faster than most anyone else in Hollywood history, the singular exception being Marilyn Monroe's meteoric rise five years later.
Jerry Lewis & Karyn Kupcinet in The Ladies Man                                 Andrew Prine & Karyn
The 1961 Jerry Lewis film The Ladies Man is not much of a movie, but it is significant because it is the only picture actress Karyn Kupcinet ever made, although she did appear in a number of TV series in her short, tragic life. Six days after President Kennedy was assassinated in November 1963, Karyn was found strangled to death. She was 22. Her boyfriend at that time, actor Andrew Prine, was considered to be a suspect for a while by police, primarily because the couple were known to have quarrelled often, but no charges were ever laid against anyone and her murder remains unsolved to this day.
   Father Knows Best
          Robert Young & Jane Wyatt
Bad Boy (1949) was war hero Audie Murphy's first starring role. Sweet and gentle Jane Wyatt co-starred. Jane's face would soon become known in households all over the world when she played Margaret Anderson in the popular TV series Father Knows Best (1954-60). Away from the set the diminutive Jane was made of pretty stern stuff. Back in 1947 she had volunteered to join the Bogart-Bacall group that flew to Washington to protest the Communist witch-hunts of the House Un-American Committee (HUAC). Her participation resulted in ludicrous accusations that she was a card-carrying Communist. In 1997, she turned down the role of Old Rose in Titanic, preferring to remain in retirement. Gloria Stuart took the role and was Oscar-nominated. Jane was 96 when she passed away in California in 2006.
                         Aldo Ray
Aldo Ray was the son of Italian immigrant parents and did not speak a word of English until the time he entered grade school. From 1944 to 1946 he was a frogman in the US Navy and saw action on Iwo Jima during WW2. He made The Green Berets (1968) with John Wayne, after convincing the Duke he was over his chronic drinking problem. Unfortunately, he fell off the wagon half-way through the shoot and struggled to remember his lines. Wayne lost patience with him and allocated much of his dialogue to others. The two men did not get along on the set but socialized off it. When the Duke (who was directing the picture) reminded Ray that he had been in movies for 40 years, both as a star and as a director, Aldo's response was nothing if not pointed: 'I don't care how long you've been in the business, you've never learned a fucking thing!' He later told an interviewer, 'I never considered him much of an actor, much less a director. Wayne was just a personality.'
                     Simply the best – Shirley Temple                           Even the 'King of Hollywood' was no match for Shirley – and he knew it.
The Quigley Publications Poll canvassed exhibitors to determine each year's top box-office draws. It is surprising to note that the 'King of Hollywood', Clark Gable, never once topped the poll. The best he could do was finish second in 1936, 1937 and 1938. If you are racking your brain trying to recall a bigger star than him in the thirties, you can discard the likes of Gary Cooper, Errol Flynn, Fred Astaire or Humphrey Bogart. In fact, forget about the men altogether. The 'King of Hollywood' was trounced time and again by a female – a cute little dynamo named Shirley Temple!
                          Richard Pryor & Margot Kidder in My Kind of Hero
During the shooting of Some Kind of Hero (1982), stars Margot Kidder and Richard Pryor had a number of erotic love scenes, all of which landed on the cutting room floor. Inter-racial sex was a big no-no back then. Off-screen, however, the two were heavily involved indeed. 'I fell in love with him in two seconds flat', said Margot. 'He was smart and funny and sexy, and you wanted to take care of him. He was just – Richard was irresistible.' Their romance was rekindled when they made Superman III a year later. Margot would go on to have affairs with director Brian De Palma and former Canadian Prime Minister Pierre Trudeau. After suffering serious mental issues she passed away in Montana in 2018 aged 69.
              Madonna in A League of Their Own
If her recollections are anything to go by, it would be fair to say that Madonna did not enjoy her experience making A League of Their Own (1992). 'I cannot suffer any more than I have in the past month learning how to play baseball with a bunch of girls (yuk) in Chicago (double yuk)', she whined.' I have a tan, I am dirty all day and I hardly ever wear make-up.' And she had little time for her director or co-stars either. 'Penny Marshall is Lavern, Geena Davis is a Barbie Doll and when God decided where the beautiful men were going to live in the world, he did not choose Chicago. I have made a few friends but they are athletes, not actresses. I hate actresses.'
Nine year-old Jake Lloyd was chosen by George Lucas to portray Anakin Skywalker in Star Wars: Episode 1 – The Phantom Menace (1999). In 2001, at the age of 12, he retired from acting altogether, tired of being continually bullied at school and having to give up to 60 interviews daily! Fourteen years later, he was arrested for reckless driving, driving without a license, and resisting arrest. Diagnosed with schizophrenia, he was moved from jail to a psychiatric facility. Today, the 29 year-old is reported to be worth around $4 million and still undergoing psychiatric assessment in California.