Part two of 'Stars Who Went To War 1939-45' looks at some of the 'lesser lights' who signed up to fight for their country – and a few who chose not to.
  Eddie & his son Edward Jr
EDDIE ALBERT:   The future star of Green Acres won a Bronze Star for courage under fire when he rescued 47 wounded marines from the Tarawa beachhead while under horrific fire. Eddie and a Lieutenant Fletcher made four trips into the reef where about 150 marines were caught up and under machine-gun and sniper fire. In the final years of his long life (he lived to be 99), Albert  struggled to recall details of the action, as he was suffering from Alzheimer's by then, but there is no doubt his courageous efforts saved many lives at enormous risk to his own.
   Capt. Hayward on Tarawa
LOUIS HAYWARD:           He was a combat photographer on Tarawa, an experience that affected him psychologically for the rest of his life. He joined the USMC in July 1942 and was placed in charge of a photographic unit filming a documentary titled With the Marines at Tarawa. It won the 1944 Oscar for Best Documentary (Short Subject). Hayward's was a highly dangerous assignment midst one of the bloodiest battlefields of the entire war. His actions were rewarded with a Bronze Star for gallantry.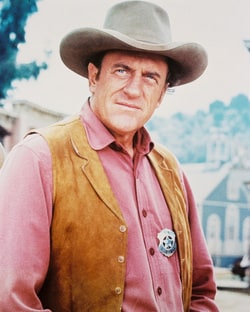 PFC Aurness 1943
JAMES ARNESS:                                The future Matt Dillon of Gunsmoke fame was wounded at the Anzio landings in Italy. Four months shy of his 21st birthday, he was aboard a landing barge headed for Anzio beach and a hot German reception on 22 January 1944. Because he was 6'7" tall, PFC James Aurness was ordered into the water first (to test its depth), and immediately came under heavy fire. He was machine-gunned in his knee and lower leg and invalided back to the States. One of the reasons why we seldom saw Matt Dillon on a horse was because the leg troubled him when he was required to ride any distance.
ART CARNEY:                     The future Ed Norton of The Honeymooners was wounded at Normandy a couple of days after D-Day in June 1944. He was the first to admit that he never fired a shot in anger 'and maybe never wanted to'. Carney took a piece of shrapnel in his leg which left him with a limp for the remainder of his life. He managed to disguise it throughout his acting career, except for an occasional episode of The Honeymooners in which it is clearly discernable.
  Staff Sgt. Coogan
JACKIE COOGAN:             We know him as Uncle Fester of The Addams Family, but during the war he was a pilot who flew supplies behind enemy lines to provision Ord Wingate's Chindits. Trained as a glider pilot, he volunteered for hazardous duty with the 1st Air Commando Group in the Burma Campaign. On 5 March 1944 he flew some of Wingate's Chindits 100 miles behind Japanese lines, landing them at night in a small clearing in the jungle.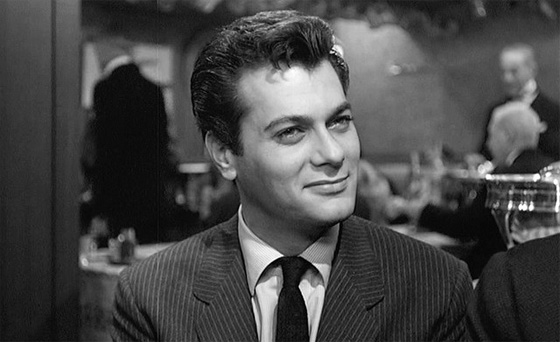 Signalman 3rd Class Bernie Schwartz 
TONY CURTIS:   He served aboard a submarine, the USS Proteus, and was present in Tokyo Bay when Japan signed the surrender aboard the USS Missouri in 1945. In 1943 Bernie Schwartz forged his mother's signature, enlisted as a Signalman Third Class, and was eventually assigned to the Proteus. He was 17. 'The Navy', he said many times, 'was like my mother. They fed me and clothed me. They fixed my teeth and gave me a job.' Shortly after hostilities ceased Bernie was injured while loading torpedoes and was medically discharged. He took up acting on the GI Bill.
   Radioman/Rear Gunner Newman
PAUL NEWMAN:              Eighteen year-old Newman enlisted in the US Navy in 1943, hoping to become a pilot-officer, but his colorblindness soon put an end to that ambition. Instead, he was trained as a radioman/rear gunner. When the pilot of his torpedo bomber was grounded with an ear infection, Newman and the rest of the crew were left behind on Saipan, while the rest of their squadron transferred to the USS Bunker Hill. Two days later a Japanese kamikaze attack on Bunker Hill killed 350 sailors including all of his transferred comrades.
   Lt. Commander Morris
WAYNE MORRIS:             All but forgotten today, Morris was a reliable actor prior to the war and a good one after it. In the intervening six years he flew Hellcats in the Pacific. As a fighter pilot he flew 57 missions and shot down 7 enemy aircraft to become an ace during the Marianas campaign and at the battles of the Philippine Sea and Leyte Gulf. Three of the aircraft he flew during the war had to be jettisoned over the side because they were shot full of holes. Morris was a war hero in every sense of the word.
  Lt. Todd    
   in The Longest Day (1962)
RICHARD TODD:               Dublin-born Todd enlisted in the British Army as soon as war was declared. He served in the King's Own Yorkshire Light Infantry before joining the Parachute Regiment, part of the British Sixth Airborne Division. He was one of the first British officers (along with Major John Howard) on the Pegasus Bridge in Caen, organizing resistance against several powerful German counter-attacks. Curiously, in the 1962 movie The Longest Day, Todd portrayed Major Howard re-enacting that very action he had participated in 18 years earlier. In fact, in one scene as Howard, he found himself issuing orders to an actor playing himself.
  father & daughter
ROBERT MONTGOMERY:              Popular leading man and father of TV's Bewitched star Elizabeth Montgomery, Montgomery was an ambulance driver in France in 1940 before serving as assistant naval attaché in London. Later, he commanded PT-107 in the Solomon Islands and was awarded a Bronze Star at Normandy.
   Corpsman Lew Ayres
LEW AYRES:        A conscientious objector, Ayres volunteered to serve as a corpsman and served with outstanding courage in the Pacific, often under fire as he rescued wounded soldiers. Despite his heroism, most of Hollywood (and America) never really forgave him for refusing to take up arms against his country's enemies. After refusing to bear arms he spent two months in a conscientious objector camp before being transferred to noncombatant duties as a medic and chaplain's assistant. He was awarded no fewer than three battle stars for bravery during the bloody battle for Leyte. Throughout the war he donated his Army salary to the American Red Cross. MGM boss LB Mayer, allegedly, summed up the attitude of most Americans at the time, however. 'Lew Ayres has some kind of phobia about killing people', he is supposed to have said.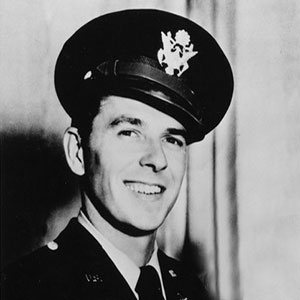 Charlton Heston                                                 Ronald Reagan                              John Wayne in Sands of Iwo Jima
NOTE:   Charlton Heston was stationed in the Aleutian Islands for the duration and did not see action. Captain Ronald Reagan's nearsightedness meant he spent the entire war in California and never left the States. John Wayne kept one step ahead of the draft throughout the war, not because he was afraid, but because he did not wish to risk the stardom he had taken over a decade to achieve. In fairness to him, he was far more valuable to morale, anyway, churning out heroic movies about American servicemen in action.