A great many members of the movie community were quick to enlist and to serve their country in World War Two. Below is a shortened list of actors who served. Not all were movie stars at the time, but David Niven, Tyrone Power, James Stewart, Clark Gable, Lew Ayres, Louis Hayward, Robert Montgomery and Wayne Morris were willing to risk their careers in the service of their country.  This is by no means a comprehensive list, merely a look at a few of the more prominent individuals. It will be posted in two parts. Here is part one: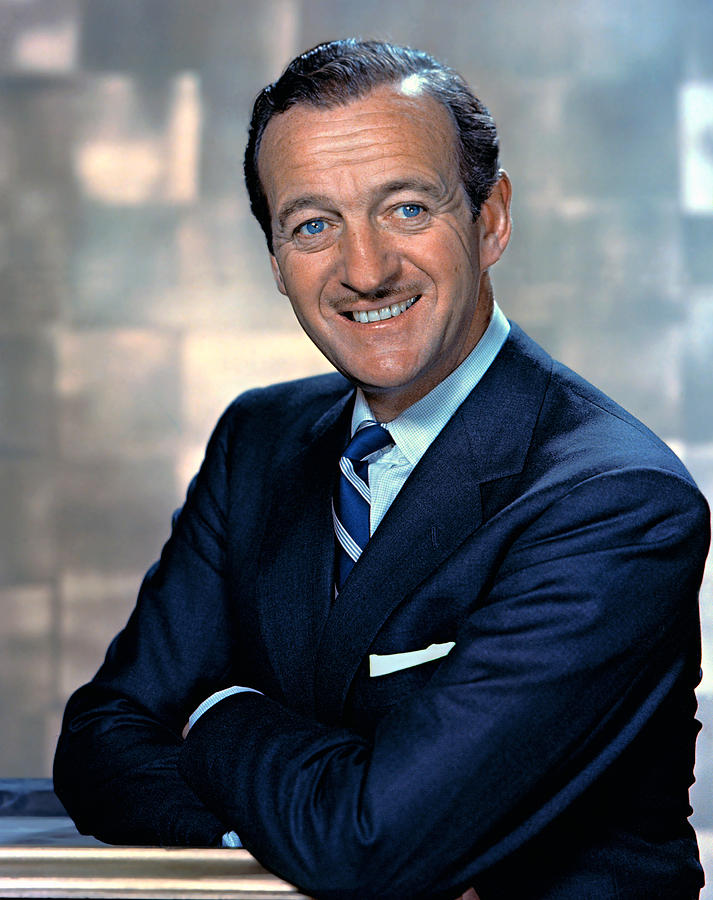 Lt. Colonel Niven, Normandy 1944
DAVID NIVEN:   Niven was initially rejected by the RAF, so he joined the British Army soon after war was declared and eventually became a Lt Colonel in the commandos. He saw action after D-Day in France, but generally refused to discuss his war record or reminisce about the conflict, despite being decorated for bravery. Only once did he ever speak about his war experiences. 'I was asked by some American friends to search out the grave of their son near Bastogne', he once said. 'I found it where they told me I would, but it was among 27,000 others, and I told myself that here, Niven, were 27,000 reasons why you should keep your mouth shut after the war.' Incidentally, throughout much of his war service his batman was the then unknown Private Peter Ustinov.
  Colonel Stewart 1945
JAMES STEWART:            Stewart joined the USAAF in Feb 1941, many months before America entered the war. Prior to his enlistment he had been twice rejected for being 5 pounds underweight. He flew 20 combat missions over Nazi-occupied Europe, was decorated for bravery and regularly promoted, ending the conflict as a colonel. Walter Matthau was a sergeant in his unit. Stewart reached the rank of brigadier-general in the Air Force Reserve after the war. His son Ronald was killed in action in the Vietnam War in June 1969.
PFC Marvin USMC 1944
LEE MARVIN:     At 18 he joined the USMC and saw action in the Pacific against the Japanese. On Saipan in 1944 he was severely wounded by machine-gun and sniper fire, most of his company being over-run and killed. It was three days after he arrived on Saipan. His sciatic nerve was severed and he spent 13 months in naval hospitals before being discharged.
A story circulated that Marvin had stated on the Johnny Carson Show that he had won the Navy Cross on Iwo Jima and, in the process, was shot 'fair-square in the ass, half-way up Mount Suribachi'. Almost all of the story is patently untrue. He was indeed shot in the buttocks, but that was on Saipan months before the battle for Iwo Jima. He was never in that particular battle, nor did he ever win a Navy Cross. Marvin was not a man prone to false bravado, so the story appears to be one of those urban myths that tend to pop up from time to time and acquire a life of their own. Throughout his life he was far prouder of his time in the marines than of anything he did on the screen. Hence his tombstone at Arlington Cemetery simply reads:
LEE MARVIN
PFC
US MARINE CORPS
WORLD WAR II
Feb 19 1924
Aug 29 1987
   Lt Murphy, Medal of Honor winner
AUDIE MURPHY:              Murphy did not get into acting until after the war. During WW2 he became the most decorated American soldier of the entire war, fighting against the Germans and Italians in the European theatre. Audie dreamed of being a combat soldier from the time he was a little boy, yet the Marines, Navy and Army all turned him down when he attempted to enlist after Pearl Harbor because he was underweight and under-age. So, he changed his diet and had his sister issue an affidavit falsifying his birth date by a year. The Army took him in 1942 (he was 17, stood 5'5" (1.66m) and weighed 50.8 kg). He fought in Italy, France and Germany, winning a string of decorations including the Medal of Honor.
  Top gunner Gable 1943
CLARK GABLE:   Following the death of his wife Carole Lombard in a plane crash, the 'King of Hollywood' joined the USAAF as a gunner and flew combat missions over Germany. Whether or not the Nazis put a $5,000 price on his head is debatable. The story may have just been US propaganda. Records indicate that he flew on five combat missions as a top-gunner and photographer in a B-17, but his buddies all claimed he flew many more than that. They were also quick to debunk the myth that he wanted to die because of his grief over losing Carole. He was well over combat age during his stint, which led him to eventually ask to be retired, a request his commanding officer would surely have been happy to endorse. The pressure of having the responsibility to keep America's box-office champion alive was immense.
  Radioman 3rd Class US Navy 1942
JASON ROBARDS:            Robards enlisted in September 1940, more than a year before America entered the war. He was serving aboard the USS Northampton when it was torpedoed and sunk in November 1942 during the Battle of Tassafaronga (sometimes referred to as the Fourth Battle of Savo Island). He survived by treading water until he was picked up. While aboard the USS Nashville he read Eugene O'Neill's play Strange Interlude. It ignited in him an interest in acting.
  Ex-O USS YMS-24, 1944
JOHN HOWARD:              I wonder how many movie fans remember an actor named John Howard. Fans of The Philadelphia Story (1940) will probably recall him playing Katharine Hepburn's fiancée. Three years earlier he portrayed Ronald Colman's brother in Lost Horizon (1937). Enlisting under his real name John Cox, he would later emerge as a highly decorated hero, winning the Navy Cross from America and the Croix de Guerre from France for gallantry whilst serving aboard a minesweeper, the USS YMS-24. During the invasion of southern France the vessel encountered a mine that killed several crewmembers including the captain. Howard was Executive Officer and at once took over operations to save the ship and its surviving crew members. He even jumped into the sea several times to rescue wounded sailors.   
   Marine Aviator Power 1944
TYRONE POWER:             Ty was a USMC pilot who flew cargo into Iwo Jima and Okinawa, then ferried wounded marines out during both battles. He was 28 when he enlisted and considered by the Navy to be too old for combat as a fighter pilot. Consequently, he volunteered to fly cargo planes, fully expecting to see combat by doing so. And he did. Power preferred to enlist as a private and work his way up, so it came as no surprise when he refused his studio's initial offer to get him an officer's commission. He was awarded two Bronze Stars.