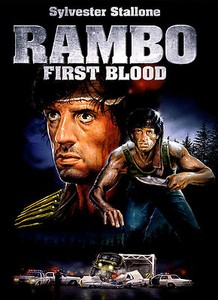 In the novel on which the 1982 movie First Blood is based, Rambo kills eighteen people, among them Deputy Sargent Galt, whose stomach he slices open with a razor! Even though most critics found the film to be 'too violent', it is interesting to note that Rambo (Sylvester Stallone) does not kill anyone, not even Galt, in the whole movie. In fact, Galt is the solitary fatality in the entire picture. He falls out of a helicopter after foolishly unfastening his own safety belt
If you ever happen to see the Tony Curtis costumer The Black Shield of Falworth (1954), you will probably be looking forward to hearing him deliver the now legendary line, 'Yonda stands the castle of my fodda', in his thick Bronx accent. Well, you will be disappointed – because he never said it. Not in this picture, nor in any other. The line is said to have come from a remark made by Debbie Reynolds on a television talk show and poor Tony then spent the rest of his life denying he ever uttered it.
Interestingly, of the five Best Actor nominations for 1983, only Robert Duvall (for Tender Mercies) was an American The other four, Michael Caine, Tom Conti, Albert Finney and Tom Courtenay, were all British. Duvall won. Caine has always felt his Educating Rita performance was the best of his career, the one of which he is most proud, yet he claims he knew he was not going to win that night when he saw he was seated far from the front row at the ceremony. In 2007, he described Educating Rita as the last good picture he was in before he mentally retired.
                         Tatum O'Neal & Michael Jackson
Tatum O'Neal wrote in her autobiography of first meeting Michael Jackson in 1975. It was at 'On the Rox', a club on the Sunset Strip. Michael was 17 and Tatum was 12. 'He gave me his number', she wrote, 'and we began talking every day – long drawn-out phone conversations…His usual subject was sex. Of course, at twelve I didn't have much to say about sex. But Michael was intensely curious about anything and everything sexual.' He once came to her house and asked to come upstairs because he'd never been in a girl's bedroom before. 'He sat on my bed and we kissed very briefly, but it was terribly awkward. I was just twelve and not at all ready for a real-life encounter. So I said, 'I can't.' He jumped up nervously and said, 'Uh…gotta go.'
Debra Winger
Timothy Hutton had divorced from Debra Winger when he met Uma Thurman on the set of Beautiful Girls in 1996. Perhaps, it was his resemblance to her ex-husband, Gary Oldman, that attracted Uma to him, but they commenced a whirlwind romance for about six months before it fizzled out. Soon afterwards, she was linked with Robert Downey Jr and then Nicolas Cage, and was photographed passionately kissing the aging rock star Mick Jagger in the Viper Room in Los Angeles. His long-time partner Jerry Hall saw the picture and seriously considered splitting from him. Eventually she would.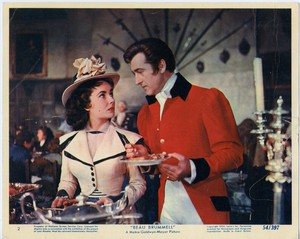 Elizabeth Taylor & Stewart Granger in Beau Brummell
The US censors found several troubling issues regarding the 1954 film Beau Brummell, foremost among them the immoral relationship between the Prince Regent and Mrs. Fitzherbert. They also contended that a steward at the gentlemen's club had what they described as 'the manner of a sex pervert', although they did not go into details. Then, when the Prince actually checked the gender of a dog, the censors almost had apoplexy. The use of the word 'damn' perturbed them enormously as well. Changes had to be made.
        Gary Cooper, Denise Darcel & Burt Lancaster in Vera Cruz
Vera Cruz (1954) was the first Hollywood movie shot entirely in Mexico. It starred the aging Gary Cooper and the box-office hot-shot Burt Lancaster, whose company produced it. Mamie Van Doren complained that Lancaster interviewed her for the part of the Countess and attempted to seduce her in the process. She refused his advances and the part went to French beauty Denise Darcel. It is doubtful he tried the same thing on her, however. Denise's very short movie career was almost certainly curtailed because she rejected heated advances from both Columbia mogul Harry Cohn and billionaire producer Howard Hughes.
Winning an Oscar usually gets down to being lucky enough to strike the right year. Take Bing Crosby's win for Going My Way (1944) for example. The other four nominees were Barry Fitzgerald, (his own co-star in that picture), Cary Grant (even he thought he was too old at forty to play a teenager in None but the Lonely Heart), Charles Boyer (downright boring in Gaslight) and Alexander Knox for Wilson (a dull biopic scarcely seen by anyone). In short, 'The Bingo' won by default. His best ever acting performance, however, as a drunk in The Country Girl (1954), found him up against Marlon Brando's On the Waterfront! No contest. As I said – it often depends on the year.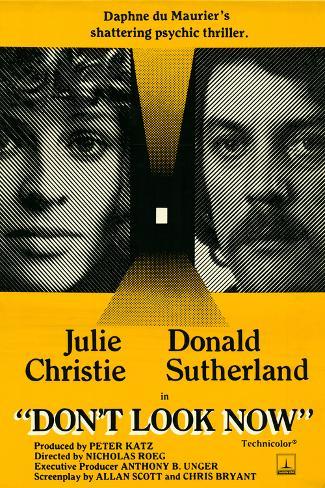 The highly erotic sex scene in the 1973 thriller Don't Look Now was the very first piece shot by director Nicolas Roeg and it took most of the day to complete. Stars Julie Christie and Donald Sutherland met for the first time on the set of this picture and Julie was terrified of doing the scene with him. Donald recalled the entire exercise as anything but sensual or erotic, as Roeg began shouting directions: 'Lick her nipples', 'Put your hand between her legs', Get on top', etc. A rumour that the love-making was for real has since been universally dismissed.
The sci-fi feature The Thing (1982) did poorly at the box-office, critics claiming it was a 'blood-fest' and violent, simply for the sake of violence. It is certainly not for the squeamish, but its poor box-office returns seem to have been seriously affected by another sci-fi outing released a few weeks earlier. The phenomenally successful E.T. – the Extra-Terrestrial was a 'cutesy' approach to an alien visitation that producers of The Thing believe impacted unfavourably on the public's perception of their movie. They may well be right, for their film is more appreciated today than it was when first released. Director John Carpenter still considers The Thing to be his best work.