Margaret 'Hot Lips' Houlihan (M.A.S.H.)                                 Loretta and her husband Dennis Holahan
Loretta Swit portrayed Nurse Margaret 'Hot Lips' Houlihan in the enormously successful TV series M.A.S.H. from 1972 until 1983. In the series' final season she met guest star Dennis Holahan on the set and a romance developed. The couple wed that same year and honey-mooned in Egypt. The marriage ended in divorce in 1995 and she has remained single ever since. Loretta lost her neighbour and closest friend when Harry Morgan (Colonel Potter) passed away in 2011. She is now in her eighties.
            Mr. & Mrs. Vincente Minnelli
Judy Garland was 21 when she agreed (reluctantly) to play a teenager (again) in 1944's Meet Me in St. Louis. She was recording songs at night and acting during the day and the hectic pace was taking its toll. She would complain of headaches and illnesses and keep the entire cast and crew waiting for hours. In all her previous movies she was compelled to wear caps to disguise her crooked teeth and nose discs to turn up her nose and create a more pronounced profile. Her new make-up artist, Dorothy Ponedel, did away with these things and used her considerable skills to highlight Judy's natural beauty. In Meet Me in St. Louis, she looks prettier than she ever did on screen and would work with Dorothy for the rest of her time at MGM. By the end of filming Judy was living with the director, Vincente Minnelli, and would marry him soon afterwards.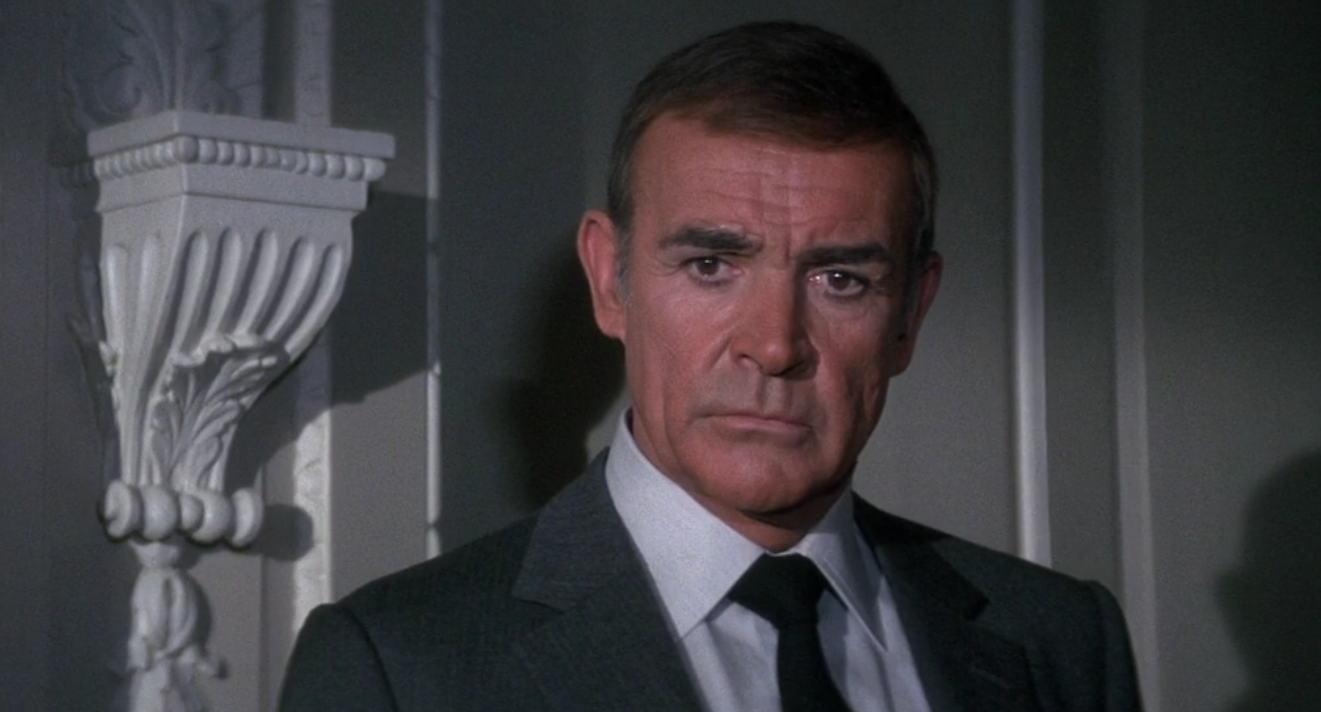 Sean Connery (52) in Never Say Never Again (1983)                                             Roger Moore (55) in Octopussy (1983)
Sean Connery was 52 years old when he agreed to portray James Bond one last time in Never Say Never Again (1983). In view of his age, it was decided he would play 007 as a retired secret agent. Interestingly, however, 55 year-old Roger Moore, who had replaced him as Bond ten years earlier, was currently shooting Octopussy, and his 007 was a still very active agent indeed. Maureen Marder
The 1983 feature film Flashdance is actually based on a true story, that of construction worker/welder – turned dancer Maureen Marder. In 1982 she signed an agreement with Paramount releasing the studio from any claims she might make regarding the use of her life story. She was paid a cheque for $2,300. The movie went on to gross over $150 million!
Yul Brynner & Deborah Kerr in The King & I (1956)                                      Anna Leonowens
Darryl F. Zanuck wanted Maureen O'Hara to play Anna Leonowens in his 1956 musical The King and I. Not only was she a great beauty, she was also a very good singer capable of vocalising her own songs. However, songwriter Richard Rodgers would not contemplate it. 'I won't have that pirate queen playing our Anna', he exclaimed rather unfairly. Dinah Shore was also strongly considered, but all that became moot when Yul Brynner, the star of the film, insisted Deborah Kerr get the nod. And she did, even though all her singing would be dubbed by Marni Nixon. African-American star Dorothy Dandridge was set to play Tuptim, but was convinced (by someone political) to reject the role because Tuptim was a slave in the King of Siam's court. Rita Moreno, a Puerto-Rican, had no such qualms and happily accepted it when offered.
                  Tony Perkins & Kathleen Turner in Crimes of Passion (1984)
Kathleen Turner was completely unimpressed by her co-star, Anthony Perkins', doing drugs in front of everyone when they made Crimes of Passion in 1984. She recalled, 'They'd say, 'Roll camera', and he'd take his bottle out and sniff it with each nostril. His face would go red and he'd burst into a sweat.' Prior to one particular scene, Perkins tried to get Kathleen to partake of his drugs. 'You won't be able to do that without some of this', he told her as he offered his wares. 'Oh yeah?' she replied. 'Watch me, asshole.'
     Denzel Washington & Julia Roberts in The Pelican Brief (1993)
Critics and movie-goers alike were disappointed that Denzel Washington's character (Gray Grantham) and Julia Roberts' (Darby Shaw) did not have a romantic attachment in the 1993 thriller The Pelican Brief. And most critics assumed, incorrectly, that Julia had vetoed any chance of any mixed-culture intimacy. But that just was not so. It was Denzel who refused to kiss Julia in the picture. In his 1989 film The Mighty Quinn he had shared a kiss with the former Mrs. Tom Cruise, Mimi Rogers, and during the test screening there were loud boos from the black women in the audience. Shaken, he asked the producers to delete the kiss from the final print and they complied. He was not about to make the same mistake twice.
It was Alfred Hitchcock's decision not to have a musical score in his 1944 drama Lifeboat. When asked the reason why, he reasoned that the audience would not know where the music was coming from since the action is entirely set in the middle of the ocean. Composer David Raskin was bemused when told of Hitch's reasoning. 'Ask Mr. Hitchcock', he said, 'to explain where the camera came from and I'll tell him where the music comes from.'
As we have come to expect, Jeff Daniels turned in a masterful performance as General George Washington in the 2000 tele-movie The Crossing. The crossing of the Delaware River on December 25, 1776, enabled Washington's tiny force to attack and rout the encamped Hessian forces on the other side of the river at Trenton. The German state of Hesse made a business of hiring its soldiers as mercenaries, its most recent customer being Great Britain. The Americans surprised the sleeping troops and the battle (a skirmish really) saw 22 Hessians killed, 98 wounded and 900 taken prisoner. The attackers lost just three men, two of whom died from exposure in the harsh winter conditions. Most of Washington's troops were within days of returning to their homes, their enlistments up, so he needed a 'spectacular' to keep his army intact. He only won three of his nine battles overall, but this victory was crucial.
                 Danny Moder & Julia Roberts
It was on the set of The Mexican (2001) that Julia Roberts first spotted married cameraman Danny Moder and she made no secret of her admiration for him. 'Who's that young hunk of burning love?' she asked co-star Brad Pitt. 'Now, you be a good girl, or I'm gonna tell on you!' he admonished. Within minutes Julia had walked over and introduced herself to Moder. She later sent him a note that he described as 'pretty suggestive'. The rest, as they say, is history. Julia paid Vera Moder $400,000, not to contest the divorce and that was that. Vera denied that her husband had two-timed her with Julia: 'Of course Julia hit on him', she conceded, 'but that's just Julia being Julia.'