In Tora! Tora! Tora! (1970) there is a hair-raising scene in which a P-40 (pilotless) is seen taxiing down a runway, starting to lift off, and then careering into a row of parked aircraft and exploding. The P-40, which was about to crash into a group of stationery aircraft designated for another sequence, had to be detonated prematurely and that created a very dangerous situation. Stunt men suddenly found themselves confronted by an exploding aircraft that was completely out of control. It is quite clear that some of these men were literally running for their lives. Fortunately, none were hurt and the footage made it into the final print.
                            Nick Nolte & Barbra Streisand
Nick Nolte and Barbra Streisand co-starred in the 1991 drama The Prince of Tides. Their love scenes were a source of reticence for Barbra. Whenever they were in bed together Nolte became aroused. 'He was getting turned on, and I was embarrassed', she said. 'Every time it got a little hot, I yelled, 'Cut!' Where is it going to go? Is he going to take off all my clothes and we're going to screw on the floor? I'll never use it. So why go to those places?'
Daniel Day-Lewis in Sunday, Bloody Sunday (1971)
Fourteen year-old unknown Daniel Day-Lewis was selected, along with two other boys, to play young vandals damaging expensive cars in the John Schlesinger film Sunday Bloody Sunday (1971). It was the boy's film debut for which he was paid two pounds to scratch and defile luxury vehicles. It was 'heaven', he said.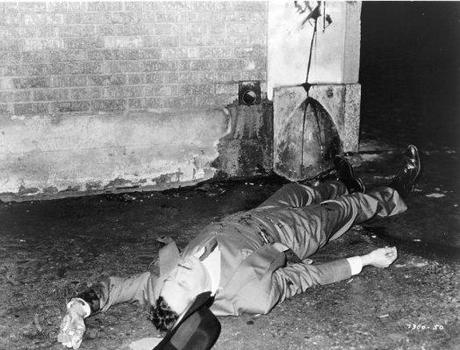 The Biograph Theatre showing Manhattan Melodrama that night.                            Dillinger's body in the nearby alley
After the closing credits have finished rolling on the 1973 drama Dillinger, there is a disclaimer recorded by FBI boss J Edgar Hoover that is delivered (by an imitation voice), stating that gunman John Dillinger was killed outside the Biograph Theatre after he pulled a gun on FBI agents attempting to arrest him. Hoover wanted his organization to be shown in a better light but the voice-over statement was all lies. Dillinger did not pull a gun when challenged. In fact, he tried to run away. Agents shot him six times in the back. They were under orders to shoot to kill. And they did.
Charles Manson
When tele-movie Helter Skelter was made in 1976, it was initially decided not to screen it in Los Angeles. The Manson murders had taken place just 7 years earlier and feelings were still raw. The Manson 'family' car was loaned to the producers for the picture and scenes were actually shot in the LaBianca home. The Tate home was not used. Much of the dialogue in courtroom scenes was taken from trial transcripts. Charles Manson was convicted in 1971 and sentenced to death. That was commuted to life in prison with the possibility of parole when California outlawed the death penalty in 1972. It was reintroduced in 1978. As of August 2017, there are 747 inmates on death row in Californian prisons. In the 40 years since 1978 only thirteen executions have been carried out. Manson was not one of them. He died in prison in November 2017 after serving 46 years inside.
Magnani & Franciosa in Wild is the Wind (1957)                     Tony & wife Shelley Winters                                     
It was during the filming of Wild is the Wind (1957) in Nevada that Anthony Franciosa suddenly decided to marry his girlfriend Shelley Winters. So, he had his agent Stan Kamen deliver a wedding ring to her home. 'He wants you to fly to Reno today and get married', Kamen told Shelley. An hour after the ceremony Tony had to return to the mountain location to continue filming. A lonely and bored Shelley decided to pay him a surprise visit. She walked in to find him kissing his co-star Anna Magnani on the sofa! 'Tony let loose among the beauties of Hollywood', Shelley later said, 'was like a kid in a candy store.' His name would be linked to not only Magnani, but Ava Gardner, Lauren Bacall and heiress Judy Balaban, to name just a few. 'I knew that however much I loved him', said Shelley sadly, 'he just couldn't be satisfied with one woman.'
           Bergman in Gaslight                                  Stanwyck in Double Indemnity                                                          
Ingrid Bergman (Gaslight) and Barbara Stanwyck (Double Indemnity) were two of the contenders for Best Actress in 1944. Ingrid won, but it was refreshing to hear Barbara's magnanimous remarks in an interview afterwards. She admitted she was a member of the Ingrid Bergman Fan Club and that she did not 'feel at all bad about the award because my favourite actress won it and has earned it by all her performances.' Most people who knew her agreed that Miss Stanwyck was a class act.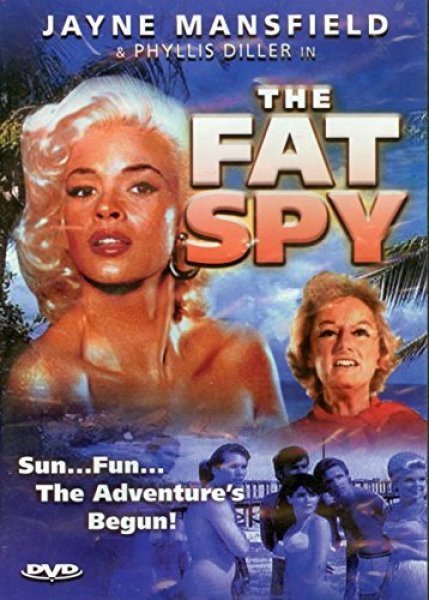 The Fat Spy (1966) rightfully earned a berth in 'The 50 Worst Movies Ever Made' list. It starred Phyllis Diller and Jayne Mansfield and was filmed in June-July 1965 when an already overweight Jayne was 5-6 months pregnant. She was also well and truly hooked on pills and her career was on the skids. Within two years she would be dead at 34, killed in an automobile accident. Singer Johnny Tillotson made his only feature movie appearance here, not that he helped things any. How could he when the final portion of the film was not even shot?  The camera merely panned over script pages describing what was occurring in the missing scenes! It is generally believed that the company simply ran out of money!
Bogart & Bacall in To Have and Have Not (1944)                                              Dolores Moran                            Howard Hawks & Bacall circa 1943
Whenever anyone speaks about To Have and Have Not (1944), sooner or later the 'You know how to whistle, don't you?' scene crops up. Ernest Hemingway wrote the book but he did not write that particular piece of dialogue. Director Howard Hawks wrote it specifically for newcomer Lauren Bacall's screen test (he had the hots for her), and the Warners executives liked it so much it was eventually worked into the screenplay. Not that it did Hawks any good. Bacall fell for her leading man Humphrey Bogart and Hawks had to lust after the other actress in the picture, Dolores Moran. In fact, she was initially supposed to play the lead, but gradually Bacall was given most of her lines and Dolores was relegated to a minor role. Even sleeping with Hawks did not help her situation and her reputation for stealing married men from their wives ensured there was little sympathy for her predicament. By 1954 Dolores's screen career was over (just 21 screen credits) and cancer claimed her in 1982.