Ali MacGraw & Robert Evans
Steve McQueen's performance in Papillon (1973) was overlooked when Oscar nominations were announced in 1974. The general feeling was that his stealing Ali MacGraw from Robert Evans, a very powerful studio executive, may well have been the reason. The fact that he had also slept with many other Hollywood wives scarcely worked in his favour either. Lastly, he had told the Academy that he would accept an award if he won but would never consider going to the ceremony.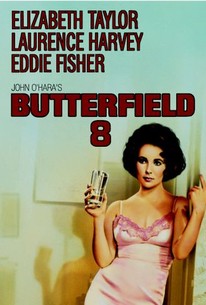 Starr Faithfull
Most fans would probably not be aware of it, but the Liz Taylor film Butterfield 8 (1960), for which she picked up an Oscar, was based on a novel about a real life tragedy. Starr Faithfull was a 25 year-old socialite whose body washed up on Long Island back in 1931. Argument still exists about whether or not she committed suicide or was murdered and whether she was a call-girl or just promiscuous. John O'Hara's novel Butterfield 8 made use of her story.
                      Robert Mitchum & Deborah Kerr in The Sundowners (1960)
If anyone ever doubted Robert Mitchum's boundless admiration for Deborah Kerr, then his response to the production department's request that he give her top billing for one of the four movies they made together, The Sundowners (1960) should dispel them. 'By all means', he graciously replied. 'And you can design a 24 foot sign of me bowing to her if you like. All I did was feed her some lines. She did the rest. She's really the one who can act.' He was within his rights to refuse to relinquish top billing, yet he did so gladly.
Warren Beatty was gazetted to star in the 1965 feature What's New Pussycat? In fact, the picture was supposed to be semi-biographical. 'What's new pussycat?' was his standard way of answering the telephone when his girl friends called him. He withdrew from the project, however, after producer Charles Feldman ignored his request to cast his current girlfriend Leslie Caron in a major role. Feldman had already promised the role to his own lover Capucine. Britt Ekland recalled running into another of the picture's stars Ursula Andress in the Plaza Athenee foyer. In front of several men and women, Ursula pulled up the hem of her sheath-tight dress, gleefully revealing she was not wearing panties but pantyhose, a brand new garment that had just arrived on the market. 'Look', she exclaimed excitedly, 'no more old-fashioned knickers.' Her audience, (especially the men), were most interested.
The first French kiss in a Hollywood movie was shared by Warren Beatty and Natalie Wood in the 1961 romantic drama Splendor in the Grass. The couple became lovers off-screen as well, even though Natalie was married to Robert Wagner at the time and Beatty was heavily involved with Joan Collins. Both Wagner and Collins were suspicious of the energy the two stars were putting into their love scenes. Both visited the set to see for themselves.
         Richard Kiel as 'Jaws' in The Spy Who Loved Me (1977)
Richard Kiel played 'Jaws' in the 1977 Bond feature The Spy Who Loved Me and had a rather painful and uncomfortable time of it. He was only able to keep the metal teeth in his mouth for about a half a minute at a time before it became too painful. The 'chain' he bites through, incidentally, was made out of liquorice. The picture introduced a new invention, a sea-scooter they referred to as a 'wetbike'. Today, we know it as the jet-ski. This movie was the last picture Elvis Presley ever saw. On 10 August 1977 he watched a special viewing at the General Cinema in Whitehaven, Tennessee. Six days later he was dead at 42.
                                       Mackenzie Phillips & Paul Le Mat in American Graffiti (1973)
In American Graffiti (1973), 28 year-old Paul Le Mat's character John Milner picks up 12 year-old Mackenzie Phillips' character Carol in his roadster and they spend much of the picture driving around together. Six years later the two actors revisited their roles in More American Graffiti (1979) and had a brief off-screen fling, a lapse that the married Le Mat has since deeply regretted.
Gert Frobe & Sean Connery in Goldfinger (1964)
When Gert Frobe was chosen to play the title character in Goldfinger (1964), the villain all other Bond villains have been compared with ever since, could barely speak three words of English at the time. His voice was dubbed by English actor Michael Collins. The famous line: 'No, Mr. Bond. I expect you to die!' belongs to Collins. The producers really wanted Orson Welles to play Goldfinger but he wanted far too much money.
                       Anne Francis & Barbra Sreisand in Funny Girl (1968)
Funny Girl (1968) is undeniably Barbra Streisand's movie, but it might well have been the vehicle that refurbished the career of the shapely 37 year-old Anne Francis. As Georgia, she was the featured singer in several numbers with the other Ziegfeld girls and sang 'Sadie, Sadie' with Streisand. She also had the emotionally wrenching scenes when Georgia drinks herself into a stupor. Sadly, virtually all of her performance wound up on the cutting room floor. 'Every day, Barbra would see the rushes', she bitterly recalled, 'and the next day my part was cut or something else was cut. Barbra ran the whole show'. If a girl was too pretty, Barbra would order director William Wyler to fire her. And he did. His job, he ruefully conceded, was to make Streisand look as good as possible and to hell with everyone else.
The next time you watch the very fine Otto Preminger film Advise and Consent (1962), you might find it interesting to put real life politician names to the fictional ones in the picture. For instance: Lafe Smith is based on the then Senator John F. Kennedy; Orrin Knox – Robert A. Taft; Fred Van Ackerman – Senator Joseph McCarthy and the President is modelled on Franklin D. Roosevelt. Near the beginning of the party sequence, the lady being asked to dance by Paul Ford is not an actress. It is, in fact, Senator Kennedy's real life secretary Evelyn Lincoln.
In Babe (1995) the title role was played by no fewer than 48 different pigs! The film-makers stipulated that they must only be used for breeding purposes when they were returned to their owners. Just how that stipulation could possibly be policed is anyone's guess.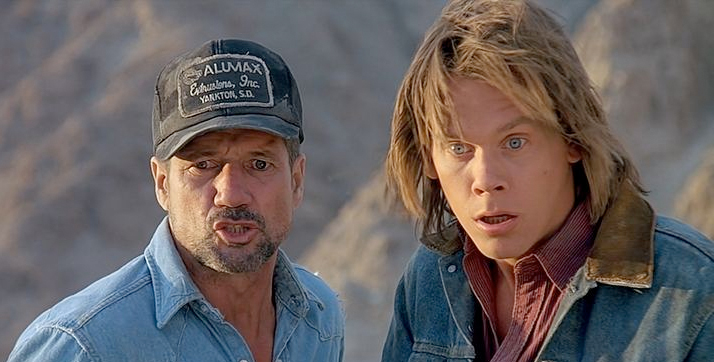 Fred Ward & Kevin Bacon in Tremors (1990)
Prior to the release of Tremors in 1990, star Kevin Bacon felt he had reached an all-time career low. 'I broke down and fell to the sidewalk', he said, 'screaming to my pregnant wife, 'I can't believe I'm doing a movie about underground worms!' The movie did not perform overly well at the box-office, but it took off in video releases and rentals, eventually earning three times what it garnered in theatrical releases. It is a lot of fun.