Ava Gardner in 55 Days at Peking (1963)
Ava Gardner had a long-running nervous breakdown during the making of 55 Days at Peking (1963). She was drunk on several days, continually demanded rewrites, and was extremely difficult to deal with. Charlton Heston stated that her character, Baroness Natalie Ivanoff, was killed off so that the producers and director did not have to put up with her anymore. The box-office failure of this picture and that of The Fall of the Roman Empire (1964) destroyed Samuel Bronston's production company.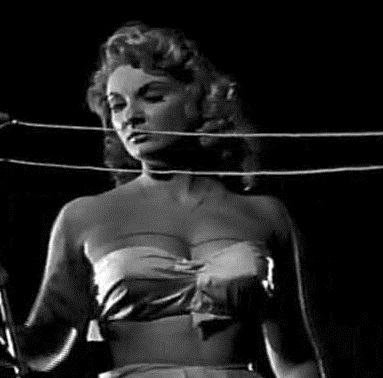 Allison Hayes                                                                                  Yvette Vickers
Shot in just eight days on a budget of a paltry $89,000, it is little wonder that Attack of the 50 Foot Woman (1958) is considered to be one of the worst science fiction films ever made. Conversely, it is also regarded as one of the most enjoyable from the 'So Bad It's Good' camp! Both its leading ladies had unfortunate ends in real life. Allison Hayes died at 46 due to lead poisoning from calcium pills she had been taking. Yvette Vickers succumbed to heart failure in 2010, aged 81, her body remaining undiscovered for over a year!
James Stewart as Wyatt Earp in Cheyenne Autumn (1964)
John Ford's 1964 western Cheyenne Autumn is a tedious movie that is both racist and far too long. There was supposed to be an intermission, but Ford did not want patrons heading off to the bathroom in the middle of his movie, so he inserted the rather lame 'Wyatt Earp' segment featuring James Stewart as the legendary lawman. It did not fit the theme at all and Stewart was a lousy screen Earp anyway, looking more like a riverboat gambler than a US Marshall. Furthermore, the inserted segment increased the film's length to an interminable 154 minutes.
Peter O'Toole met his leading lady in How to Steal a Million (1966), the lovely Audrey Hepburn, and they were soon in bed together. 'I believe that an actress has to be at least a little bit in love with her leading man and vice versa', Audrey told him that night. She was married at the time to Mel Ferrer so, when she discovered she was pregnant, she was unsure if the father was O'Toole or Ferrer. She miscarried anyway and O'Toole, in particular, was devastated. He had fallen in love with her but nothing came of it.
When Frank Sinatra's Rat Pack made the original version of Ocean's 11 in 1960, Sammy Davis Jr was not permitted to stay in the same Vegas hotel as his co-stars because he was black. African-Americans could only stay in the cheaper quarter of town, even if they were head-lining at the major casinos as Sammy often did. Sinatra himself changed all that by confronting the casino owners and demanding his pal be admitted. Frank did not have a racist bone in his body and often confronted those who did.
Barry Bostwick & Susan Sarandon in The Rocky Horror Picture Show (1975)
Richard O'Brien memorably played Riff-Raff in The Rocky Horror Picture Show (1975). In 2013 he accidently let slip that Barry Bostwick (Brad) and Susan Sarandon (Janet) were in a secret relationship at the time of shooting. For most of the time, however, any thought of consummating their relationship remained on the back-burner. Due to the bleak weather conditions on location in England, Barry had a heavy cold and Susan actually contracted pneumonia!
Sarah Miles & Christopher Jones in Ryan's Daughter (1970)
Christopher Jones and Sarah Miles simply did not like each other when they played secret lovers in the 1970 blockbuster Ryan's Daughter. In fairness to Jones he was deeply upset during the filming when he learned that his close friend (and lover according to several sources) Sharon Tate had been murdered by the Manson Gang. His engagement to Olivia Hussey was also on shaky ground at that time. When Robert Mitchum and Sarah mischievously laced his breakfast with some kind of drug to help him get over his disgust at having to participate in a sex scene with Sarah, poor Jones was left almost catatonic and nearly suffered a breakdown. Miss Tate's grisly death had affected him deeply and probably led to his retirement from acting soon afterwards.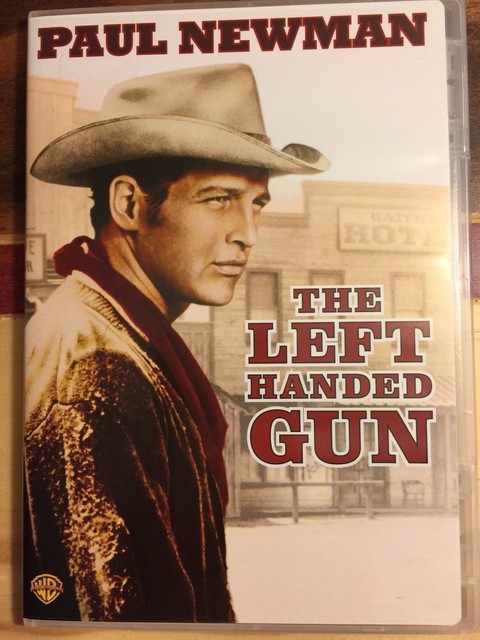 The real Billy the Kid
The 1958 western The Left-Handed Gun is not a good movie. Even its title has since been proven to be incorrect. Outlaw Billy the Kid was actually right-handed, a fact that came to light in 1986 with the discovery of a second tintype. Paul Newman (aged 33) is totally miscast here as the 18 year-old Billy. Also, John Henry Tunstall, an English immigrant who befriended the real Billy, was aged 24 or 25 at the time of his murder in 1878, yet he is depicted in every movie version of the story (this one included) as a much older man in his late fifties and early sixties.
In January 1977 Mark Hamill was involved in a serious car crash that scarred his face. Fans of The Empire Strikes Back (1980) have mistakenly believed that the Wampa attack on his Star Wars character Luke Skywalker was introduced into the movie to help explain the damage to his face, but this is simply not so. The Empire Strikes Back began filming two years after his accident and by then all signs of scarring had gone.
        John Wayne the Centurion
Considering how woefully against type was the casting of John Wayne as a centurion in 1965's The Greatest Story Ever Told, it is quite staggering to learn that he was paid $250,000 for the two days he spent on the set. He spoke a single line of dialogue: 'Truly, this man was the son of God.' Coincidentally, he received precisely the same payment for four days work on The Longest Day (1962).
Robert Stroud
Don't be fooled by Burt Lancaster's sympathetic portrayal of Robert Stroud in the 1962 biopic Birdman of Alcatraz. In reality the man was a difficult and demented inmate, a vicious killer and a psychopath. At one time he had over 400 birds in his cell – in Leavenworth – but he never did have any at Alcatraz because it was against the rules. Of course, Birdman of Leavenworth does not quite have the same ring about it…