Clara Bow
Silent star Clara Bow's 1926 contract with Paramount guaranteed her a bonus of $500,000, a staggering amount of money at the time, if she could manage to stay 'scandal-free' for its tenure. She never even came close to collecting. Oddly enough, given her tawdry reputation, Clara had written into that same contract that no workmen or technicians were to use profane language to her or in her presence. She was a typical red-blooded American girl, but many of the stories about her love life were either exaggerated or just plain fabrications. For instance, the tale was told that she once serviced the entire 'Thundering Herd' football team. It was simply not true.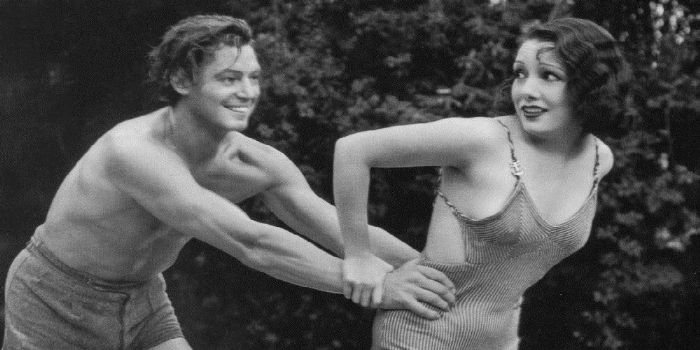 Johnny Weissmuller and Lupe Velez cavorting at home
Lupe Velez and Johnny Weissmuller (Hollywood's first screen Tarzan) married in 1933 and the feathers immediately began to fly. Lupe beat her husband often and revelled in rough sex. More often than not he would emerge covered in bites as well as bruises from their torrid love-making sessions. She was also a violently jealous woman. Upon observing him dining with another actress at a restaurant one evening, she stormed across the room, snatched up his steak knife, and drove it through the back of his hand as it rested on the table!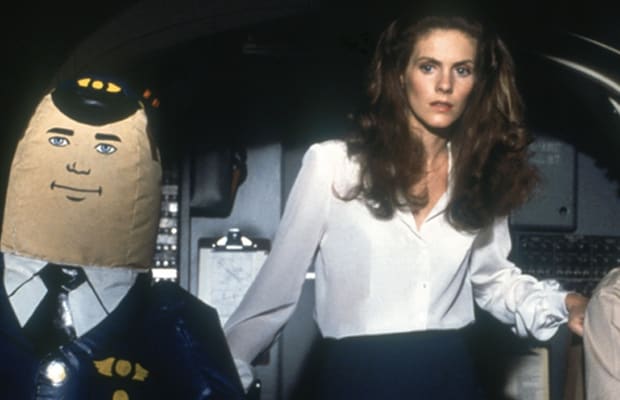 Bob Fosse                                        Ann Reinking                        Julie Hagerty in Airplane! (aka Flying High)
The lovely Marisa Pavan (sister of the equally lovely Pier Angeli) was one of choreographer Bob Fosse's lovers in the 1950s. In 1973 he also embarked upon a six-year relationship with dancer Ann Reinking. Fans of the 1982 musical Annie will recall her playing Daddy Warbucks' secretary Grace. From 1977-79, Fosse was still married to his muse Gwen Verdon, living with Ann Reinking, yet finding time to carry on an affair with actress Julie Hagerty whose greatest moment on screen came as the female lead in the 1980 hit comedy Airplane! Outside of the USA the picture was called Flying High. Other lovers of the energetic Mr. Fosse included Jessica Lange, Janet Leigh and (almost certainly) Liza Minnelli.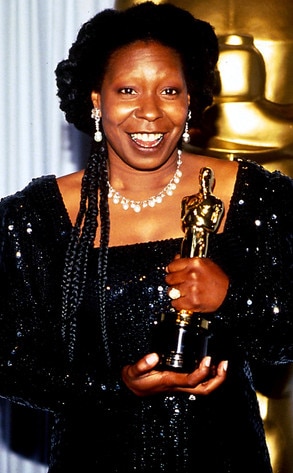 Whoopi & her Oscar for Ghost (1990)
If you have ever wondered about the origins of Whoopi Goldberg's first name, the answer is that it was her nickname early in her career because she had a gas problem onstage. Whoopi is a slang term for flatulence. When most other performers cannot wait to discard unappealing Christian names, Whoopi has gone to the other extreme and embraced one that would make a sailor blush. In 1990 she picked up a Best Supporting Actress for her hilarious performance in Ghost.
Peter Arne in THe Return of the Pink Panther (1975)
Peter Arne portrays secret police Colonel Sharki in the 1975 comedy The Return of the Pink Panther. His character is accidentally shot by Chief Inspector Dreyfus in the picture. Eight years after this film was released Arne was murdered in real life. A homeless man whom he used to feed, bashed him to death following an argument. The man then drowned himself. Police believe that the man probably became incensed when Arne made a pass at him, so he lay in wait for the actor to return home and then killed him with a log from the fireplace. Fans of the 1955 WW2 war pic Cockleshell Heroes would recall Arne as Marine Corporal Stevens.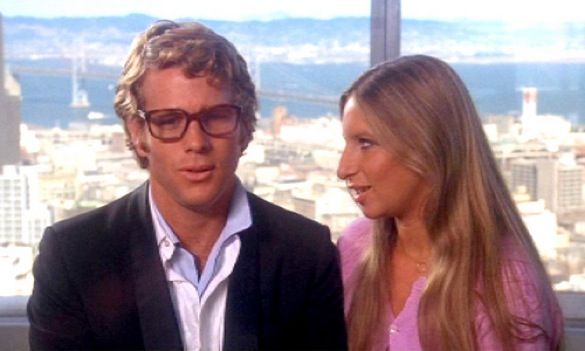 O'Neal & Streisand in What's up Doc? (1972)
One of the least humorous comedies of 1972 was What's Up Doc? Furthermore, the leading lady, Barbra Streisand, reached that conclusion early in the piece. 'Where are the laughs, Peter?' she asked director Peter Bogdanovich. 'Where are the fucking laughs? I know fun, and this is not funny.' She even went to her co-star (and off-screen lover) Ryan O'Neal. 'We're in a piece of shit, Ryan', she complained after every take. And she was right. The critics hated the thing but the public flocked to see it and the picture was a box-office success! Barbra initially owned 10% of the gross, but quickly accepted an offer to sell her share back. The movie grossed $70 million and that decision cost her $7 million. I suppose, when you already have $250 million, missing out on another paltry seven million is probably neither here nor there.
Harrison in the title role of Doctor Doolittle (1967)
Rex Harrison was 59 when he starred in Doctor Doolittle (1967). At the time he was considered to be, quite rightly, the most unpleasant person in the movie business. He was a snob, mean-spirited and arrogant, treating cast and crew alike. Most of the crew were delighted to see him bitten by just about every one of the animals that came within reach of him during the shoot. He loathed his co-star Anthony Newley and constantly denigrated him behind his back, referring to his fellow Englishman as a 'sewer rat' in front of everyone on the set. In short, Rex was a nasty piece of work, but he must have had something going for him because there never seemed to be a shortage of female admirers.
Martinelli on piano & Girardon watching in Hatari! (1962)
John Wayne was 55 years old and the delightful Elsa Martinelli was just 27 when they made the 1962 adventure/romance Hatari! Most critics and ticket-buyers felt their screen romance was unrealistic. I agree. When Elsa passed away in July 2017, only Hardy Kruger of the main stars of the picture still survived. Sadly, the lovely Michele Girardon (who played Brandy) took her own life with sleeping pills in 1975 at the age of just 36. She had been despondent over a love affair with a married man for some time.
   the one and only Sophia Loren in Two Women (1960)
Two Women (1960), the picture that won Sophia Loren her Best Actress Oscar, was based on an actual mass crime committed in Italy's Ciocara region during World War Two. The night after the fortress of Monte Cassino was captured by allied troops on 18 May 1944, thousands of Moroccan Gourmier troops scoured the surrounding villages and hillsides looking for women to violate. It is estimated that sixty thousand females, ranging in age from 11 to 86, were raped. Men who attempted to defend them were summarily murdered.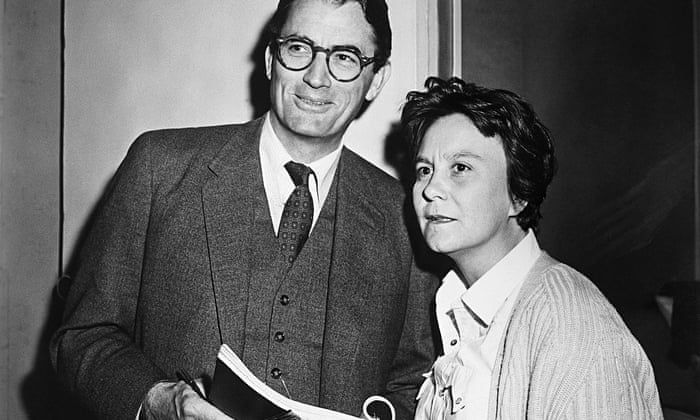 Greg Peck & authoress Harper Lee on the set
Writer Harper Lee based Atticus Finch, her hero in To Kill a Mocking Bird, on her own father, a noted lawyer. She was actually visiting the set of the movie in 1962 on the day Gregory Peck (playing Atticus) completed his first scene. To his consternation Peck saw her crying and asked the reason for her tears. She replied that he looked just like her late father, that he even had the same pot belly as her dad. 'That's not a pot belly, Harper', he said with a smile. 'That's great acting.'