Grease is one of the better teenage musicals, (many would argue it's the best), if for no other reason than the leads are charismatic and can actually sing! I suppose to refer to it as a teenage musical is a bit of a liberty, given that only one of the ten actors and actresses portraying high school students was actually a teenager at the time (and even she was nineteen and barely scrambled into that category), but at least most of them looked as if they might just pass as high school kids. Just.
In order of youngest to oldest, here are the ten players:
Dinah Manoff                         –                       Marty (19)
Kelly Ward                             –                        Putzie (20)
John Travolta                          –                       Danny (23)
Didi Conn                               –                       Frenchie (25)
Jeff Conaway                          –                       Kenickie (26)
Barry Pearl                              –                       Doody (27)
Olivia Newton-John                –                      Sandy (28)
Jamie Donnelly                       –                      Jan (30)
Michael Tucci                         –                       Sonny (31)
Stockard Channing                 –                      Rizzo (33)
               Susan Dey as Laurie Partridge
Olivia Newton-John was particularly concerned about convincingly portraying a high school student and would not agree to accept the role until she had seen herself in a screen-test. Susan Dey, one of the pretty stars of TV's The Partridge Family, was the producer's first choice to play Sandy. She was Laurie in the series and enormously popular, especially with adolescent American males. On the advice of her manager she turned it down. Having talked her out of playing the lead in the year's biggest-grossing picture, one wonders if the man managed to retain his job. When producer Allan Carr met Olivia at a party thrown by fellow Australian singer Helen Reddy, he was instantly 'smitten' with her and offered the Aussie star the role there and then. John Travolta was strongly in favor of her getting the role as well.
Lucie Arnaz with her famous mom and her brother
Jamie Donnelly's hair was already prematurely greying, so she had to dye its roots dark brown every day of the shoot. Stockard Channing, the oldest of the group at 33, was a last minute signing. First choice Lucie Arnaz was passed over after her mother, TV icon Lucille Ball, is said to have contacted the producers at Paramount and made it quite clear that her daughter was 'too good to audition'. The producers evidently felt differently and Lucie was told she was not required. That is one story. Another has it that Lucille said, 'I used to own that studio. My daughter's not doing a screen test!' Actually, she owned Desilu which Paramount bought. Personally, I do not believe either story. But that does not mean that one of them cannot be true.
           Henry Winkler as 'the Fonz'                                          John's sister, Ellen Travolta
It is interesting to note that John Travolta was not the first choice to play Danny either. Henry Winkler, known the world over as Fonzie in TV's Happy Days, turned down the role because he felt it was too similar to The Fonz and he was desperately trying to avoid type-casting. Incidentally, Travolta's 38 year-old real-life sister Ellen plays the waitress. On television she also portrayed Scott Baio's mother in Happy Days and in Joanie Loves Chachi (1982-3).
   Travolta, Olivia & Jeff Conaway
Jeff Conaway played Kenickie, Danny's good buddy. During shooting he developed an off-screen crush on Olivia Newton-John and was often tongue-tied in her presence. He would eventually marry her sister Rona in 1980. They divorced five years later. Jeff was injured when he was dropped on his back during a dance sequence in Grease. He took pain-killers for his injury and became addicted to them. Eventually, he descended into prescription drug addiction and, by his own count, attempted suicide twenty-one times! On 11 May 2011 he was found unconscious in his home. He slipped into a coma and life support was switched off on the 27th. He was 60 and his death was attributed to an unfortunate mixing of prescription drugs and alcohol.
Annette Charles in Grease
Twenty-nine year old dancer Annette Charles reluctantly accepted the role of Cha Cha in Grease, although she wanted to be taken seriously as an actress and not only as a dancer. During the Thunder Road sequence she was required to stand between the competing vehicles and signal the start of the race. Annette was experiencing terrible pain from a tubular pregnancy at the time and the fertilized egg had commenced growth in the fallopian tube rather than the uterus. The next time you see the film you will notice her leaning against the cars in some scenes. As soon as the scene was completed she was rushed to hospital for surgery. Although she was not a smoker, lung cancer claimed her in 2011, just a couple of months after Conaway's death.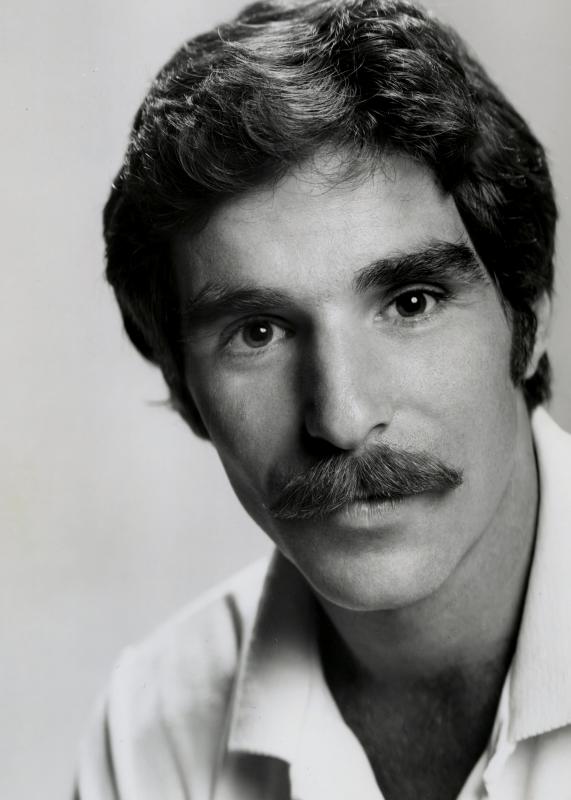 Harry Reems
Just what possessed the producers to seriously consider the porn star of Deep Throat (1972), Harry Reems, for the part of Rydell High's coach is difficult to fathom. When this dumb idea was leaked to the press it almost derailed the entire production. The notion was discarded and the much 'safer' Sid Caesar got the nod. Few mainstream cinema-goers knew the names of porn stars or recognized them on sight, but Reems was one of the exceptions. To even consider casting him in a high school musical beggar's belief.
Filming was actually completed when it was decided that Olivia needed a ballad to sing. The tune 'Hopelessly Devoted to You' was penned and they shot a scene with her singing it, then inserted it into the picture. To their surprise and glee the tune was nominated for a Best Song Oscar. In fact, it was the movie's only nomination, despite Grease going on to make more money than any other film in 1978. It chalked up $181 million, 40 million more than second-placed National Lampoon's Animal House. Suffice to say that 1978 was not the strongest of years.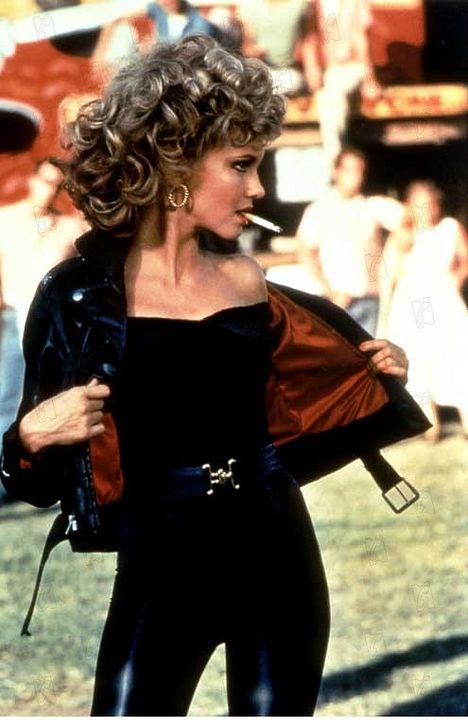 Olivia 'going bad', cigarette and all
The 'twist' at the end of Grease was deliberately planned as a spoof on all those movies (such as Saturday Night Fever, to name but one), where the 'bad guy', the rough diamond, so to speak, suddenly sees the error of his ways and turns over a new leaf in order to conform to his 'goody-two-shoes' girlfriend's wishes. In Grease it is the girl who does the about-face and 'goes bad'. She turns into a 'Pink Lady' to fit in with the T-Birds. This was the very reason why Marie Osmond turned down the Sandy role. 'I didn't want my teenagers someday to say, you know, you have to go bad to get the boy', she told Larry King in an interview. 'It was just a personal choice as a someday mother.'
There is no certain formula for success in the movie business and Grease is living proof of that. Plans were put in place for two sequels to cash in on the picture's phenomenal success at the box-office, but when Grease 2 sunk faster than the Titanic, plans for Grease 3 were shelved indefinitely. For a while in 2002 there was talk of making a sequel set in a later decade and featuring the original cast, but it came to nothing. The Grease phenomena had had its day.