Martin Milner
The brilliant film noir Sweet Smell of Success (1957) was to have starred Robert Vaughn in his breakout role, but the draft intervened and he was sent off to do national service. Martin Milner inherited the role of Steve Dallas in this superb classic and Vaughn had to bide his time a little longer until the part of Napoleon Solo (The Man from U.N.C.L.E.) came along.
Carl Switzer in The Defiant Ones                             Carl as Alfalfa in the Our Gang series
A lot of big-name actors turned down the Joker Jackson role in The Defiant Ones (1958) for one reason or another, but mostly because a picture about a black man and a white man, escaping prison chained together, was potential political and social dynamite that could wreck one's career overnight. One actor, Robert Mitchum, declined the role that eventually went to Tony Curtis because, as a former real life prisoner on a chain gang himself, he knew there was no way that a black man and a white would ever be chained to each other. It just was not done. Curtis, on the other hand, jumped at the chance to get away from his 'pretty boy' roles and to work with Sidney Poitier whom he admired. He was also keen to meet Carl 'Alfalfa' Switzer, the former Our Gang child star. Switzer was making his last movie. He would be shot to death in January 1959 over $50 he believed was owed to him. He was just 31. His 42 year-old brother Harold (also an Our Gang veteran) would take his own life in 1967 after killing a man.
Spencer Tracy & Anne Francis in Bad Day at Black Rock (1955)
Bad Day at Black Rock (1955) was set in 1945, just after World War Two had ended, yet white-haired, 54 year-old Spencer Tracy was cast as a veteran of that very conflict! Tracy and Walter Brennan were poles apart politically and did not get along on the set at all, especially after Brennan criticized Katharine Hepburn's stance against the McCarthy hearings in Congress. Kate and Tracy had been together for years and were in accord politically. On the set next day, Brennan grumpily walked past Tracy displaying three fingers, a reference to his own three Oscars and a reminder that Tracy possessed only two.
The Blackboard Jungle (1955) introduced the movie-going public to the strains of Bill Haley's hit song Rock Around the Clock in its opening credits. It also saw the debut of Vic Morrow (as Artie West). He had beaten Steve McQueen for the role. Sidney Poitier was also a student in the classroom, but he had already been around for eight years on the movie scene. The boy playing Santini was Jameel Farah, also making his debut. Fans of the TV series M.A.S.H. know him as Jamie Farr (Corporal Klinger).
Sophia Loren & Cary Grant in Houseboat (1958)
Cary Grant fell in love with Sophia Loren when they made The Pride and the Passion in 1957. Consequently, he was quick to accept the lead in 1958's Houseboat when he learned she would be his leading lady. They were actually dating during the shoot when her lover Carlo Ponti obtained a Mexican divorce from his wife and quickly married Sophia. Grant was shattered and reluctantly completed his obligation to the picture before walking out of her life forever.
                     a dummy pretending to be Shelley                                                 and Robert Mitchum in The Night of the Hunter (1955)       
In his autobiography, Robert Mitchum claimed he was openly contemptuous of Shelley Winters when they made The Night of the Hunter together in 1955. 'She looks and sounds as much as a wasted West Virginia girl as I do', he wrote. 'The only bit she'll do convincingly is to float in the water with her throat cut.' In fact, a dummy (not Shelley) was used for that particular scene anyway.
Dennis Weaver was earning just $60 a week delivering flowers when he was offered the role of Chester in the upcoming TV western series Gunsmoke in 1954. Prior to that he was actually living out of his car for a while. He faked a hayseed accent and added a limp to land the Chester role, and his life changed overnight. By the time of his death from cancer in 2006 he was a millionaire several times over.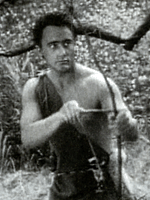 having just invented the bow & arrow
Robert Vaughn in Teenage Cave Man (1958)
Many big stars have early movies of which they are ashamed. For Paul Newman it was The Silver Chalice (1954; for Frank Sinatra, The Kissing Bandit (1948); for David Niven it was Bonnie Prince Charlie (1948) and for Robert Vaughn it was the abominable Teenage Cave Man (1958). Indeed, Vaughn himself described this monstrosity as probably the worst movie ever made. And he was not far wrong. There were so many bad moments, but the worst would have to be when his character invents the first bow and arrow! He does so by accidentally bumping into a tree and knocking off a branch. He regards the sapling for a few seconds, has a bit of a think, whips out a piece of string from inside his sarong; finds a pointy stick on the ground and, 'voila!' Oh, dear!
the exquisite Leslie Caron as Gigi (1958)
The three leads in Gigi (1958), Leslie Caron, Louis Jourdan and Maurice Chevalier, were all born in France. Unfortunately, Leslie's French accent had completely disappeared by the time she was chosen to play the title character, so her singing had to be dubbed in its entirety by Betty Wand. Miss Caron was dumbfounded and entirely unhappy with the lady's interpretation. 'To this day', she said, 'the childish cuteness of Ms. Wand and her artificial French accent hurt my ears.' Most fans outside France, however, assume that Leslie did her own singing and that her accent was quite delightful.
Susan Hayward in the gas chamber scene in I Want To Live! (1958)
It may be surprising to learn that Robert Wise, the director of both West Side Story (1961) and The Sound of Music (1965), was also the director of the harrowing 1958 drama I Want to Live! Susan Hayward played convicted killer Barbara Graham and won an Oscar for her performance. Even though Graham surely murdered the crippled 62 year-old widow Mabel Monahan, this movie ignored much of the mountain of evidence that led to her conviction and focused on the ghastly gas-chamber execution process instead. In real life Graham was advised by a guard to 'take a deep breath, it's easier', to which she is believed to have replied, 'how the hell would you know!' The censors insisted her response be cleaned up for 1958 audiences.