In the 1955 Hitchcock picture To Catch a Thief, there is a scene in which John Robie (Cary Grant) is discussing the cook's 'sensitive hands' with an insurance agent and casually mentions that those hands once strangled a German general without a sound. For German audiences, however, the words were changed and he tells the man she had once caught a lion escaped from a circus with her bare hands.
Celeste & Bette in All About Eve (1950)
On the set of All about Eve (1950), Celeste Holm recalled meeting Bette Davis for the first time and greeting the star of the picture with a most pleasant and cheerful, 'Good morning.' Bette's response was a caustic, 'Oh shit, good manners!' And that was the only time they conversed, other than when the script called for them to do so. Years later, during an interview, Bette commented: 'Filming All about Eve was a very happy experience…the only bitch in the cast was Celeste Holm.'
Dean & Massey in East of Eden (1955)
While making East of Eden (1955), Raymond Massey and James Dean grew to detest each other both on-screen and off, a situation encouraged by their director Elia Kazan because it fit perfectly their on-screen characters. The dislike peaked when Dean's character was required to read passages from the Bible to Massey's character. Kazan whispered to Dean some instructions and he immediately launched into his lines, interspersing curses and the vilest phrases he could think of between each biblical quote. Of course, they were edited out later, but the highly religious Massey could not contain his disgust and stormed off the set. His angry reaction made it into the final print.
A flying machine in The War of the Worlds (1953)
The Martian war machines in H.G. Wells' The War of the Worlds (1953) moved on tripods, but nobody could figure out how tripods would actually walk, so they became flying machines instead. None of the original Martian war machines constructed for the movie exist today. They were made out of copper and, sadly, were donated to a Boy Scouts copper drive at the completion of the picture.
Gregory Peck                                    Richard Jaeckel
In 1996, the terrific character actor Richard Jaeckel was diagnosed with cancer at the same time as his wife was suffering from Alzheimer's disease. They were a million dollars in debt and homeless, so they applied for Richard to move into the Motion Picture and Television Hospital at Woodlands, California. They were refused. Gregory Peck, who had once starred in the 1950 western The Gunfighter alongside Jaeckel, lobbied on their behalf and three days later the refusal was rescinded. Richard was still residing there when he passed away in June 1997.
Ricardo Montalban in Across the Wide Missouri (1951)
While shooting some action scenes in Across the Wide Missouri (1951), Ricardo Montalban was thrown from his horse and trampled. His spine was damaged and caused him pain for the next 40 years or so until he opted to undergo a nine-hour operation to relieve the pain. It left him paralysed from the waist down.
Jimmy Stewart in Winchester 73 (1950)
There was not enough money left in the Winchester 73 budget in 1950 to pay Jimmy Stewart his $200,000 fee for playing the lead, so he agreed to accept a percentage of the picture's profits instead. It was the very first time a star had done this since the introduction of talkies. His percentage deal resulted in him collecting $600,000 as his share. It was this agreement that drove the first wedge into the old long-term studio contract method of paying players.
Robert Walker
The 1951 Alfred Hitchcock thriller Stranger on a Train would be the last movie for one of its co-stars Robert Walker. Just eight months after filming ended he died from an allergic reaction to a drug. He was only 32.
Billy Wilder advising Otto Preminger – Stalag 17 (1953)
A Paramount executive wanted to make all the prison camp guards Poles instead of Germans in the 1953 movie Stalag 17, simply because the West German market was a big one and he did not wish to offend any German patrons. Director Billy Wilder, who was himself Polish and had lost both his mother and stepfather in a German concentration camp, furiously refused to make the change and demanded an apology from the executive. He never received one and consequently never extended his contract at Paramount. Incidentally, during WW2 the survival rate of allied POWs in German camps was 87%. The average death rate in Japanese POW camps was the same – 87%!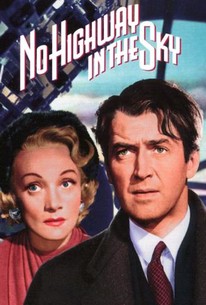 The 1951 Jimmy Stewart drama No Highway in the Sky was based on a 1948 novel by Neville Shute titled No Highway. In both the book and the movie, emphasis was placed on the danger of airliners, sooner or later, crashing due to 'metal fatigue' brought about by stress around the corners of square passenger windows. The newly designed de Havilland Comets had square windows instead of round or oval ones and in 1954, three years after this movie was released, they began crashing for that very reason. Once oval windows were installed the problem disappeared.
Deborah Kerr & YUl Brynner in The King and I (1956) 
Yul Brynner wanted to direct the movie version of The King and I (1956) with Marlon Brando playing the king. When Brando turned him down he decided to elaborate on his Broadway performance and take the role himself. Vivien Leigh was the first choice to portray Anna, but she suffered from manic-depressive attacks and was uninsurable. Singer Dinah Shore campaigned vigorously for the role, but was beaten to it by non-singer Deborah Kerr. 20th Century Fox wanted the king to be killed fighting an elephant, but Brynner would not have a bar of it. He truly hated Fox, openly referring to the studio as '16th Century Fuck'. Yul and Deborah almost certainly had an affair when they made this movie. Singer Marni Nixon recalled Deborah turning down her invitation to join her for lunch at the commissary one day. With a conspiratorial wink, Deb said she already had a dinner date with 'a very sexy person'. A few moments later, Brynner's limousine arrived and he emerged with his customary booming announcement to all and sundry, 'I am here!' Then he bowed to Deborah, took her arm and whisked her away. 'They say this man is attractive', she once said to Marni. 'Well, he is. Somehow he's very, very handsome, a most unusual personality. A mixture of opposites; and on top of that he sort of has oodles of sex appeal.'
Those not familiar with the history of American baseball might be forgiven for assuming a mistake has been made in Angels in the Outfield (1951), when the Pittsburgh Pirates run out on to the field at the top of the 9th inning without their gloves/mitts. However, until 1954 when the rule was changed, fielding sides always left their mitts on the field as they headed towards the dugout to prepare to bat.