Tea and Sympathy (1956) could have been a fine movie, but the Production Code Administration (PCA) and the Catholic Legion of Decency (CLOD) did all in their considerable powers to emasculate it. And they succeeded. No matter how many times the screenplay was rewritten, they continued to find it 'morally unacceptable'. Loew's theatre chain and several other major chains refused to book the film without the sanction of the PCA. The Legion insisted that Deborah Kerr's character (the schoolteacher) had to die at the end of the picture as punishment for her sexual transgression with her student. The student's homosexuality could not be openly mentioned and the word 'queer' had to be written out of the script. After much debate the CLOD made the following ruling: Unless the ending stressed the boy's guilt as well, they would give the film a 'Condemned' rating, which would scare off the big theatre chains. MGM complied and any social impact the picture might have had was gone.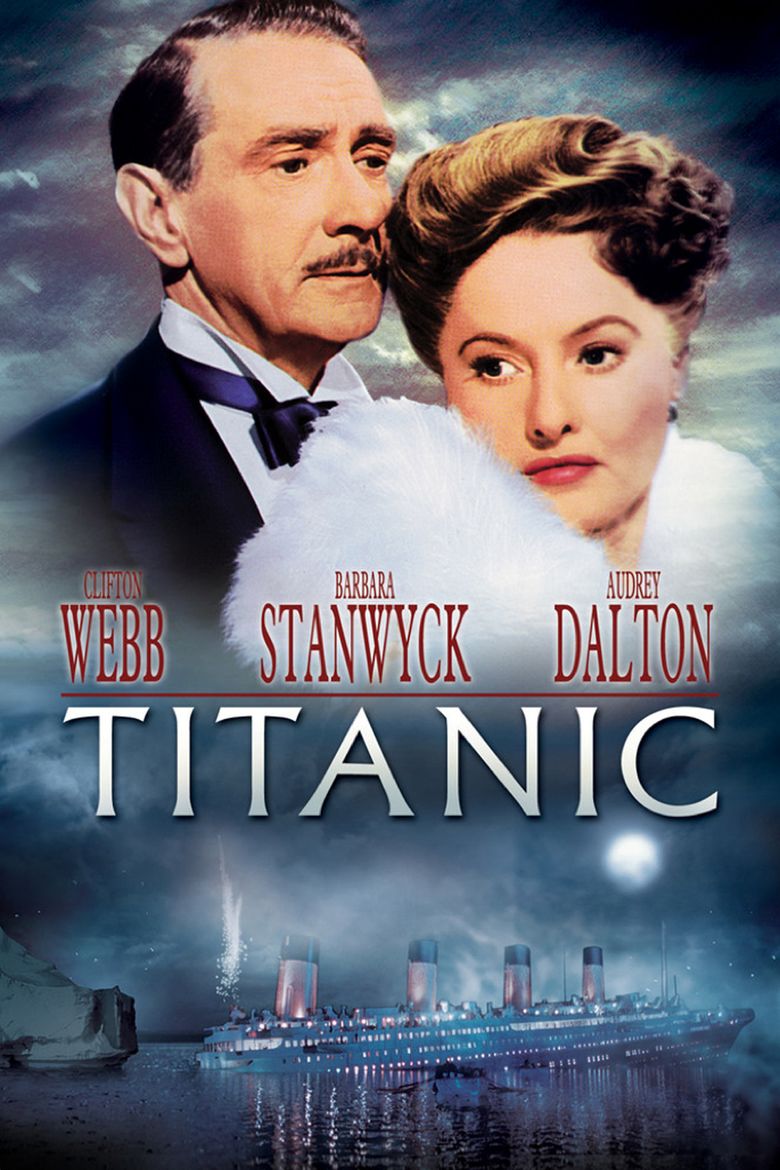 There is a scene in the 1953 film Titanic in which young Norman gives up his seat in a lifeboat to a female passenger. It is based on the heroic actions of a passenger aboard the real Titanic back in 1912. A thirty year-old Mexican gentleman in first class named Manuel Uruchurto had been gifted a ticket from a well-meaning friend. He gallantly gave up his chance to live to a second class English lady who had been refused a seat in the lifeboat. All he asked was that she travel to Mexico and inform his family of what had befallen him. And this she duly did. Manuel's body was never found.
Charles Walters was all set to direct Royal Wedding (1951) starring Fred Astaire and June Allyson, but quit when he was informed that Judy Garland was replacing Miss Allyson in the lead. He had already vowed never to work with Judy again, having directed her in Summer Stock in 1950. When Judy was herself replaced by Jane Powell in that film, she attempted to slash her own throat in her bathroom. Many still think the cuts were more likely a cry for help than a genuine attempt to kill herself.
Paramount wanted to make Roman Holiday (1953) in Technicolor and on sets in Hollywood, but director William Wyler insisted that it must be filmed on location in Rome. The only way that could be achieved, given the budget allocated to the picture, was for it to be shot in black and white instead of the much more expensive colour. Furthermore, an unknown (and cheaper) leading actress needed to be cast. And that is how Audrey Hepburn made her highly memorable debut.
The record at auction for the sale of a movie costume used to be the $923,000 paid for Audrey Hepburn's little black dress worn by her in Breakfast at Tiffany's (1961). That record was well and truly smashed in June 2011, however, when a buyer purchased Marilyn Monroe's white dress from The Seven Year Itch (1955) for an astonishing $4.6 million!
Vincent Price in House of Wax (1953)
Vincent Price played the hideously burned killer in 1953's 3D thriller House of Wax. Price liked to visit theatres (in full, hideous make-up) and quietly watch the movie, safely disguised in his 3D viewing glasses. He would sit at the back of the darkened movie house and enjoy the show, then sneak out just before the lights went on. One night, at a showing in New York City, he decided to have some fun and make his presence known. Right after a particularly frightening scene, he leaned forward to two teenagers in front of him and asked, 'Did you like it?' As they turned to answer, he recalled, 'They went right into orbit!'
50 year-old Jean Arthur in Shane (1953)                     40 year-old Emile Meyer in the same film                                   
Things are rarely what they seem to be in the movies. In Shane (1953) Jean Arthur was actually 50 years old while the grizzled old rancher Rufus Ryker (played by Emile Meyer) was, in fact, ten years her junior. Jean wore heavy makeup and a wig to make her appear younger.
Peter & the Lost Boys
If you have never read J.M. Barrie's original play Peter Pan, you might be surprised to learn that in it Peter was depicted as a heartless sociopath. He was the only permanent resident of Neverland and the Lost Boys were only temporary, (each one having fallen out of his pram while his nurse was not looking). If any of them looked like growing up – Peter would kill them! There were two reasons for this. First, he needed to keep the population of Neverland down. Second, he did not want anyone challenging his rule. Disney's 1953 movie, needless to say, did not pursue this rather dark aspect of Barrie's tale. Neither has any production since.
Marilyn Monroe in Gentlemen Prefer Blondes (1953)                                                              Betty Grable 1953
Gentlemen Prefer Blondes (1953) was originally purchased by 20th Century Fox as a vehicle for Betty Grable, but that was before Marilyn Monroe made Niagara in the same year and knocked the movie world on its ear. Suddenly, she was the hottest sex symbol on celluloid, although still a contract player. Being under contract, she would only cost the studio $18,000 to play the lead in Gentlemen Prefer Blondes, whereas Betty's going price was $150,000. It was a no-brainer really. So, goodbye, 37 year-old Betty and hello, 27 year-old Marilyn.
Fess Parker as Davy Crockett                James Arness as Matt Dillon
Walt Disney privately screened the film Them! (1954) to see if his choice to play Davy Crockett in an up-coming episode of Disneyland on TV, (James Arness) was suitable. However, Walt noticed Fess Parker in the picture, changed his mind and cast him instead. Soon afterwards John Wayne turned down the lead character Matt Dillon in a new TV series called Gunsmoke, but suggested Arness as an ideal alternative. Big Jim accepted the role, but was concerned about all the horse-riding involved. He had caught a machine-gun bullet in his leg at Anzio during WW2 and it caused him to walk with a limp. Horse-riding aggravated the wound and would continue to do so over the course of the series. Nevertheless, he accepted the role and it made him famous.
As Marcus (Robert Taylor) enjoys his triumphal entry into Rome in Quo Vadis (1951), note the slave girl strewing flowers ahead of his chariot. It is an uncredited Sophia Loren, long before she became one of the most sought after stars in the history of the cinema.
I have never understood why anyone would want to wear a pair of slippers made out of, of all things, glass. Surely, they would be exceedingly uncomfortable to stand in and quite impossible for walking or running. In Cinderella (1950), however, that is what the Disney writers came up with. And they got it wrong. In the original French story the slippers were made from fur. A 'typo' accidentally changed them into glass. The old French words for 'glass' and for 'fur' are near homonyms. Someone goofed and we are stuck with glass slippers to this day.