The Moon is Blue (1953) is a pretty tame picture, yet it was the first post-Hayes mainstream Hollywood movie to use the words 'virgin', 'seduce' and 'mistress' (in the sexual partner sense). The mere utterance of these three words was enough to get the picture banned from theatres in Boston, Massachusetts. Director Otto Preminger shot two versions of the movie, one in English and one in German. The latter starred Hardy Kruger and Johanna Matz who appear in the American version as the couple who speak to Bill Holden on the observation deck of the Empire State Building. Holden and Maggie McNamara have the same cameo in the German version. As a matter of interest, a ticket to the Observation Deck on the 86th floor of the building cost $1.20 in 1953, the equivalent in 2018 dollars of $10.90. The actual ticket price today, however, is $34.
Garson, Brando & Kerr on the set of Julius Caesar
The arrogance of Marlon Brando at his peak was rather nauseating at times. For instance, he grudgingly approved of his male supporting cast in Julius Caesar (1953), but he openly derided the two principal females, Greer Garson and Deborah Kerr, telling writer Joseph Mankiewicz that they were, 'added just for the box-office.' After looking the ladies over, he mused: 'I am trying to decide which one to fuck first. If I proposition Deborah Kerr, and I don't think I will, I fear it would not be a match made in heaven. But I hear Garson likes younger guys. I think I'd like to fuck Mrs. Miniver. Why not?' And he did.
Natalie & Dennis Hopper out on the town           James Dean & Nicholas Ray on the set of Rebel Without a cause
Director Nicholas Ray considered Natalie Wood too wholesome and naïve to play the part of Judy in Rebel without a Cause (1955). It was a rather curious assessment considering that he was sleeping with her at the time. It was only after she became involved in a car accident with Dennis Hopper and a hospital nurse called her a 'goddam juvenile delinquent' that Ray relented and gave her the role. Incidentally, she was 16 and Ray was 43 when their affair began. She also bedded Dennis Hopper during the shoot which caused arguments between Ray and Hopper.
Liz Taylor & Nicky Hilton on their wedding day.
Elizabeth Taylor's disastrous marriage to Nicky Hilton, a drunken, drug-crazed brute if there ever was one, was in its death throes when she made Father's Little Dividend (1951), a sequel to the popular Father of the Bride (1950). It must have been extremely traumatic for Liz to play a young mother excited about having her first child. Only months earlier Hilton had arrived home high on booze and drugs, provoked an argument with his pregnant wife, beat her to the floor and kicked her in the stomach. According to her own biography, she miscarried their baby in the toilet!
Brando & Vivien Leigh in 'Streetcar'
Vivien Leigh was only 36 when she starred in A Streetcar Named Desire (1951), but she was already suffering from bipolar disorder. She thought her co-star Marlon Brando was affected; he thought she was stuffy and prim, yet by the end of filming they were lovers off-screen.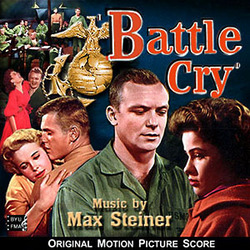 The 1955 war picture Battle Cry was the main feature playing at the Texas Theatre in Dallas, when Lee Harvey Oswald was arrested there on November 22, 1963 a couple of hours after the assassination of President John F Kennedy.
Ustinov as Nero in Quo Vadis (1951)
Peter Ustinov was tested for the role of Nero in Quo Vadis but was rejected by producer Sam Zimbalist because he was 'too young for the part'. Ustinov wired Zimbalist at once and politely informed him that, historically, he was too old to play Nero. However, this particular brutal Roman dictator had died aged 26 and Ustinov was, in fact, 29. Zimbalist was amused and changed his mind. Ustinov went on to be Oscar-nominated for his performance in what was the most expensive movie ever made to that time.
Cagney & Doris Day in Love Me or Leave Me
The excellent 1955 feature Love Me or Leave Me stars Doris Day as the real life torch singer Ruth Etting and Jimmy Cagney as her mentor and husband, the gangster Marty Snyder. According to Doris, the most violent scene in which Snyder beats and rapes Etting had to be left out of the picture because the censors did not approve of it. Consequently, Snyder's vile nature only partly comes across in the picture. Cagney used his acting expertise to impart as much nastiness as he could despite being hamstrung by the Code. It was one of his best performances.
William Talman in The Hitch-Hiker                                        As Hamilton Burger v. Raymond Burr in Perry Mason
William Talman plays mass murderer Emmett Myers, the title character in the 1953 thriller The Hitch-hiker. Myers is based on real life killer Billy Cook, a low-life who killed six people, including three children, in the early 50s. He was sent to the gas chamber at San Quentin in 1952. Shortly after the film's release, Talman was stopped at traffic lights when a man in a car alongside him called out, 'You're the hitch-hiker, right?' Talman nodded in the affirmative, whereupon the man got out of his car and walked over and slapped his face before driving off. 'You know, I never won an Academy Award', Talman said later, 'but I guess that was about as close as I ever will come to one.' For those of you unfamiliar with the name William Talman, he was the actor whose character, Hamilton Burger, prosecuted no fewer than 225 cases against Perry Mason in the long-running TV series of that name – and lost every one!
John Huston & Kate Hepburn on the set of The African Queen
Katharine Hepburn drank only water during the filming of The African Queen (1951) whilst on location in Africa and contracted a severe bout of dysentery because of it. A bucket was placed out of camera shot for her to vomit into between shots. A nearby outhouse was available for other emergencies. She desperately raced to it on one memorable occasion, only to find a deadly black mamba inside the door! Bogart and director John Huston avoided getting dysentery by refusing to drink any water. They drank only Scotch whiskey!
Tony Curtis, Jack Lemmon & Marilyn in Some Like it Hot                                      Billy Wilder and MM on the set
Director Billy Wilder made the situation very clear to his two male leads, Jack Lemmon and Tony Curtis, when he directed them in Some Like it Hot (1959). They had to be 'on their game' for every take because the moment their co-star Marilyn Monroe 'got it right', no matter if it was take 1 or take 100, that would be the take in the final print. 'You guys had better know what you're doing', he warned. 'Don't be caught with your finger in your ear.' Billy described the 'difficult' MM as 'a mean seven-year-old girl.'
Gable bare-chested in Mogambo
All the male members of the cast, plus any members of the crew who removed their shirts during the shooting of Mogambo in 1953, were ordered to shave their chests. The star of the picture, Clark Gable, did not have a hairy chest and was said to resent those who did. He complained that they were an affront to his manliness, so the order was given.
James Mason as Rommel in The Desert Fox
James Mason portrayed the title character in The Desert Fox: The Story of Rommel (1951). Because Rommel had been involved in the July 20 plot to overthrow Hitler, movie producers tended to depict him in a more agreeable light, despite the fact that he and the other German generals involved took nearly five years to get around to it. Then again, the German movie market is a huge one, so studios were always on the lookout for redeeming virtues for any German, especially one involved in World War Two.